Down Syndrome Takes Center Stage On Fox's 'Glee'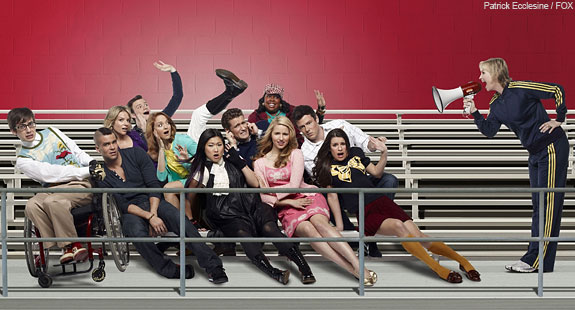 The hit show "Glee" returns Tuesday for a nine-episode run on Fox this spring and so too does the show's inclusion of characters with disabilities.
Last fall, actress Lauren Potter, 19, who has Down syndrome, debuted on the show as Becky Jackson, the school's newest cheerleader, or Cheerio. Now, Potter is back for two more episodes — "The Power of Madonna," airing April 20, and "Home," airing April 27.
The experience mirrors real life for Potter in many ways. The bubbly teen tried out to be a cheerleader at her Riverside, Calif. high school, but didn't make the squad. Then, after graduating last year, Potter beat out 13 other girls for the role on Glee. Nowadays, Potter splits her time between acting and attending a life skills program.
Advertisement - Continue Reading Below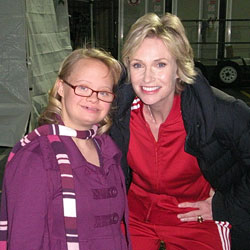 In a candid conversation with Disability Scoop, Potter (pictured at left with castmate Jane Lynch) chats about life on set and what's next for Becky.
Disability Scoop: Describe the character you play on Glee.
Lauren Potter: I play a girl who happens to be a cheerleader. Her name is Becky Jackson. I think she's a sophomore or junior.
Disability Scoop: What's it like when you tape an episode?
Lauren Potter: It is like a whole different setting than real high school life. It is very busy and crowded and exciting. My days go really well. I visit with the other actors, practice and eat lunch with my friends. I do interact with other actors. The kids are really great to me. We hang out in our trailers and sometimes we play games. I usually watch some movies and read a book and chill out with my manager (mom).
Disability Scoop: Does it make you nervous to perform before television cameras?
Lauren Potter: Just a little bit. I have to gather my courage and memorize and practice, practice, practice my script.
Disability Scoop: Do you have your own trailer?
Lauren Potter: Yes. There's a sink, sometimes a microwave, cold beverages and they usually have pictures of Harley Davidsons.
Disability Scoop: What was it like growing up with Down syndrome?
Lauren Potter: All the kids looked at me because I have Down syndrome and it was really hard. I just want to go back and have them see me. I didn't like it when they made fun of me.
Disability Scoop: Have people treated you differently since you've been on the show?
Lauren Potter: Yes. They've got posters up about me (at my old high school). They say yeah, she's really great and we love her so much.
Disability Scoop: What do you think of the fact that Glee is including a character with Down syndrome?
Lauren Potter: I think it was a brilliant idea. It tells Americans that it's really good to have a daughter or son who has Down syndrome.
Disability Scoop: What about the portrayal of characters with Down syndrome on the show?
Lauren Potter: I don't like it when people stare at me. The cast doesn't do that but some of the characters on the show act a little rude to Becky, like "why are you hanging out with that girl?"
Disability Scoop: How has being on Glee changed you?
Lauren Potter: I have done a lot of new things and met a lot of really nice people. I was in the newspaper and on the news, and I was even the grand marshall of the Riverside, Calif. Thanksgiving parade. I have a Facebook fan page which is fun.
Disability Scoop: What's next for your character Becky Jackson?
Lauren Potter: Becky is part of the Cheerios squad in the upcoming season. "The Power of Madonna" is really funny and has some very cool stunts in it. I had a lot of fun filming it. In "Home" Becky has to deal with the whole weight issue. The coach, Sue, is hung up on having skinny cheerleaders.
Read more stories like this one. Sign up for Disability Scoop's free email newsletter to get the latest developmental disability news sent straight to your inbox.