Tech Innovators Honored For Helping Those With Special Needs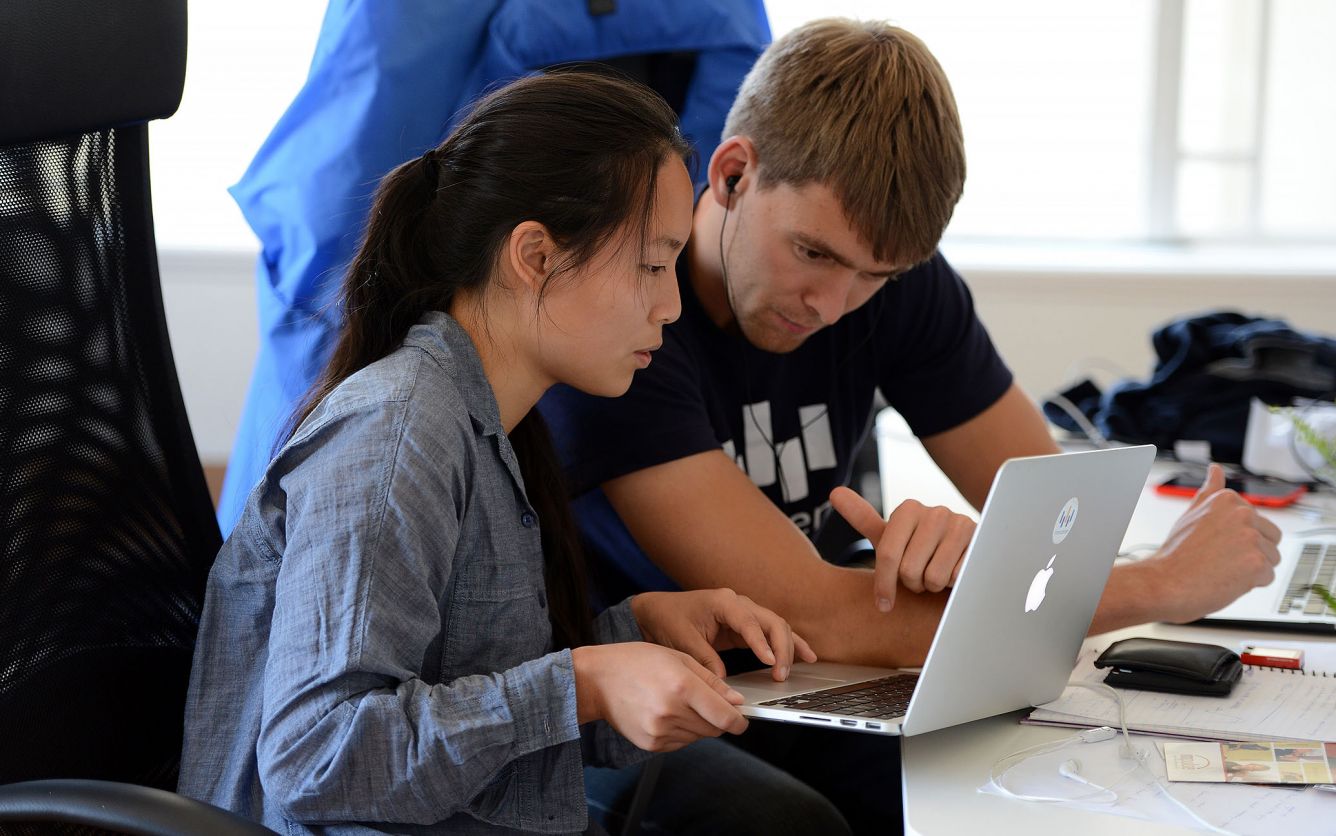 In an often self-absorbed Silicon Valley, where startups are sometimes accused of obsessing on petty first-world problems instead of making the world a better place, several Bay Area entrepreneurs were honored this week in New York City for doing the latter.
One created an app that helps people who are hard-of-hearing track multiple voices in a conversation. Another came up with a wearable device that literally speaks for people with cognitive and communicative disabilities. And the third project uses iBeacon technology that allows those who with visual impairment to navigate public areas.
"As engineers, we've always wanted to find a way to help people," said Ashwin Kumar, a San Francisco engineer whose beacon-technology startup, Enlight, won a $10,000 award from the Connect Ability Challenge, co-sponsored by AT&T and New York University's Ability Lab. "But this is the first time we've worked on a solution that's directly helping a population that desperately needs such a product.
Advertisement - Continue Reading Below
"There's been a lot of press in Silicon Valley," said Kumar, "about people solving problems that aren't really that big, like faster ways to share photos. But this project felt good to work on and to know how amazing it would be for someone to use our app to get around. It's very humbling for us."
For the past three months, engineers and innovators like Kumar worked on new and innovative solutions for people with physical, social, emotional and cognitive disabilities as part of the Connect Ability Challenge. Of the 63 software, wearable and other technology solutions submitted by developers from 16 states and 15 countries, 10 were honored this week at a ceremony that coincided with the 25th anniversary of the Americans with Disabilities Act. A total of $100,000 was given out with the grand prize going to Austria's Kinesic Mouse, a mobility solution that allows users to control a PC hands-free.
A panel of experts from the engineering, technology and disability communities awarded cash prizes with funding from AT&T and the Rehabilitation Engineering & Assistive Technology Society of North America.
"As our technology continues to evolve, we are finding new ways to improve the lives of the disabled, increase their access to technology and allow them to more fully enjoy the benefits of modern life. That's what this challenge is all about," U.S Sen. Chuck Schumer, D-N.Y., told the crowd.
Taking the $10,000 award for best solution for people with communicative and cognitive disabilities was a 2-year-old San Francisco startup called Drumpants, already known among techies and fans of the ABC-TV show "Shark Tank" for the playable, wearable technology it calls "the world's first industrial quality wearable musical instrument." For this challenge, Drumpants tweaked its technology to create Taps, a wearable device with sensors that a person with a disability can tap to trigger custom phrases recorded on their smartphone app.
"Using our technology, we've expanded out wearable triggers to help people do things like control devices and turn on lights," said team lead and CTO Tyler Freeman. "It's like having a personal assistant that's triggered by sensors on your clothes or on your wheelchair or cane. People with limited mobility or who have trouble speaking can tap a sensor, and their phone will speak phrases for them. Each trigger brings up a different phrase."
Product Manager Mike Zinn said the tool will help caregivers understand a person's needs, like "I need to use the washroom" or "Please help me stand up" or that most powerful phrase of all, "Leave me alone."
Freeman said the first batch of Taps has already sold out and that more are on their way. The unit sells for $400, which he said is much more reasonable than a competitor's product that goes for $1,200.
The third Bay Area winner was a Berkeley-based startup called Transcense, whose entry is a mobile solution called Ava that helps people with hearing disabilities by tracking conversations in the surrounding area and translating the sound into text for mobile and tablet use in real time. The app will be available Sept. 21 in beta form and eventually, said CEO Thibault Duchemin, they hope to offer various subscription levels up to $30 a month, which would allow users to participate in unlimited conversations.
Duchemin got the inspiration for the device after growing up in Paris with a mother, father and sister who are all deaf. He could see first-hand how difficult it was for individuals who are hard-of-hearing to follow more than one speaking voice at a time.
"In my family, we call it 'the Thanksgiving syndrome,' where everyone is talking at once," he said. "For a deaf person, losing the flow of the conversation makes you suddenly feel super alone because so many people are talking around you that it's all a blur."
The winning apps all sound good to Frances Merrill, information and referral coordinator for Silicon Valley Independent Living Center in San Jose. Because she has cerebral palsy and must often use a power chair to get around, the 54-year-old Merrill said wearable sensors like the ones Drumpants has come up with could be a real blessing.
"Any new product or device that can help more people stay independent or become more independent," she said, "I'd welcome. These new technologies are 100 percent important because they can give new freedom to people who have trouble walking or are hard of hearing."
© 2015 the San Jose Mercury News
Distributed by Tribune Content Agency, LLC
Read more stories like this one. Sign up for Disability Scoop's free email newsletter to get the latest developmental disability news sent straight to your inbox.