After Police Shooting Near Group Home, A Familiar Failure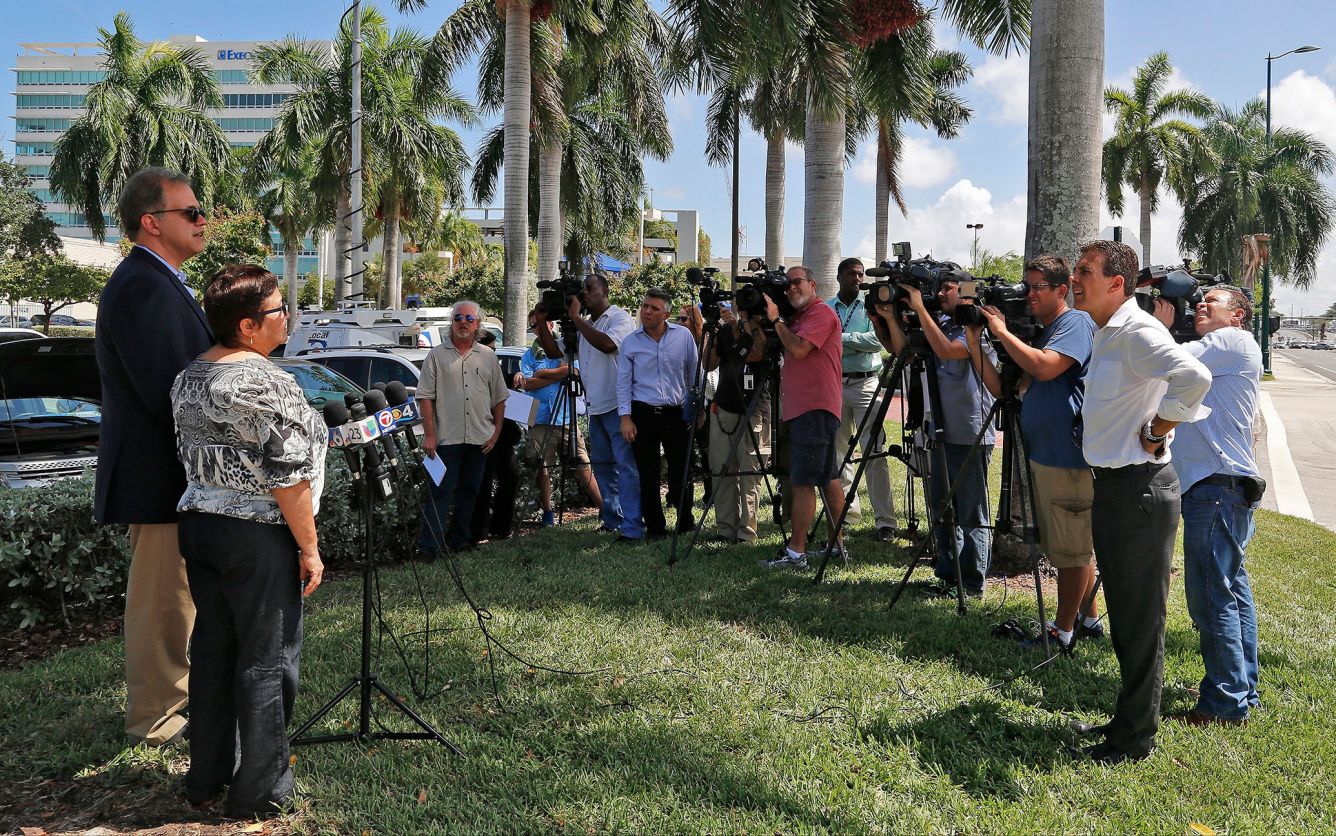 MIAMI — Last month, Arnaldo Rios Soto was swept up in a national spectacle when a North Miami police sniper shot his African-American caregiver in the leg as the man lay prone in an intersection. Rios, a 26-year-old with autism, schizophrenia and an intellectual disability, was playing with a toy truck.
Behavior aide Charles Kinsey instantly became an exemplar of the Black Lives Matter movement.
But for Rios, there is no movement to sustain him, no placards or demonstrations. If he is a symbol of anything, it is the state's decades-long failure to provide adequate community-based services for children and adults with developmental disabilities.
Advertisement - Continue Reading Below
Rios has languished in a psychiatric hospital since the shooting made headlines on July 18. The hospital has restricted his visitors, his family said, and refused to allow them to bring him toy trucks — which are as comforting as a teddy bear for a man who is large in stature but small in maturity.
Aventura Hospital wants to discharge Rios, whose tantrums and violence have bedeviled staff. And he's remained under involuntary commitment long past the hospital's ability to help him. But state disability administrators had no place to put him. There are no group homes near his mother in Miami capable of handling his very challenging behavior.
The state's solution: The Agency for Persons with Disabilities plans to move Rios this week into the Carlton Palms Educational Center, a facility near Orlando for people with disabilities and complex behavioral problems. It is a facility that state administrators are trying to shut down. Carlton Palms has a long history of abuse and neglect, including the July 2013 death of a Broward girl who succumbed to dehydration — the result of a severe, but untreated, infection.
And it's hundreds of miles from his mother, Gladys Soto, who has been his champion.
Soto said Monday she is pleased that her son will be in a home where staffers are trained in dealing with his outbursts. But she is distraught that she won't be able to visit him daily, as she's done at Aventura.
"They are not taking care of my baby as he deserves, as a human being," Soto said, referring to the state. "He is disabled. But he is a human being."
Soto has been fighting with state disability administrators for months. She wanted Rios to move to Carlton Palms earlier this summer, arguing that there were no group homes in South Florida with adequate — and adequately trained — staff to handle his difficult behaviors. But the state has been trying to move clients out of the facility, not in, in response to both repeated abuse incidents and a federal mandate that states shift toward community-based care for people with disabilities.
Soto sent disability administrators a waiver, through her attorney, that granted the Miami Herald access to scores of agency emails that detailed her son's otherwise confidential recent history with the state. The missives portray an agency working heroically to help a challenging client and his devoted mother — but utterly lacking in the resources to do so.
"This illustrates what a sad state of affairs we have for this segment of the population that has intellectual disabilities," said Jim DeBeaugrine, who led the state disabilities agency under former Gov. Charlie Crist. "This young man's only choices are places that probably are not appropriate for him."
Disability administrators declined to discuss Rios. "The Rios Soto family was offered several residential options from which to choose and ultimately decided that Arnaldo will be going temporarily" to Carlton Palms, said spokeswoman Melanie Mowry Etters. "It is up to the family to choose a facility for their loved one. We will continue to work closely with the family to ensure Arnaldo receives the proper care."
Rios is five-foot-nine and 250 pounds. When angry or frustrated or confused, Rios can mobilize those 250 pounds into a formidable force. In addition to his many disabilities, Rios also has been diagnosed with oppositional-defiant disorder, meaning he is prone to tantrums.
Rios' behavior problems landed him in a psychiatric hospital under the state's Baker Act three times this summer. He had spent so much time in mental wards that one caseworker said they were beginning to feel like home to him. "He looks at the wall clock and knows whether it is snack time or time to go to sleep and acts accordingly by going to the lunchroom or to his bedroom," the caseworker wrote.
He went first to Mercy Hospital from May 6 to May 10. He was at Jackson Memorial from May 14 until he was discharged to a group home on June 6. "He didn't even last a day, and they called the police on him," which landed him right back to Jackson, in handcuffs, Soto wrote in an email to APD Director Barbara Palmer. "Arnaldo is not a delinquent," his mother wrote. "He's a young man with autism who needs care and attention."
"I think people with disabilities should be treated with dignity, like the human beings they are, and not like a business, and a way for others to get rich," Soto wrote in another email to Palmer. "I just want a stable place where they can take care of him in a stable environment."
In a June 14 email, Rios' caseworker described a "tough meeting" in which a hospital social worker argued that Jackson "should not be accountable for the APD's bureaucracy and negligence. In her point of view, the lack of a placement for Arnaldo was APD's fault and responsibility."
"I gave them my word that by June 21st Arnaldo will be out of the hospital," the caseworker wrote.
Frantic for a solution, disability administrators settled on a North Miami group home, owned by a provider called MACtown. The group home, a caseworker told Soto, was "the only appropriate option" for her son in Miami, though administrators had to quickly beef up its staff and funding to handle Rios and his outbursts. Agency administrators congratulated themselves for the happy ending.
"When we need to work with a sense of urgency and as a team, anything is possible," Palmer wrote June 20, thanking South Florida agency heads for resolving the crisis.
"I am completely unsurprised that MACtown has risen to the challenge," APD's regional administrator wrote in an email, three days after Rios moved in.
Things didn't go bad immediately. It took about a month. Rios grabbed a female caregiver by the hair and "dragged her across the floor," an email said. He had "episodes of aggression on a daily basis." He screamed constantly, tried to destroy the home's property and banged on windows with scissors.
It all came crashing down on July 18. Spectacularly. And on national television.
Rios wandered out of his group home and sat down in the middle of an intersection clutching a light-colored toy truck.
As a stranger's cellphone videotaped the encounter, Rios' behavior aide, Charles Kinsey, tried to coax Rios back into the home. A passerby mistook the truck for a gun, and summoned police. What happened next was replayed again and again on national television: Three shots rang out, and a police sniper's bullet pierced Kinsey's leg.
Rios, badly distressed by the shooting, ended up just where he started, in a psychiatric hospital, where his family said he was in suspended animation waiting for the state, once again, to find an appropriate home. "He is really traumatized," his mother told the Herald this week. "Every night he has nightmares. He is really anxious. He has bitten all his nails."
"Any person who was targeted in a police-involved shooting would have immediately been given the necessary mental health treatment to be able to move on with one's life," the family's attorney, Matt Dietz, said. "Arnaldo Rios was not provided any treatment. Instead, he was placed into a psychiatric institution where the items that he loved and that regulated him were taken away."
Soto "could have agreed to a home that did not have the support and supervision that her son needed," Dietz added. "At the end, Gladys Soto had no choice."
Incensed by the shooting and its aftermath, advocates for people with disabilities have asked the U.S. Department of Justice to investigate both the North Miami Police Department and the state, which, they claim, has so poorly funded disability programs that people like Rios often have no choice but to live in segregated institutions.
"Neither Mr. Rios nor Mr. Kinsey did anything to warrant the police shooting that occurred," Shira Wakschlag, an attorney with The Arc, wrote in a July 28 letter to the Justice Department. "Individuals with (developmental disabilities) deserve the opportunity for a full life in their community where they can live, learn, work and socialize."
El Nuevo Herald Writer Oscar Diaz contributed to this report.
© 2016 Miami Herald
Distributed by Tribune Content Agency, LLC