Through Cerebral Palsy, 'Speechless' Looks To Get People Talking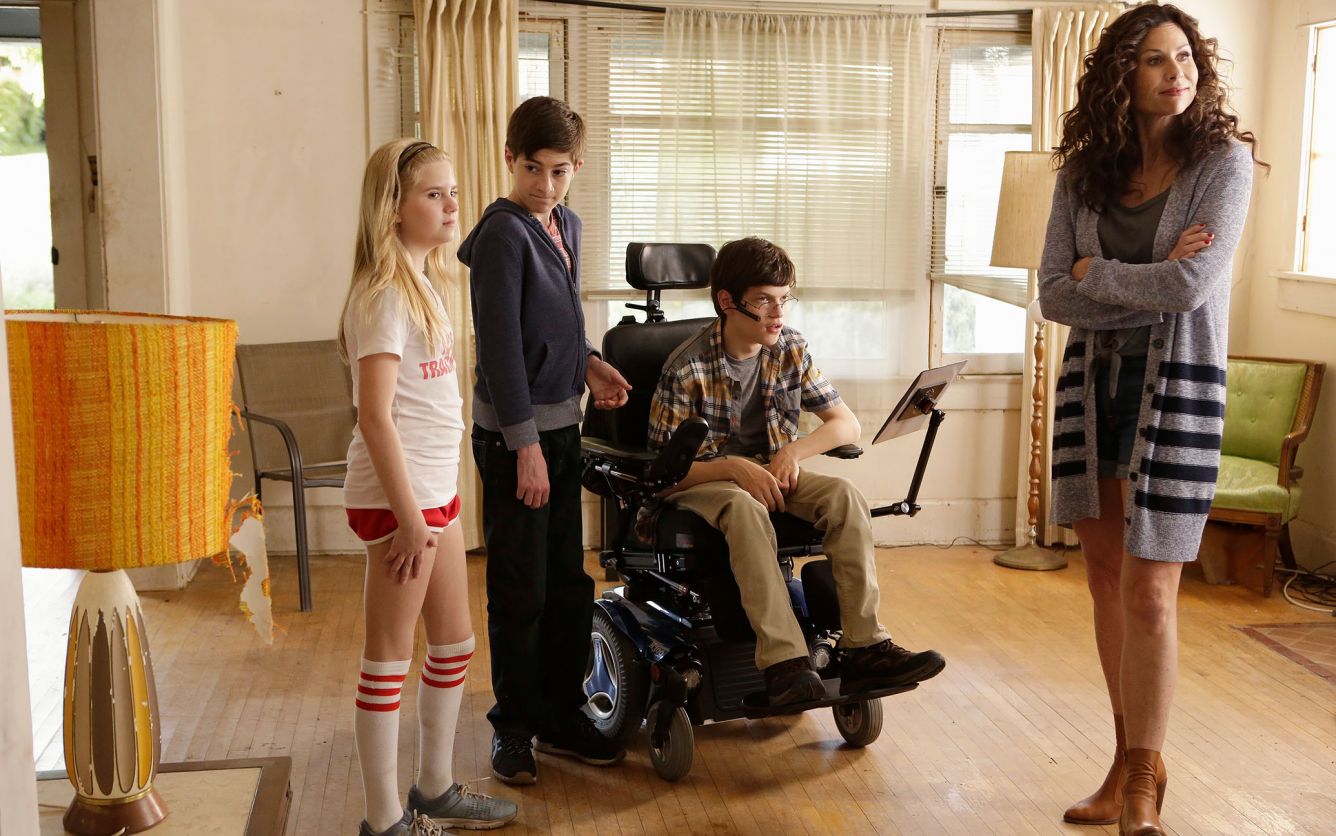 When it comes to writing, people love to advise "write what you know."
But Scott Silveri, creator and showrunner of ABC's new family comedy "Speechless," would be the first to tell you that crafting a narrative out of your own experiences is nowhere near as easy as it seems.
"It's like where comedy meets therapy," Silveri said of the series, based on his life growing up in a family that included his brother, who has special needs.
Advertisement - Continue Reading Below
"It's actually gotten easier and easier the farther away I've gotten from my actual experience," Silveri said during a break in production on the Fox Studios lot. "There are things that are sacrosanct, things that I'm determined to portray, but around the margins it's served us well to move away from my exact experience."
"Speechless," which premieres at 8:30 p.m. ET Sept. 21, centers its comedy on Jimmy (John Ross Bowie) and Maya DiMeo (Minnie Driver) and their children, J.J. (Micah Fowler), Ray (Mason Cook) and Dylan (Kyla Kenedy) as they search for the best possible school to provide support for J.J.'s cerebral palsy and the family as a whole.
Perhaps the most important aspect of his childhood that Silveri wanted to depict accurately was the set of unique challenges facing a family that has a child with special needs. To help preserve that experience, the series brought in an expert to guide the process.
Richard Ellenson, chief executive of the Cerebral Palsy Foundation and consultant for "Speechless," recalled telling Silveri and his team during an early phone call: "'It's cerebral palsy. You're not going to get it right. The point is, let's not get it wrong.'"
For his part, Ellenson is excited for the opportunity the series offers to get people talking about cerebral palsy.
"What the show is doing is being brave and honest and using humor to avoid pussyfooting around. It's allowing us to start conversations that people are uncomfortable starting," he said.
Ellenson began his career in advertising before transitioning to advocacy after his son Thomas, now 18, was diagnosed with cerebral palsy. Driver, who plays fierce DiMeo matriarch Maya, is no stranger to the concept.
"As a mother, inherent in that title is advocate," Driver said. "You advocate for your child on a daily basis."
Those impulses are only increased for Maya, who tries to level the playing field for J.J., often to abrasive (if hilarious) ends.
"When you have a child with special needs, like Maya does, it is different. You really are trying to break down societal walls," said Driver, who relishes the opportunity to play a woman who doesn't shy from being wholly unlikable.
"('Speechless') has edges and angles that require quick turns and the accommodation of big feelings. I like difficult things like that, and I wonder if we can pull it off. Oh, God, I really hope we can," said the veteran British actress, who is keeping her native accent for the show.
Whether "Speechless" can successfully portray those big swings of emotion hinges primarily on Driver's performance, according to Silveri.
"Minnie allows us us to tell these stories and depict a mom that, hopefully, resonates to people in this experience," Silveri said. "Not to sugarcoat it, not to make it seem too easy, to hold on to that fight, but to keep her someone you root for."
The only person other than Driver who could do it? Silveri's mom. But, Silveri quipped, "She didn't want to travel."
The other vital cast component for "Speechless": Micah Fowler, who plays J.J.
Silveri reported that when his friend and casting director Susie Farris saw Fowler's audition tape, she sent it along to him and said: "I found the kid. We're done."
J.J.'s cerebral palsy, which Fowler also has, is the impetus for the series title. The pilot sees the family in search of someone who can serve as the character's voice.
"I've been around a lot of people with special needs, but not on a daily basis," Driver said of working with Fowler. "I hate using the word 'inspiration' because it just feels patronizing, but Micah is inspiring."
Driver went on to detail that not only is her costar always in a good mood, even when everyone on set is exhausted, but he's also wickedly funny and a great actor.
Fowler's sense of humor was evident at the Television Critics Association summer press tour held in Beverly Hills in August, where, unlike his character, he was able to field questions without assistance.
"J.J. has a lot of personality to him," Fowler told the assembled journalists when asked about advice for writers when it comes to scripting his character, adding later that the character was funny, a departure from previous roles he had played.
Later the actor quipped about his favorite comedy, "Probably this show," a response that drew laughter and applause from his cast mates.
Joining an ABC comedy lineup that has been hailed for its diversity, with "black-ish" and "Fresh Off the Boat," "Speechless" (which shares producers Jake Kasdan and Melvin Mar with the latter) is notable not just for its representation of a family with a child with cerebral palsy but also for the economic diversity coded in its DNA.
Early in the first episode, the DiMeo children hunker down and discuss what their new school might be like, ribbing one another from their respective bunks, illuminated by a single lamp.
It's a cozy scene, one that plays like a throwback to family sitcoms of a bygone era without ever explicating why. But the reason is right there: The children, two teenage boys and their sister, are sharing a single bedroom.
"This is about a family that is relatable," Driver said. "They have no money. They move into a (crummy) house in a great neighborhood, so their kids will qualify to go to a great school, which tons of families do."
"Diversity can mean a lot of things," Silveri said of the choice to portray the reality of a middle-class family. "That too was my experience, and I thought it'd be refreshing to depict that on TV."
Networks, though not in this case, Silveri hastened to add, often have notes about wish-fulfillment: "Let's have the house be prettier, let's have it be bigger, let's have the car be nicer."
In choosing to draw from his own experiences growing up, Silveri opted to depict a family that has challenges but makes things work.
"Not everything has to be pretty, not everything has to be perfect," Silveri said. "I was looking for a different kind of wish-fulfillment."
© 2016 Los Angeles Times
Distributed by Tribune Content Agency, LLC
Read more stories like this one. Sign up for Disability Scoop's free email newsletter to get the latest developmental disability news sent straight to your inbox.