Inclusion Gains Traction Outside The Classroom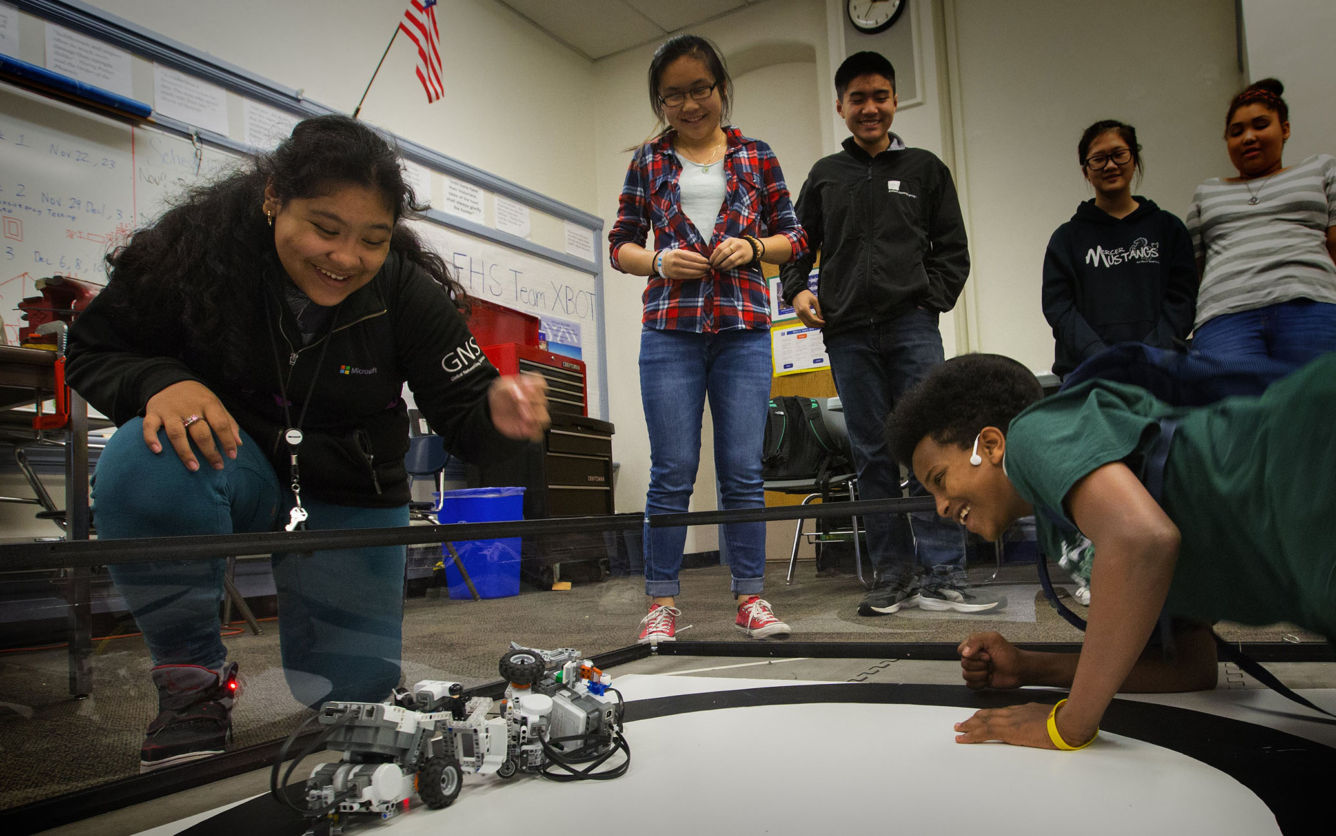 SEATTLE — Kendall Foster was the King's High School robotics teams' biggest fan. She loved coming to practices to see her sister, Delaney, when Delaney was a student at the private Shoreline school.
Kendall's friends were interested in robots and the robotics team, too. So Delaney started researching what might be available for her sister, who has autism.
She didn't find any robotics teams that were open to students with cognitive disabilities, and she didn't even find anything related to STEM — science, technology, engineering and math.
Advertisement - Continue Reading Below
"There wasn't anything here," said Delaney, who is now 18 and a freshman at George Washington University in Washington, D.C. "There wasn't anything even around the country."
So last year, Delaney brought her King's robotics team to work with students at Seattle's Roosevelt High, where Kendall was a student. The partnership was a success, and the program, now called Special Olympics Unified Robotics, has spread to 12 other schools in Seattle, Auburn, Kirkland, Bellevue, Edmonds and Everett.
Those schools all recently came together for a tournament at the Pacific Science Center, the culmination of Unified Robotics' first season.
Unified Robotics is part of a growing effort to include students with cognitive disabilities in more high-school activities. Special Olympics has offered sports for decades, but now some schools, including Roosevelt, offer drama activities that are open to students with special needs. Companies in the STEM industry also are hiring more applicants with autism, recognizing they have skills that might not be apparent in traditional job interviews.
In the first King's-Roose­velt project last year, King's teacher Mike Thompson found everyone benefitted from the program. The Roosevelt students' abilities were far-ranging, so their contributions varied. One student would spend half an hour trying to put a peg into a hole. Another had significant social-interaction challenges but could solve calculus problems.
"The coolest thing was not just the impact on those kids, but with the partner students," Thompson said. "They're getting exposed to people they would normally write off, but who in reality are tremendously gifted and just given opportunities to explore what they are capable of doing.
"For my kids, who are probably in the next decade going to be industry leaders, their world view has been radically altered."
Special Olympics Washington CEO Dave Lenox, who started as a skeptic, also said he quickly learned how much all the kids were learning. One student, Lenox said, related how his Special Olympics partner had asked questions about the robot he would have never thought of.
"They were able to view the challenge through a different lens," Lenox said. "They weren't tied down to the normal constructs about how it works or why it works."
People with disabilities, specifically those on the autism spectrum, often have strengths in their ability to analyze and categorize information, said Dr. Gary Stobbe, a clinical associate professor in the University of Washington departments of neurology and psychiatry.
"A common thing that's said is the autism brain is the engineering brain," Delaney Foster said. "It's very black and white."
At Seattle's Franklin High recently, students in that school's Unified Robotics club spent an afternoon preparing for competition.
One pair, Endalew Dessie, 15, and Hassan Dahir, 17, spent about two weeks designing, programming and building their robot, which is like a sumo wrestler. Built with LEGO bricks, it uses wheels, sensors and lights to try to push other robots outside of a black ring.
Dahir says he helped with the design, but Dessie did most of the work. Dessie nods.
"We had good teamwork," Dessie said. "It's going to do good."
The Franklin students spent an equal amount of time talking about the robots and the time they had working with each other. Junior Sarah Lam, 17, built her robot with freshman Kayley Ka, 14. While Lam held the robot and explained its different functions, she would look at Ka and ask if Ka wanted to explain some of the functions herself.
The best part was working together, they said.
Delaney Foster wasn't able to be at the tournament because of final exams, but was able to follow along on a competition live stream. Teams in Texas, Maine and Toronto also said they'd be watching, so they can have their own Unified Robotics competitions.
"I'm excited about the growth," Delaney said. "Just how much interest people have really shows the need for something like this."
And it may eventually lead to jobs for the participants. Last year, Microsoft started a pilot program focused on hiring more people with autism.
"These people that are diagnosed, even though they may not be able to get hired through the normal hiring process, they're still very capable," said Thompson, the King's teacher. "We just need a different model of hiring them. Unified Robotics is part of the pipeline for them to move into a career that is something different than they're normally shoved into, like cleaning tables in the cafeteria."
One Roosevelt student realized he was interested in STEM after he joined the King's-Roosevelt team last year. He's now at Bellevue College, studying computer science.
© 2016 The Seattle Times
Distributed by Tribune Content Agency, LLC
Read more stories like this one. Sign up for Disability Scoop's free email newsletter to get the latest developmental disability news sent straight to your inbox.