IDEA Concerns Linger Over Education Nominee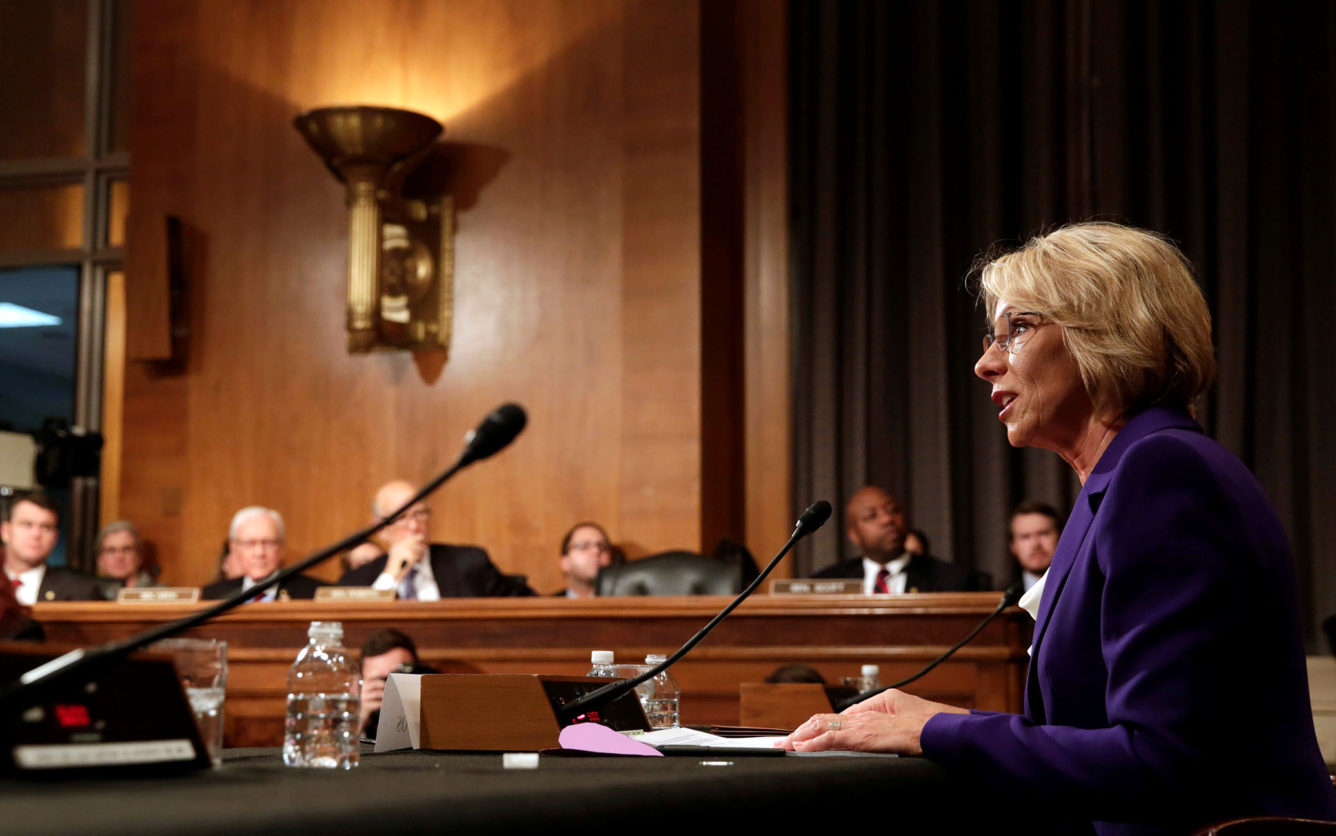 Citing concerns about her views on the Individuals with Disabilities Education Act, disability advocates are asking lawmakers to delay a vote on the nominee to head the U.S. Department of Education.
In a letter sent this week to leaders of the U.S. Senate education committee, more than three dozen advocacy groups urged senators to hold off on a vote on Betsy DeVos' nomination for secretary of education due to concerns about her comments at a hearing earlier this month.
"Unfortunately, at the hearing, Mrs. DeVos' answers to many questions did not provide the needed clarity, and in fact, raised serious concerns from the undersigned organizations regarding her vision and commitment to upholding and implementing, with fidelity, the laws under which students with disabilities are educated including the Individuals with Disabilities Education Act and the Every Student Succeeds Act," reads the correspondence from the Consortium for Citizens with Disabilities, a coalition of disability advocacy groups.
Advertisement - Continue Reading Below
At the hearing, DeVos struggled when questioned about IDEA, initially indicating "I think that is a matter that's best left to the states" when asked if the law's mandates should apply to all schools receiving tax dollars. When pressed further on the federal civil rights law, DeVos acknowledged "I may have confused it."
DeVos did say that she would look at ways to increase funding of IDEA, but indicated that she would explore tagging money to individual students rather than sending it to states as is the current practice.
The comments from DeVos, who has never worked in public education and is a champion of charter schools and voucher programs, alarmed disability advocates.
Groups including Easterseals, the Council for Exceptional Children, the National Disability Rights Network and the National Down Syndrome Congress signed the consortium's letter arguing that DeVos should provide more details on her views on IDEA enforcement and funding, school accountability for students with disabilities and whether or not students should have to give up their rights under IDEA to take part in voucher programs, among other issues.
"Given the lack of clarity that came from her nomination hearing, we request that she provide specific answers to numerous questions regarding her views on policies that impact students with disabilities before her nomination is voted on in committee," the advocates wrote to Sen. Lamar Alexander, R-Tenn., and Sen. Patty Murray, D-Wash.
Since DeVos' appearance before the Senate committee, she has taken steps to tamp down the outcry.
DeVos met late last week with representatives of the National Down Syndrome Society. The group, which did not sign the letter asking for a delayed vote, posted pictures and a glowing message after the 40-minute face-to-face.
"DeVos shared her support for IDEA and expressed her strong support and record fighting for special needs families," the posting read. "We applaud her willingness to engage in a very frank, open and engaging conversation on a range of issues our families deal with."
The group subsequently sought to walk back the comments amid criticism, with a later posting clarifying that they were "deeply concerned" by DeVos' comments to senators and saw the meeting as an opportunity to educate her.
Meanwhile, DeVos wrote to Sen. Johnny Isakson, R-Georgia, this week outlining her views on serving students with disabilities in response to questions the senator raised during a Dec. 7 one-on-one.
In the correspondence, DeVos committed to "enforcing all federal laws and protecting the hard won rights of students with disabilities," but remained largely short on specifics.
"I am eager to bring a sense of urgency around all of these issues: implementation and enforcement of IDEA at federal, state and local levels; improving the quality of IEPs; and expanding the conversation about school choice opportunities for parents of students with disabilities," she wrote.
Kim Musheno, chair of the Consortium for Citizens with Disabilities, said the letter from DeVos does little to assuage advocates' concerns.
"It is pretty clear from the hearing that she would prefer to leave IDEA enforcement up to the states. That is just not okay with us," Musheno said. "IDEA is a federal civil rights law with due process protections. We need a U.S. secretary willing to implement and enforce it."
The Council of Parent Attorneys and Advocates, which did not sign the consortium's letter, went a step further on Thursday, saying that it would formally oppose DeVos' nomination telling senators that her "lack of knowledge of the IDEA is disturbing and offensive."
The worries, however, are unlikely to deter a vote on DeVos' nomination, which is scheduled for Jan. 31.
An aide to Alexander, the education committee chair, said the senator "looks forward to supporting her nomination."
"He believes we are fortunate to have a nominee who has devoted more than three decades of her life to helping children from low-income families and families of children with disabilities choose a better school for their child," said Margaret Atkinson, Alexander's communications director. "A former education secretary himself, he is confident that Betsy will strongly enforce the Individuals with Disabilities Education Act as secretary."
Read more stories like this one. Sign up for Disability Scoop's free email newsletter to get the latest developmental disability news sent straight to your inbox.