Remote Monitoring Replacing Some Direct Support Staff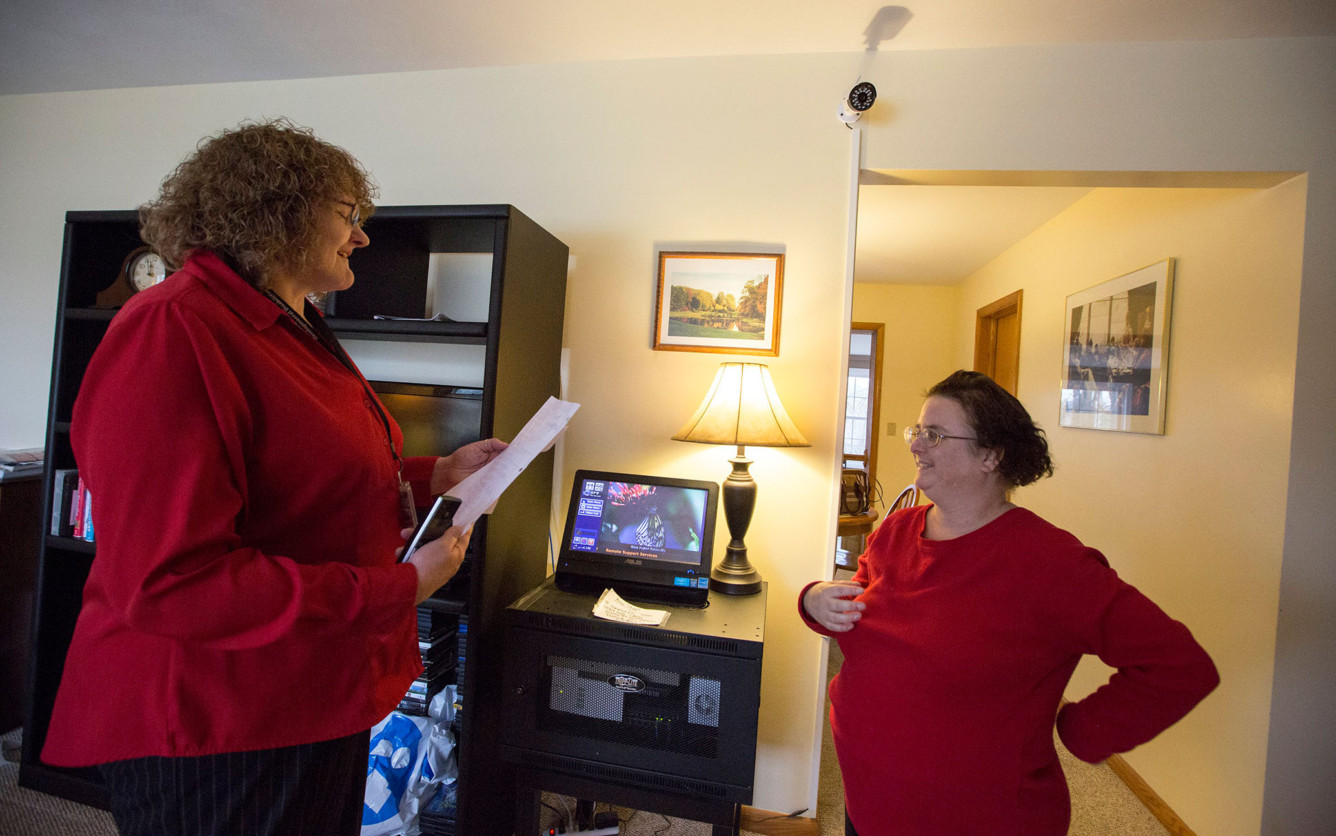 GRANVILLE, Ohio — Technology helps Lori Bolton feel safe at home when no one else is around.
Bolton, 41, has developmental disabilities and health issues that in the past required around-the-clock staff help from the Licking County Board of Developmental Disabilities. But having people in her home much of the time was uncomfortable for Bolton and expensive for taxpayers.
Now, Bolton has "remote monitoring," a wide-ranging and ever-expanding category of electronic devices that replace some human employees, including those paid simply to sleep overnight in case something goes wrong.
Advertisement - Continue Reading Below
Bolton said she likes her human care workers but feels "safe and comfortable" with the electronic monitors part of the time.
Motion sensors are set up in the corners of most rooms of Bolton's Granville home. A video camera, also with a motion sensor, is aimed at the front door.
It's all controlled by electronics attached to a computer monitor where Bolton can, if necessary, see and speak to a care worker at a remote location. The sensors alert the care worker if Bolton doesn't get up in the morning, has other needs or if someone tries to enter the front door without permission.
Bolton is one of seven people with disabilities in Licking County and 170 across the state involved in the Ohio Department of Developmental Disabilities monitoring program. Gov. John Kasich's budget proposes expanding remote monitoring to 600 people. The state spent $2.6 million on remote monitoring last year through federal Medicaid individual-option services.
John Martin, the head of the state agency, emphasizes that remote monitoring "will never replace the need for human interaction. Caregiving is a timeless profession. It's been around for thousands of years. We will never replace all the direct-care staff. I would not consider that a success."
Home care workers are not being displaced, state and county disabilities officials said, largely because it's increasingly hard to fill those positions. More home care jobs are available than people to fill them, in part because of historically low wages.
Martin said monitoring is likewise not focused on savings, but it does generally save money — quite a lot in some cases. Martin said in one case, full-time staff members cost the state $145,000 annually, but that was pared to $45,000 with remote monitoring supplemented by humans.
"This is not just about money, but the quality of life," Martin said. "We're not getting out of the caregiving market."
Bolton's monitoring system is relatively simple. But some are sophisticated, including "shock" sensors in floors, furniture that detects the impact if someone falls and pads for beds that pick up signals if a patient has a seizure.
Jarrod Hunt of Wynn-Reeth Inc., based in Seneca County, said his company provides devices that electronically monitor whether people are taking their medications at the right times. A sound sensor for another client detected if he was getting too loud, as he occasionally did, disturbing his neighbors. A light flashed yellow, then red, if his voice volume rose too high, Hunt said. Eventually, the man learned to moderate his noise level so he no longer needed the monitor.
A unique custom monitoring system that Hunt's company developed was for a man with a disability who frequently cooked microwave popcorn late at night, sometimes burning it, filling his apartment with smoke and setting off alarms. Hunt's team installed sensors on the cabinet where the man keeps his popcorn and on the microwave. Now, a staffer reminds via a voice monitor not to burn the popcorn.
Hunt's family-owned company now has 400 clients. "We do everything a person could do except being able to touch them," he said. "We love these people. These are people who are not necessarily given the same opportunities but deserve the same dignity and independence as the rest of us."
Hunt estimated that monitoring costs one-third to one-half as much as care workers.
It's more about peace of mind than money for Sherri Anderson, whose 25-year-old daughter with disabilities, Natalie, lives alone in Delaware County. Anderson's daughter had 24-hour care, but now it's down to 2 p.m. to 9 p.m. weekdays. She has remote monitoring from 9 p.m. to 9 a.m. (She's neither monitored nor helped by staff members from 9 a.m. to 2 p.m.)
"From my perspective, it's going very well," Anderson said. "It makes me feel more comfortable. They have a smoke detector that's wired into the system. If there's a fire, it would automatically let her know."
Anderson's daughter's apartment also has motion sensors, a camera and a monitor screen, like Bolton's home.
"I get a report every day what they're seeing," she said. "If someone does come in, they will call me immediately. It's a very valuable service."
Anderson said her daughter "likes it better and feels more independent. She likes it that people aren't there nagging her all the time, as she puts it."
© 2017 The Columbus Dispatch
Distributed by Tribune Content Agency, LLC