As Sheltered Workshops Fade, Families Wonder What's Next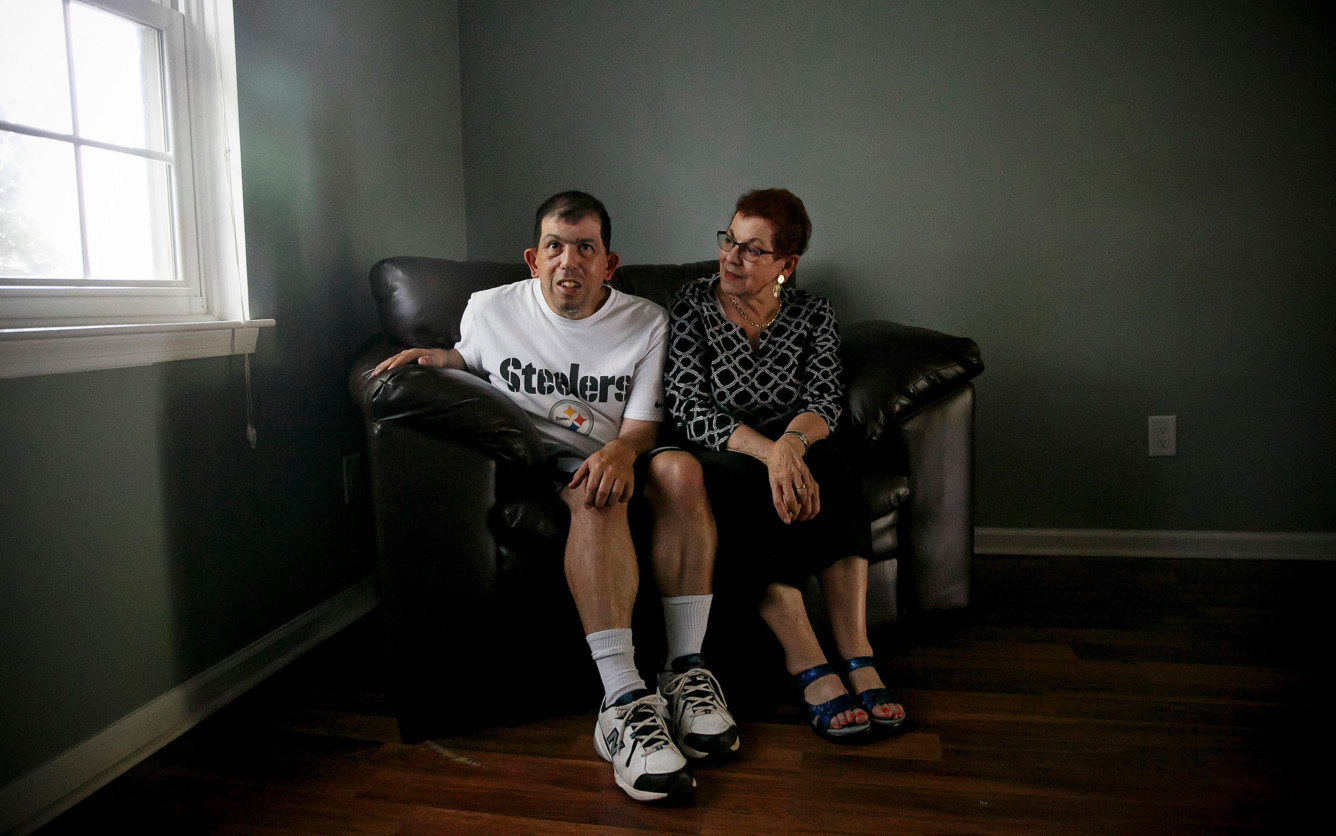 VIRGINIA BEACH, Va. — Chris Cook has worked dutifully for 25 years, but on a recent Friday, that came to an end.
Cook has an intellectual disability, and his employment has unfolded in what's often referred to as a "sheltered workshop" setting. That's a place where people with disabilities, under careful supervision, do jobs like applying labels to envelopes, packing boxes and putting screws in bags.
The term may once have had a comforting tone, but it's fallen out of favor in recent years. Companies are phasing them out all across the country, in part because of federal regulations that make it tougher to sustain them.
Advertisement - Continue Reading Below
The reasons are rooted in concerns of people with disabilities and advocacy groups:
The workers make less than minimum wage, raising questions about fairness and exploitation. They work in settings where most employees have disabilities, rather than more-integrated settings that are now required by law. There's also criticism that the employees usually don't move up to more challenging positions.
The National Council on Disability has recommended phasing out "14c" jobs, a longtime feature of the Fair Labor Standards Act. Basically, employers apply for certificates that allow them to compensate people with disabilities at a rate less than the minimum wage. Pay is based on the reduced amount the person with a disability can produce compared to someone without a disability.
Cook is one of those caught in the throes of change going on in the world of those with disabilities. Until recently, he worked at Beach Packaging, a program under Community Alternatives Inc., a not-for-profit organization that provides vocational, residential and support services for people with disabilities.
Vince Gallo, executive director of Community Alternatives Inc., said about 50 people are losing their jobs because the company is eliminating 14c employment.
Community Alternatives will still employ other people with disabilities in jobs that pay at least minimum wage. Those laid off will have the option of applying for those jobs or taking part in other day program services that don't involve work. He said the company is also developing more job opportunities for people with a wide range of disabilities.
Cook's mother, Rosemarie Hughes, is worried about how her son will adjust to this change. He's been at Beach Packaging a long time, and she believes he enjoys the structure of working.
Hughes said Cook, 51, has been offered other types of day activities, but she said if someone were to say, "Let's go to the zoo instead of your job," he'd probably say no.
"He likes being there," Hughes said. "He's a creature of habit. He likes knowing what to expect."
Hughes said people who support phasing out these jobs are overlooking what employment offers people like her son: A place to socialize with others. Structure to his day. A way to feel valuable.
Cook proudly shows off several certificates he earned for doing a good job. Even though his paycheck is small, it's important to him, Hughes said. He has a Medicaid waiver and also monthly payments related to his disability, which cover his housing and support services.
It's a conundrum that the NCD acknowledged by recommending a phase-out rather than an outright repeal of 14c jobs, and by urging companies to develop more jobs with support services in integrated settings.
Paul Atkinson, president and CEO of Eggleston, which also employs people with disabilities, said his organization has gone through the same growing pains.
Eggleston employs about 600 people with disabilities. Around 100 have 14c jobs, significantly fewer than in the past. One reason: All federal contracts now require that employees be paid $10.20 an hour. Eggleston employees do laundry, for instance, for several military installations, which are federal contracts.
"There are advocates who believe that a minimum wage is a civil rights issue, and I do not discount that," Atkinson said.
But the reality for organizations like Eggleston and Community Alternatives is that if they pay minimum wage or more, they can't employ as many people.
"I can't subsidize the wage to make up for the difference in productivity," Atkinson said.
While he understands the rationale for the changes, he said they have also been a hardship for people who have worked decades because many will not be able to find other jobs.
"Isolation for someone with a disability is a disabling condition in itself," Atkinson said.
Hughes, meanwhile, said she doesn't think her son understands that his routine is changing. She said he once tried doing some landscaping work but got distracted by the traffic going by.
She hopes he will find something to replace what he's been doing all these years.
"I'd love to see him in a place where he could do more things and be with people. He loves that. He likes being helpful and useful."
© 2017 The Virginian-Pilot
Distributed by Tribune Content Agency, LLC