Book Club Doesn't Let Disability Get In The Way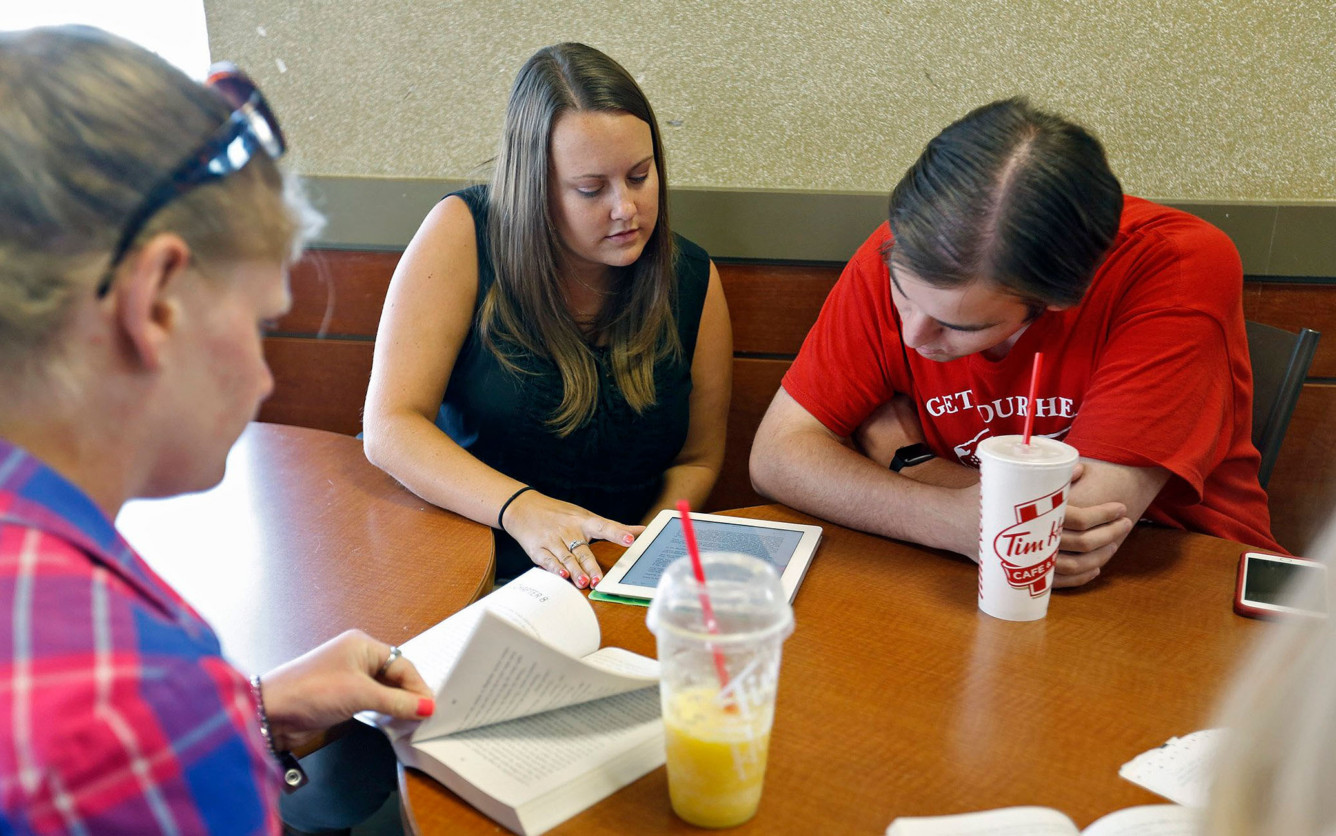 COLUMBUS, Ohio — His body and brain work differently now. Both were severely injured when Bob Boddorf, riding a bicycle after drinking heavily, crossed paths with a dump truck.
Boddorf describes the accident matter-of-factly, referring to the nearly fatal experience a decade ago as "what happened to me before book club." He considers the time at hand — Boddorf and his fellow book-club members have gathered for their regular Thursday evening meeting — a cherished part of his salvation.
"It has helped me integrate myself back into society," he said.
Advertisement - Continue Reading Below
Boddorf belongs to Next Chapter Book Club, a network of community-based book clubs for adults and adolescents with Down syndrome, autism, cerebral palsy and other intellectual and developmental disabilities.
Next Chapter was founded in 2002 by Tom Fish, of the Ohio State University Nisonger Center on Disabilities, who was looking for new ways for people with disabilities to take part in community and social activities. The idea has since blossomed beyond all expectation: Clubs are now thriving in 34 states and four countries, and the organization recently celebrated its 15th anniversary.
The naysayers, Fish said with a grin, were all wrong. "People didn't think people with disabilities could read, didn't think they would be interested," he said. "We always say, 'This is more about reading to learn than learning to read.'"
Franklin County alone has more than 25 Next Chapter clubs, which vary widely by age, disability and reading level. Two volunteer facilitators help guide the discussions, while members — most groups have four to eight — take turns reading aloud. No one sweats the occasional stumble or mispronounced word.
"We're not going to criticize," said 18-year-old Zach Wemlinger of Grove City, the youngest member of the Next Chapter club meeting at a Tim Horton's on the Far West Side. Boddorf, who lives in the Hilliard area, is the oldest in the club at 50.
"We're a very accepting group," said Wemlinger, whose 24-year-old brother, Kevin, is in the same club. "We don't judge."
Nichele Lyndes, a social worker at Nationwide Children's Hospital, has been volunteering with Next Chapter for the past seven years. The weekly meetings have become as much a part of her heart as her schedule.
"Honestly, I see some of them more than I do my closest friends," she said. "Very few things have remained the same in my life since 2010, but that's the one consistent thing that's always been there — my Thursday nights."
For those with disabilities, positive and reliable social events can be tough to come by, Lyndes said. "Some don't do a lot outside of this. We try to make it as social as possible."
The club that Lyndes and volunteer Ashlee Phillips coordinate has enthusiastic readers with a fondness for dystopian fiction. Because many of their book selections also are movies, the group sometimes goes to the cinema or to a member's house to watch a DVD.
That's been a pretty big deal for Hilliard-area resident Bobiann Bidwell, 20, who had never gone out to a movie until she joined her book-club friends. The notion of a dark theater with loud, unexpected sounds had always terrified her.
"I conquered my fear!" she said.
Last year, the National Book Foundation gave its Innovations in Reading Prize to Next Chapter Book Club. The honor still feels extra sweet, Fish said, because "it's not a disability award. It's a book award."
He thinks much of the success is rooted in the program's warm, easy style. "This is real low-cost stuff, and it's real simple stuff," Fish said. "It's letting people be equals. Like on 'Cheers' — everybody wants to go where people know their name."
© 2017 The Columbus Dispatch
Distributed by Tribune Content Agency, LLC