New Research Finds Animals May Help Kids On The Spectrum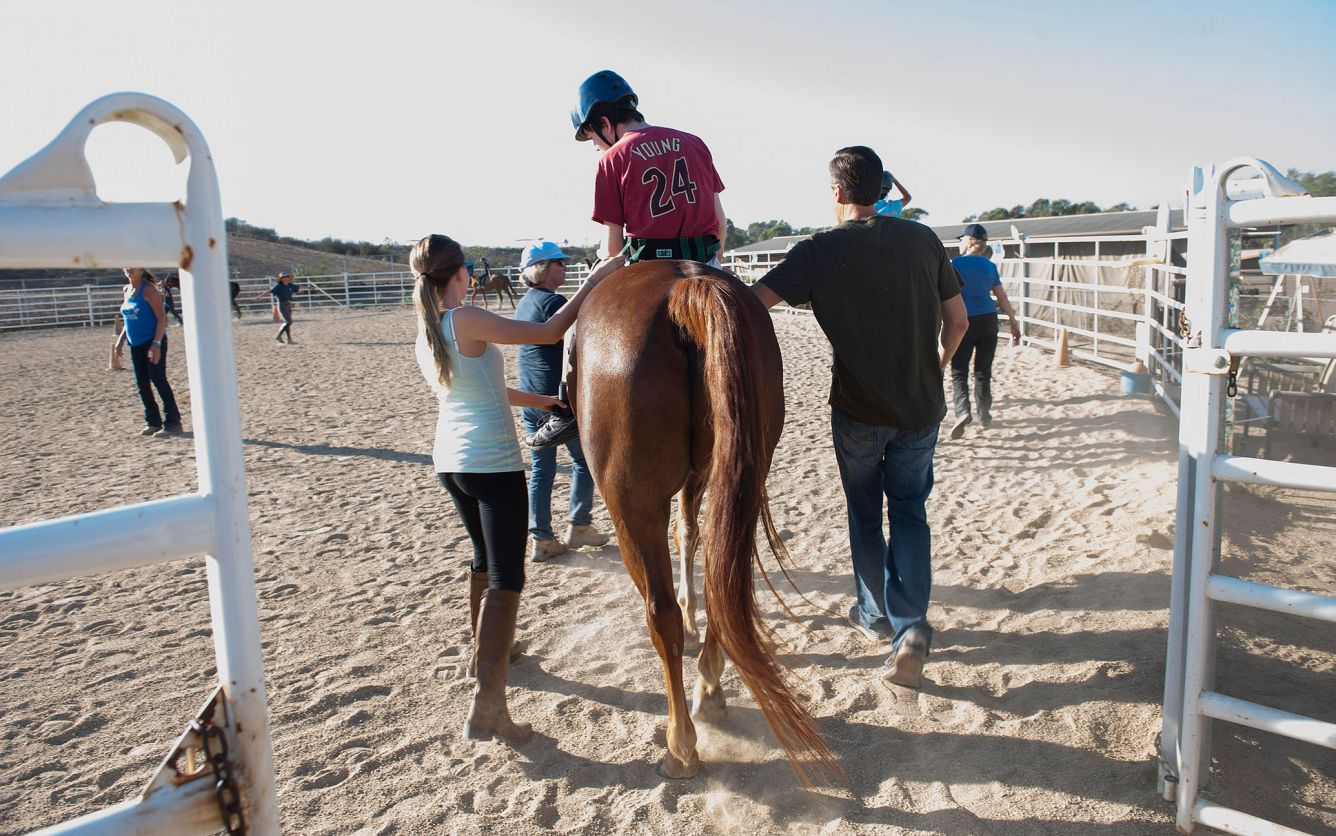 PHILADELPHIA — Sabrina Opstbaum wasn't expecting miracles when she started taking her daughter Reegan to the Barn at Spring Brook Farm, an animal-assisted intervention program for children with special needs in West Chester. Like many kids on the autism spectrum, Reegan didn't seem to connect with people, but she always enjoyed the company of animals.
After two years of weekly visits and summer camp with Annabelle the goat, Sugar the sheep, Dreamer the miniature horse, and their other barnyard cohorts, Reegan, now 8, is in many ways a changed little girl.
"She's become less aggressive," Opstbaum said. "She's in a calm mood when she's there, and it even carries over into school the next day, sometimes two days after. She's just more calm. And happy."
Advertisement - Continue Reading Below
What made the difference?
"I honestly think it's the fact that the animals don't expect anything from her," Opstbaum said. "Their calm transfers over to her. With people, we're always placing demands. With animals, they're not asking for anything. It's just, 'Be with me.'"
A growing body of research has uncovered evidence that animal-assisted interventions (AAI) may help improve the lives of people with autism by addressing some of the disorder's more difficult symptoms.
Among the studies' key findings are increased social interaction and decreased anxiety — classic autism earmarks that increase kids' isolation, often make them targets of bullies, and limit communication even with those who love them most.
Page Walker Buck, an associate professor of social work at West Chester University, has been studying families whose children go to the Barn at Spring Brook Farm for about a year. Some parents, she knows, turn to AAI in frustration, even desperation.
If an animal program appears to result in positive change, the parents get what Buck calls "extended benefits." Namely, hope.
"Hope helps family functioning," Buck said, "because hope mitigates stress."
'Taking the field more seriously'
For decades, there has been case studies and research attesting to the remarkable outcomes of animal therapy programs. But much of it was dismissed as merely anecdotal or lacking basis in serious scientific study methods.
Some parents of children with autism and other disabilities have spent substantial sums to have their children swim with dolphins, lured by the suggestion of wondrous results.
Newer studies have cast doubt on the lasting value of these therapies.
"The quality of the research has improved enormously, and the funding agencies are starting to take the field more seriously as a result," said James A. Serpell, a professor of animal welfare with the University of Pennsylvania School of Veterinary Medicine.
Recently, the National Institutes of Health, the nation's largest public funder of health research, and the Waltham Centre for Pet Nutrition, a division of Mars Inc., agreed to a five-year extension of the research partnership they started 10 years ago into the study of human-animal interaction, a growing field known as anthrozoology.
That partnership has yielded a wide range of research, including studies that suggest animal interactions may have beneficial impacts on children on the autism spectrum and people with other disabilities.
"It's too early to make any broad pronouncements, but it's certainly promising, and we're getting beyond the threshold of 'do no harm' to maybe if there are benefits, being able to quantify them," said James A. Griffin, NIH childhood development and behavior deputy branch chief.
Temple Grandin, a renowned animal behavior expert who is herself on the autism spectrum, thinks it makes sense that animals and people with autism may have an affinity. The professor of animal science at Colorado State University said animals, like some people on the spectrum, tend to be visual thinkers.
"Animals don't think in words," she said.
The most commonly studied interventions involve horses or dogs, but some of the most intriguing AAI research involves a far more unassuming creature: the humble guinea pig.
In one study, Australian schoolchildren on the spectrum exhibited more social behaviors — talking to people, looking at their faces, even touching them — when they got to interact with guinea pigs rather than just toys. They also laughed and smiled more — behaviors seen as precursors to social interaction.
Another Australian study showed a positive physiological response to the animals that could extend to easier connections with humans. For the study, children with autism and neurotypical kids wore wristbands that monitored their neurological arousal levels while performing certain routine classroom activities together, including handling guinea pigs.
Both sets of children said they were happy playing with the guinea pigs, but, unlike the neurotypical kids, anxiety levels in the children with autism dropped. In other words, the animals seemed to make them calmer. The researchers suggested that the animals may serve as "social buffers" for children with autism, possibly facilitating interaction with other children just by being there.
"Some of the children described the guinea pigs as their friends, even best friends," said Marguerite E. O'Haire, lead researcher for both studies. "Many children would sit near the cage when stressed or just hang out there to watch them."
O'Haire, an assistant professor of human/animal interaction at Purdue University's College of Veterinary Medicine, said the results of studies such as hers show promise for some people on the autism spectrum. However, she said, much more study is needed.
"One of the key areas for future research on this topic," O'Haire said, "is to understand for whom it will work and for whom it might not so we can better direct resources and tailor programming."
An unexpected friendship
A small posse of baby goats spills out of a barn door, scampering and frolicking in a fenced paddock under an early evening sky. Two little boys are in hot pursuit, laughing, giggling.
"Help me, Trevor! I can't get him!" calls out Nicholas Opstbaum, 9, trying to head off one of the animals. Trevor Walsh, also 9, grins broadly as he runs to catch up.
Trevor is on the autism spectrum. Nicholas is not. But Nicholas is the kind of person Trevor had never before known. He is Trevor's friend.
"Trevor never had that in a peer, not even in school," said his mother Laurie Beatty-Walsh. "Before the Barn, he wasn't able to respond to the offer of friendship."
Trevor's parents first brought him to the Barn because he was terrified of dogs. They thought the program might help. At first he wanted no part of the animals, but with the staff's help, that gradually changed.
Then Trevor and Nicholas started to get acquainted, too. Nicholas attends the program with Reegan, his younger sister who is on the spectrum.
Activities with the animals have become the boys' social bridge. Now they also play together every week at the Walshes' home.
Labeled nonverbal because he would only repeat what other people said or what he heard on television, Trevor now uses his own words with Nicholas. They make each other laugh; they get each other's senses of humor. And Trevor has begun to show interest in other people, too.
"It's created so much improvement in his life and my family's life," Beatty-Walsh said.
It has something to do with the animals, she thinks. "They are calming, and they're a motivator," she said.
In the spring, Trevor is going to help raise a calf through 4-H, the nonprofit youth organization. Nicholas wants to do it, too, Beatty-Walsh said.
After all, they're friends.
© 2018 Philly.com
Distributed by Tribune Content Agency, LLC
Read more stories like this one. Sign up for Disability Scoop's free email newsletter to get the latest developmental disability news sent straight to your inbox.