Theater Program Gives Stage To Children With Disabilities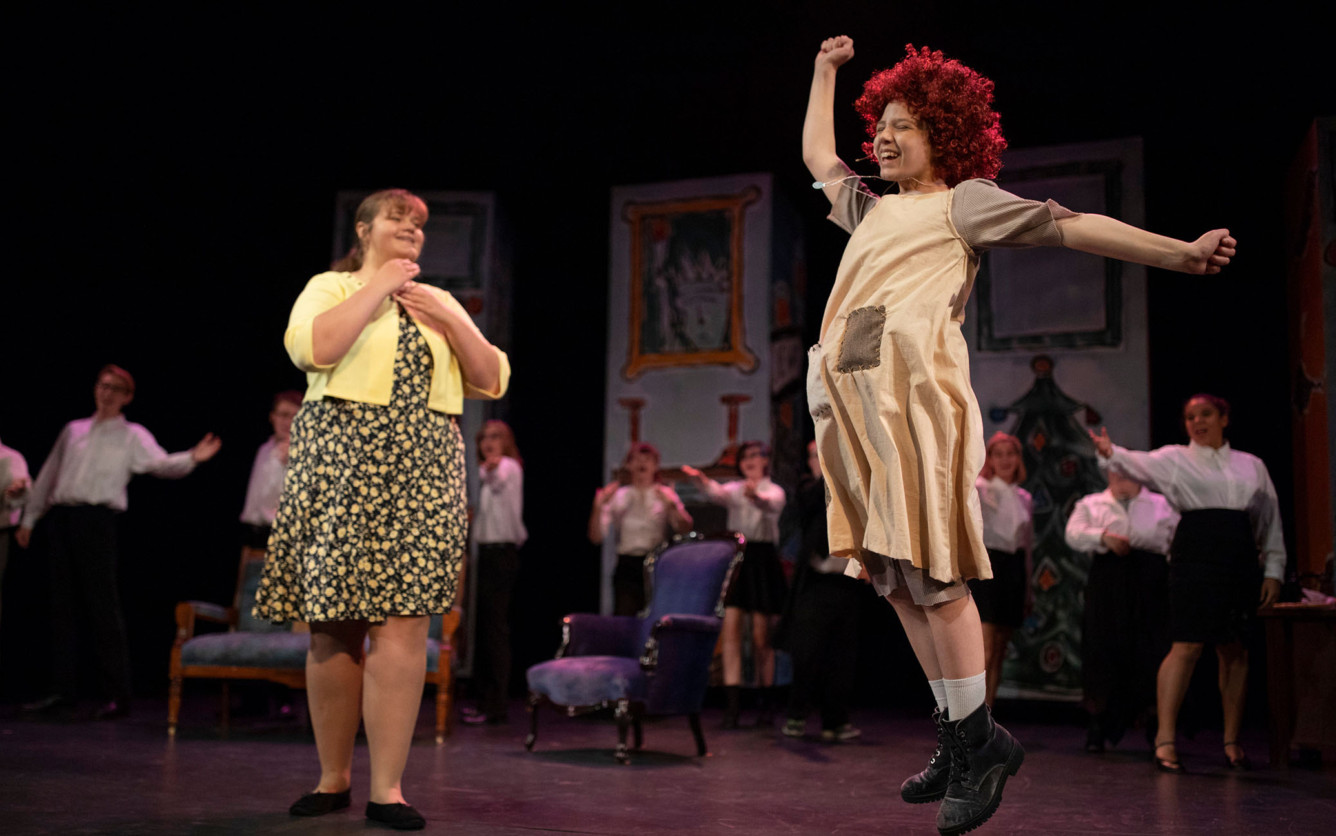 ANOKA COUNTY, Minn. — When the music flips on, something electric strikes 14-year-old Nick Motlomelo's long limbs. His hips swivel, his body bends, his shoulders shimmy.
Sometimes the magic happens on cue, in sync with the rest of the performers putting on a special version of "Annie Jr." And when it doesn't, 13-year-old classmate and mentor Liliana Becker is there to help Nick, who has Down syndrome, get to the right spot on stage and remember that he's part of a bigger group.
Liliana and Nick belong to a cohort of actors from Northern Starz Children's Theatre in Ramsey, participating for the first time in a national theater program for young people with special needs. The program, called the Penguin Project, pairs cast members with developmental and neurological disorders with peer mentors who guide them through the four-month process of staging modified versions of well-known musicals.
Advertisement - Continue Reading Below
"The need is huge," said Andy Morgan, a developmental pediatrician and founder of the Penguin Project in Peoria, Ill. "These children have incredible talents. It's just that they have very limited opportunities to show it."
Organizers point to the power of theater to help traditionally isolated children and their families build a vibrant social network. Parents say they've seen their children transform, gaining self-confidence and forging friendships that outlast the production.
Since its debut show in 2004, the Penguin Project now has more than 20 replication sites across 16 states. Northern Starz marks Minnesota's first. Some envision the growing program as the "Special Olympics for theater."
More than 30 Minnesota performers, ages 10 to 22, recently wrapped up their work on "Annie Jr.," which ran in August at Anoka-Ramsey Community College. Next year's Penguin Project production is already taking shape, with plans to stage a show every summer, said Rachel Bohnsack, executive director at Northern Starz.
That's welcome news for Nick's mom, Donna Motlomelo, who noticed from the first night of the program that Nick was sleeping with his script. For months, he ran his lines and danced in the kitchen. He carried business cards with the show dates to pass out to classmates.
"He loves music. He loves the stage," Motlomelo said. "It's hard to get him to leave."
'Incredible children'
Several thousand young artists with special needs and their mentors have passed through the Penguin Project since Morgan founded it 14 years ago. More than 1,000 children were involved in the program last year alone.
The Penguin Project also was one of 12 groups from across the country awarded a National Arts and Humanities Youth Program Award in 2017.
The program braids together two of Morgan's passions. He's a longtime theater lover and a pediatrician who specializes in the care of children with developmental disabilities.
Theater, he said, has therapeutic value by fostering social interactions and boosting communication skills, self-esteem and self-confidence for children who may have few friends and limited social outlets. One by one, Morgan can recount stories of transformation.
There's the young man with an autism spectrum disorder who was so overwhelmed at the beginning of the program that he curled into a ball in the middle of the rehearsal floor. Two years later, he took the stage as a lead in the show, a feat he repeated several times.
Another actor, with Down syndrome, spent the first rehearsals hiding in the supply closet. By showtime, the shy performer nearly had to be pulled off the stage, so enamored was he with his moment in the spotlight.
Just as important are the quieter moments, like a girl with autism spectrum disorder who got her first phone call from another kid to hang out, Morgan said.
Peer mentors, organizers say, often undergo just as much change as the young performers, who are known as "penguins." Some mentors end up going into careers related to special needs, becoming therapists or special education teachers.
At Northern Starz, performers and mentors paired themselves up with partners with whom they naturally clicked. Most are close in age or share interests. The mentors stay on stage behind their penguins like friendly shadows, wearing similar costumes and ready to help out if needed.
Mentors learn lines they may not get to recite. Memorize songs the audience may not hear them sing. Commit to months of rehearsals all while knowing that the crowd's eyes will mostly be focused elsewhere.
"These are incredible children, as young as 8 or 10 years old, who give of themselves so willingly," Morgan said. "They are the stars behind the scene. They are the backbone of what we're doing."
Life skills
It was this mentor relationship that drew Northern Starz to the Penguin Project.
"It's something that really doesn't exist in our area," said Michelle Sharon, a special education teacher and the mentor coordinator for "Annie Jr." at Northern Starz. "They are not just learning theater skills. They are learning life skills."
Fourteen penguins and 20 mentors worked together since April on "Annie Jr.," learning by heart a tale about a plucky orphan in Depression-era New York City.
At the beginning, it was challenging for parents of penguins to step back and allow the mentors to step in, Sharon said.
Andrea Haglund, whose 14-year-old daughter Elaina was in the production, is the first to admit that sitting on the sidelines during rehearsals can be tough. Elaina has Williams syndrome, a genetic condition characterized by medical problems, developmental delays and cognitive challenges.
But Haglund said she's proud of the bond Elaina has formed with her mentor, including grabbing lunch together outside of rehearsals.
The dances, Elaina said, were tricky to learn. But the big payoff comes on the stage.
"It feels like you're flying on air when you're doing a play," she said.
During one of the final rehearsals, a costumed Elaina smiled at her mom from the stage, her golden banana curls bouncing. Nearby stood Nick and his mentor, Liliana, who have known each other since kindergarten.
In the audience sat Nick's family, marveling at how the Penguin Program has helped him with his reading and made him more aware of being part of a bigger group, rather than the center of attention.
Moments before his favorite song, Nick beckoned to his relatives to join him on stage for "Don't Stop Believin.'" The Journey rock anthem ends all Penguin Project shows and rehearsals, allowing performers, mentors and families to sing together.
As the first notes sounded, Nick began to move, his body twisting, jumping, bobbing. His family and new friends surrounded him under the bright lights until the song ended, the crowd onstage hooting over the applause.
© 2018 Star Tribune
Distributed by Tribune Content Agency, LLC
Read more stories like this one. Sign up for Disability Scoop's free email newsletter to get the latest developmental disability news sent straight to your inbox.