Women With Disabilities Tackle Reproductive Health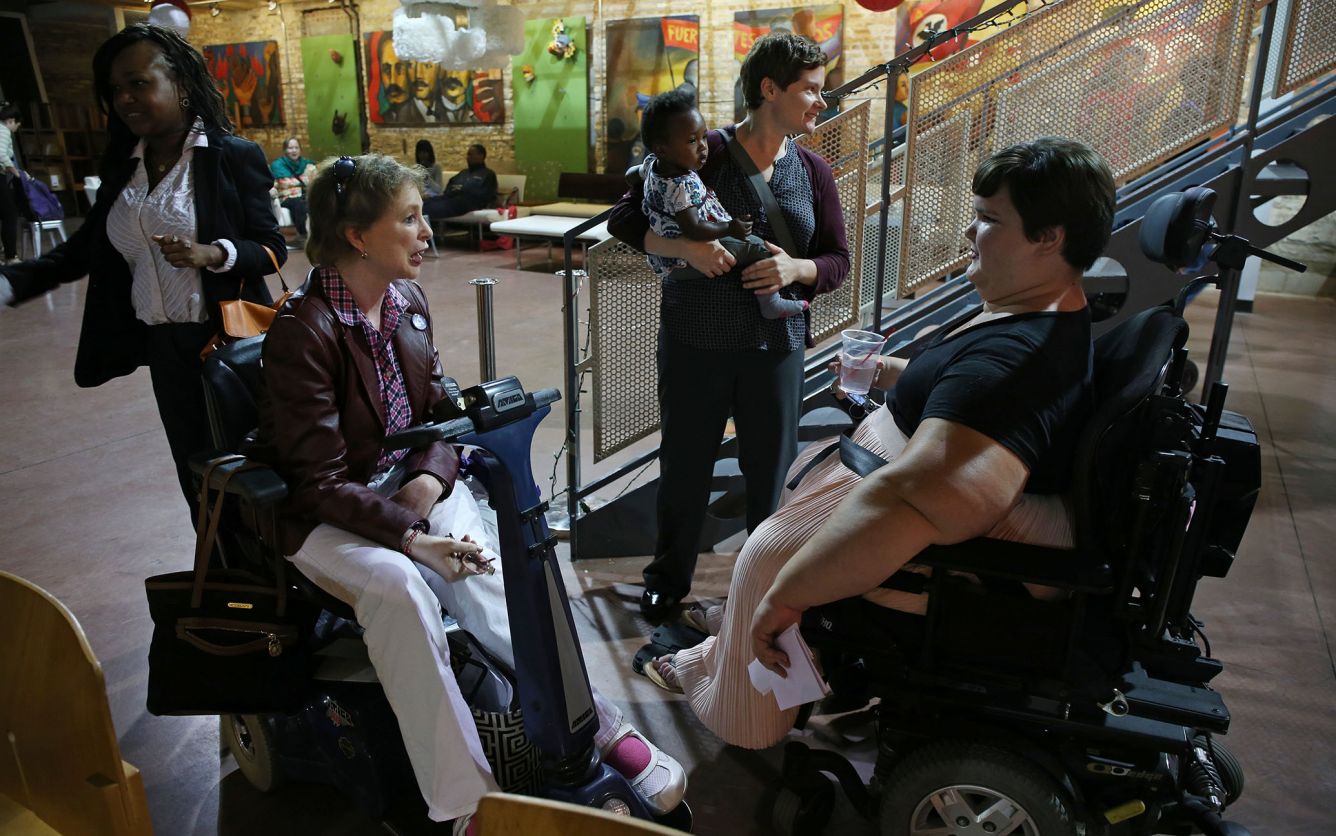 CHICAGO — Stephanie Jackson was nervous as she stepped in front of the room.
"This is a very important day for the Fe Fes," she began softly. "This is the first time that a group of women with disabilities … ."
She paused and looked down at her notes. "Oh, God," she murmured.
Advertisement - Continue Reading Below
The room echoed with encouragement. "You're doing great!" "Go on!"
She went on.
"Sometimes people in my life don't want me to make my own decisions," she said. "But it's about you and taking control of your life. Thank you."
She walked away to cheers amid celebration of the launch of "Take Charge!" a guide to reproductive health for women with disabilities.
The new guide tells what to expect at a gynecology appointment, discusses birth control and preventing sexually transmitted infections and advises women with disabilities on how to ask to see a doctor without a parent or guardian present.
A project of Access Living of Metropolitan Chicago funded by the Chicago Foundation for Women, the guide is being presented by a group that inspired its creation and contributed to its content — the Empowered Fe Fes.
The Empowered Fe Fes — slang for females — are young women with disabilities who meet regularly at Access Living to enjoy one another's company and talk about their shared concerns. Among them is reproductive health care.
Women with disabilities have the same needs for pelvic exams, Pap smears and birth control as other women, said Fulani Thrasher, women and girls community organizer at Access Living. But they may be stymied by inaccessible exam tables or clinics that don't provide help with donning gowns or transferring from a wheelchair.
And they often face another barrier: the belief they don't need services like birth control.
"We are seen as people who maybe shouldn't have sex — that we're not ready for something like that," said Jackson, who is 23.
The Fe Fes know women with disabilities have sex. One of them has a 2-year-old daughter. Sex is a recurring subject at meetings.
The Fe Fes talk about birth control, masturbation and at what point to broach the subject of sex with a partner. At a recent meeting, a representative from a sex toy store brought various wares. The Fe Fes used some of them for a practice session on putting on a condom.
The absence of media representations of physical love for people with disabilities leaves Fe Fes with frank and specific questions.
How do people who use wheelchairs have sex? How do they maneuver in the room with the wheelchair? Can other people be in the room helping them?
"They don't have a picture of what sex is like for disabled people," Jackson said.
And their families aren't necessarily eager for them to find out. Parents and guardians don't want the young women to be taken advantage of or hurt.
Thrasher sympathizes.
"The pressure is real for parents of children with disabilities to protect them and make sure they have housing and transportation," she said, and arranging for their continued care after they're gone.
But the young women are thinking about boyfriends, marriage and children, Thrasher said, and should get guidance and support.
Their health is at stake, said Kennedy Healy, 20, Access Chicago's women and girls intern and a primary force behind the new guide.
Because of outdated assumptions that people with disabilities don't have sex and don't find love, she said, women with disabilities are rarely taken to gynecologists and thus have higher rates of sexually transmitted infections and unplanned pregnancies.
Women with disabilities are also at higher risk for sexual violence, according to Illinois Imagines, a statewide project to improve services for women with disabilities who are victims of sexual assault.
Their relationships should be taken as seriously as anyone else's, said Healy, who is also a student at DePaul University.
"When someone with a disability gets a date to the prom, it's on the evening news," she said. "When a disabled person having a date becomes a heroic or adorable thing, it's hard to have these relationships respected."
The new guide outlines the accommodations medical officers are required to provide under the Americans with Disabilities Act — and they go beyond wheelchair accessibility. They must have height-adjustable exam tables to which someone can transfer from a wheelchair, or else provide lifting equipment or a trained lifting team. They must provide assistance in undressing and dressing if a patient needs it, or an American Sign Language interpreter or written instructions in Braille.
And the medical office must provide the helpers; women are not required to bring their own aides or interpreters.
Those accommodations may be hard to find, though. Members of the Empowered Fe Fes contacted major Chicago hospitals and clinics and found that half said, for example, that they did not help patients dress and undress.
Many, and possibly most, clinics and hospitals are not fully compliant with the ADA, according to a health care consultant who helped write the new guide. The Department of Justice never enacted regulations to enforce the act at health care clinics.
Still, the mood of the launch party was one of celebration.
The new guide will be distributed in coming months to community organizations, medical offices and, Thrasher hopes, to medical students.
The Empowered Fe Fes, who were hugging and laughing for photos, will continue encouraging women with disabilities to live fully.
"It's OK to have these feelings," said 25-year-old Brittany King, who has mobility issues in the wake of a stroke. "We are women, at the end of the day. We want the same desires and relationships as other people."
© 2015 Chicago Tribune
Distributed by Tribune Content Agency, LLC
Read more stories like this one. Sign up for Disability Scoop's free email newsletter to get the latest developmental disability news sent straight to your inbox.