Police Get Schooled On Special Needs Interactions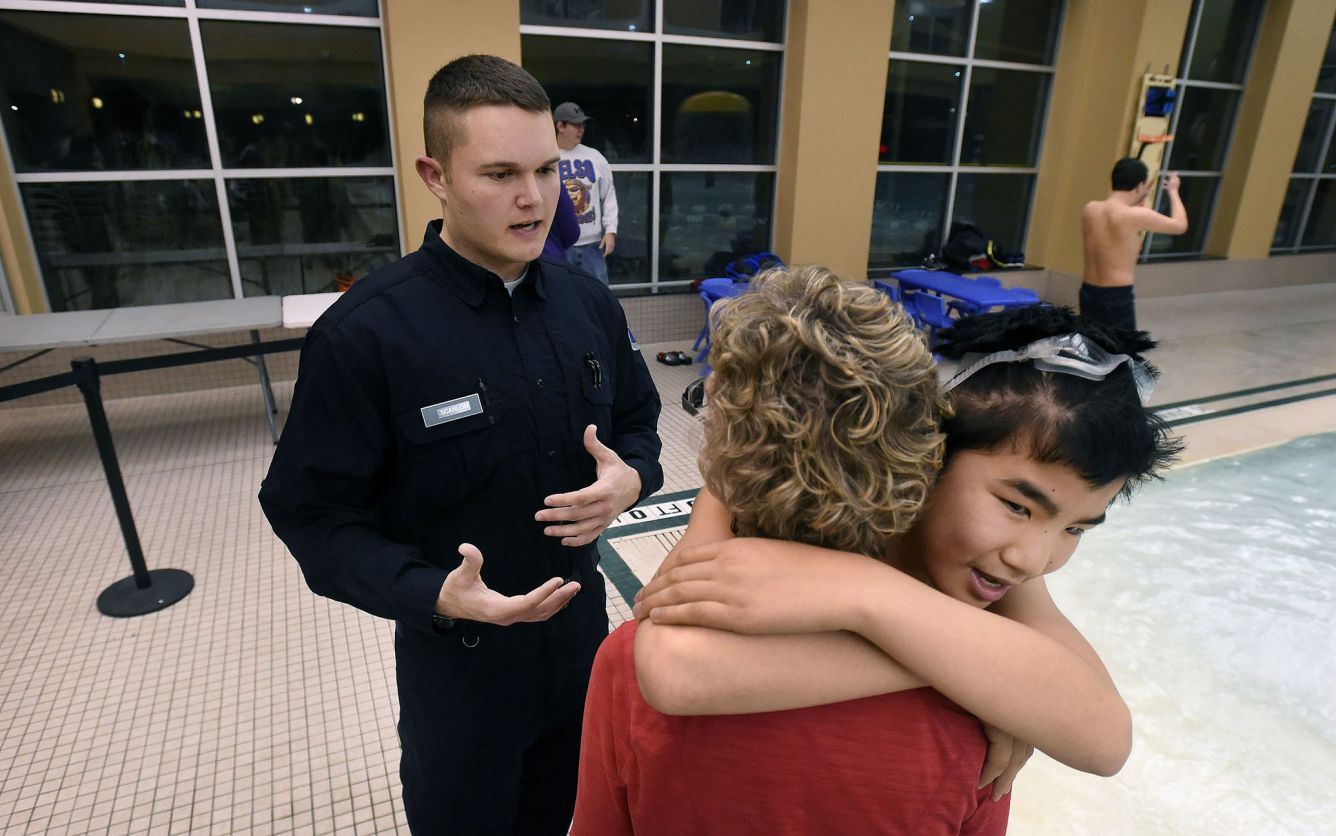 COLUMBIA, Md. – Say a young man is pacing outside a house.
A police officer asks him to stop, but the young man keeps pacing. Maybe the young man notices the officer's gun and just wants to touch it. He reaches …
"They may not know not to come up and touch their guns," Elizabeth Benevides said.
Advertisement - Continue Reading Below
Her teenage son has autism, and often repeats words said to him.
"If you're an officer," she said, "you might think that's really flippant."
Benevides plans this week to help train police recruits to resolve such encounters with "de-escalation tactics:" speak calmly, give space, be patient.
The 11 recruits will be the first police class in Howard County to take the four-hour training on intellectual and developmental disabilities after it became a requirement for recruits across Maryland.
Some of the 11 recruits had their first encounters with autism Sunday evening, during a pool party with the Howard County Autism Society. The recruits served pizza poolside at Life Time Athletic in Columbia. About 40 families arrived.
"I just fear people won't understand my son," said Sabina Sambat, mother of 12-year-old Niko.
The mandatory police training comes three years after a 26-year-old man with Down syndrome died in a struggle with Frederick County sheriff's deputies.
Robert "Ethan" Saylor died after deputies tried to remove him from a Frederick movie theater.
Saylor attended a screening of "Zero Dark Thirty" with an aide and refused to leave when it ended. Three off-duty sheriff's deputies working as security officers handcuffed Saylor.
According to the sheriff's office, Saylor suffered a "medical emergency." The deputies removed the handcuffs, attempted CPR and called for emergency workers, the sheriff's office said. Saylor died soon after.
A medical examiner ruled his death a homicide and found that Saylor died of positional asphyxia and excited delirium, complicated by his disability and weight. A grand jury declined to indict the sheriff's deputies, and an internal investigation cleared them of wrongdoing.
Eight months after Saylor's death, then-Gov. Martin O'Malley met with his family and pledged to improve police training. He formed a commission that recommended all new recruits be trained on intellectual and developmental disabilities. The Maryland Police Training Commission adopted the recommendation last year.
Also last year, the General Assembly passed legislation to fund an alliance within the state Department of Disabilities to recruit and train people with disabilities. They will then help train police.
Patti Saylor said Sunday she is "still a sad and grieving mother. That's never going to change.
"But I think this is a victory for individuals with developmental and intellectual disabilities," she said. "There's a movement to recognize their value. That they can contribute."
In Howard County, Lt. Bill Cheuvront will lead the training with Benevides, a former president of the Howard County Autism Society.
Howard County had 764 students with autism, according to the most recent state data available. That's about 16 percent of all students – well above the state average of 9.8 percent.
"Most of the incidents we've seen in Howard County have been with nonverbal kids who have wandered away from home," Cheuvront said.
Officers are usually trained to establish a commanding presence, he said, but encounters with individuals who have developmental disabilities require patience.
"Give a request or command and give that person time to process it," he advises officers.
Sunday evening, the officers and families met with hopes of avoiding conflicts.
"What looks like violence is really just agitation," Jane Plapinger said. Her son David, 13, has autism, and is also friendly and affectionate. He gives bear hugs.
The Ellicott City mother watched David pace and talk to himself. Scripting, she said, for reassurance.
Voices echoed in the indoor pool. Plapinger said her son struggles with loud noises.
Police recruit Michael Scanlon approached.
"If my son is out of control," Plapinger told him, "he's frightened."
David moved closer to the slide and the noises.
"Just be very reassuring," his mother continued, "and keep everybody calm until he comes down."
David was watching the slide.
Grinning, he raised his arm. He was cheering.
© 2016 The Baltimore Sun
Distributed by Tribune Content Agency, LLC
Read more stories like this one. Sign up for Disability Scoop's free email newsletter to get the latest developmental disability news sent straight to your inbox.