Entrepreneurs Design Backpack For Kids On The Spectrum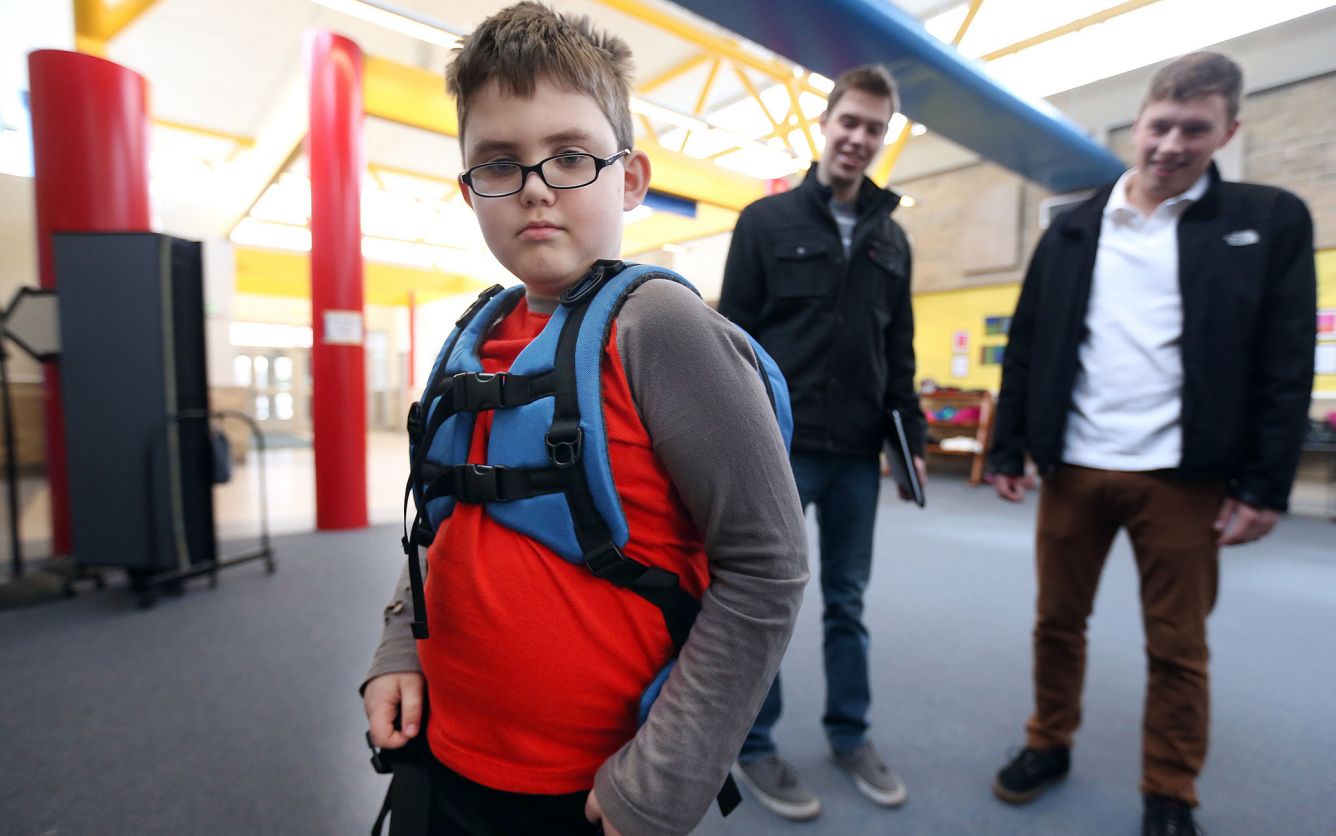 WOODBURY, Minn. – The Nesel Pack got a big thumbs up from Liam Craig, a third-grader at Bailey Elementary School.
"It was comfy, but it does need (to be) a little softer on the straps," Craig said. "If it would change to a fleece, it would be much better."
Liam, 9, is on the autism spectrum and craves sensory stimulation, like a weighted vest or a bear hug. Recently, Liam tested the Nesel Pack, a specialized backpack being developed by student entrepreneurs at the University of Minnesota for kids on the spectrum.
Advertisement - Continue Reading Below
The Nesel Pack (a play on the word "nestle") has thick straps and weighted pouches to mimic a compression vest and help with body awareness. There are clips on the front to attach sensory toys like chewies and fidgets.
"The biggest thing is my son Liam really does need sensory stimulation all throughout the day, and having the extra wide straps is going to be huge for him," said Josh Craig. "I like the robustness of it and the clips on the front for chewies and that sort of thing – things that would be dropped seconds after they're given to my kid that shouldn't go in his mouth when they're dirty."
The security strap on the back helps, too. "Liam has been known to be a runner when he's nervous or overwhelmed," Craig said. "So, having that extra handle to grab to keep him safe is a huge benefit, too."
The team of six Carlson School of Management seniors behind the Nesel Pack came up with the idea in a class.
At first, Martha Pietruszewski, CEO of Nesel Packs, just wanted to make a backpack for her Entrepreneurship in Action class, where students start a business. With time, the idea evolved into a specialized tool that looks like an ordinary backpack.
Will Radke, Nesel's chief relations officer, was quick to join the team. When Radke was in eighth grade, his parents decided to open their home to foster children. Over a decade, the family hosted almost 30 kids, Radke said.
"I wasn't even thinking about disabilities as much as foster kids," Radke said. "Everything they had had been taken away. We wanted to make a backpack that would be like a security blanket.
"Obviously, this is a whole different scenario, but the idea of having something that comforts you, wherever you are, is what I was thinking," he said.
The group partnered early on with Fraser, a nationally-recognized provider of autism services with locations throughout the Minneapolis area, to conduct product research, Pietruszewski said.
"We basically wanted to include as many features as possible, without being overwhelming, so we could cater to everyone on the spectrum," Pietruszewski said. "We've gone through two prototypes and the most recent prototype is likely to be our final version."
Fraser is collaborating with Nesel on the annual Fraser Walk for Autism at the Mall of America in April to connect the designers with the families that would benefit from the backpack. The Nesel team is launching a Kickstarter campaign where the backpacks will be sold; it is now priced at $115. There will also be an option to donate a backpack to Fraser's clinic.
Margaret Semrud-Clikeman, director of the Clinical Behavioral Neuroscience division in the University of Minnesota's Department of Pediatrics, said she thinks the pack would be an excellent tool – not only for children with autism, but also for kids with anxiety disorders, ADHD and dyslexia – by reinforcing routine and predictability.
"I actually think it's a really great idea," Semrud-Clikeman said. "The child would know that it's theirs. It's safe and I think that's the most important thing, that things are safe."
Kendra Williams, an occupational therapist at Fraser, said that with the recommendation of a specialist, the backpack would be a good way to continue sensory therapies throughout the day.
"Especially for older kids, because it's got that more traditional backpack look, so adolescents would be more likely to use it," Williams said. "I could see this being very helpful for the right kind of client who benefits from weight and compression."
© 2016 Star Tribune
Distributed by Tribune Content Agency, LLC
Read more stories like this one. Sign up for Disability Scoop's free email newsletter to get the latest developmental disability news sent straight to your inbox.