Airline Accessibility Remains An Issue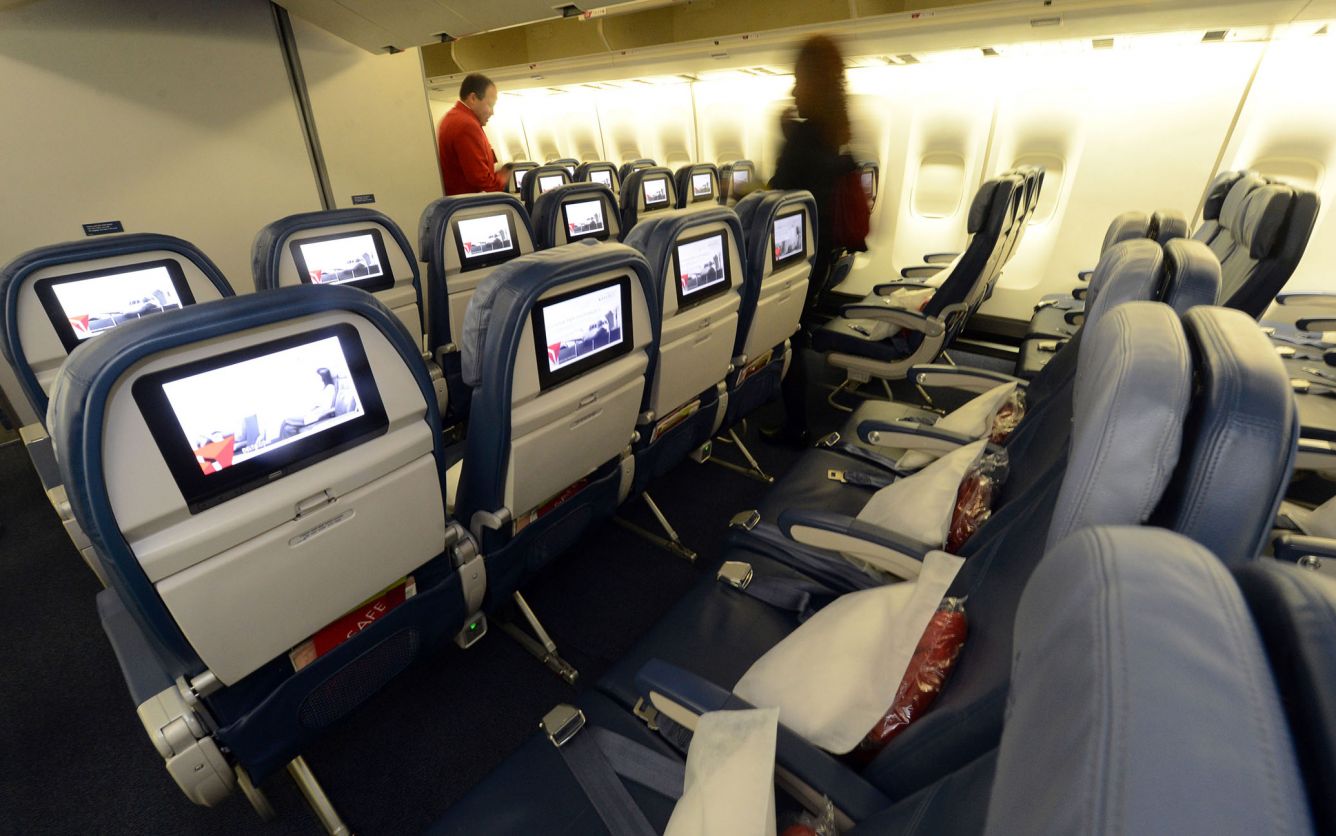 Barbara Ball and her husband have traveled extensively: Greece, France, Italy, the Bahamas and all over the United States, to name a few.
The Modesto, Calif. resident feels fortunate to have visited so many places before a blood clot in her right leg led to its amputation five years ago.
Ball now has a prosthetic but spent a few months in a wheelchair during rehab. So it struck a chord when she heard about her friend's brother, a double amputee in a wheelchair living in South Carolina, who can't fly to California to visit because he can't access the onboard restrooms.
Advertisement - Continue Reading Below
She wondered if accessibility rules weren't the same in the air as they are on the ground.
It's a good question.
Most people assume the Americans with Disabilities Act governs accessibility on airplanes, said Washington resident Malcolm Cumming, but that's not the case. Cumming cares for his wife, Deborah Livesey, who has multiple sclerosis and has been in a wheelchair for two decades.
He's very familiar with the the limitations of the laws that apply to accessibility on airplanes, which were established by the Air Carrier Access Act.
The act was written nearly 30 years ago, but little has changed in the way of accessibility, Cumming said. It was just two years ago that he accidentally broke his wife's arm trying to get her into a lavatory that was not accessible during a flight to San Antonio.
Accessible lavatories are required only on aircraft with more than one aisle.
The U.S. Department of Transportation reasoned that the larger aircraft are used for longer flights and transport the greatest number of people, so it is more likely a passenger with a disability will need an accessible lavatory, said department spokeswoman Caitlin Harvey.
But Cumming said most domestic flights, even across the country, are in single-aisle aircraft and can last the better part of a day, depending on the number of stops. Furthermore, wheelchair users are the first ones on and the last ones off, adding about another hour to the onboard time.
It's unrealistic and unfair to expect a passenger with a disability to refrain from using the restroom for that long, Cumming said.
Wheelchair user Barry Smith has been on flights lasting more than eight hours to Washington, D.C., and 13 hours to Alaska; nearly all of them were on single-aisle aircraft.
Smith suffered a spinal cord injury from a diving accident as a teenager. He uses a catheter but said he could not access the lavatories if he needed to.
Smith is the executive director of the Disability Resource Agency for Independent Living in Modesto. He's helped clients prepare for air travel by sharing some of his experiences.
An onboard or aisle wheelchair is needed to board the plane because standard wheelchairs are too big to fit through the doors, down the aisle or in the bathrooms.
Smith describes such a chair as essentially a refrigerator dolly with a seat. The wheels are on the bottom so it cannot be operated by the person with the disability. Instead, the chair is pushed or pulled backward down the aisle by an airline employee after the passenger is strapped in like "a NASCAR driver," Smith said.
He said employees need to be better trained to operate the chair and help the person with the disability get into a seat. Smith's feet have dragged on the ground, he's bumped into things and he's been dropped on the chair's armrest.
He said he's never tried getting into a lavatory with the onboard wheelchair but can't imagine being able to fit in most circumstances.
Cumming said his wife is not medically required to use a catheter and shouldn't be required to do so just to get on an airplane.
"Someone should not be forced to get a catheter to go on holiday," Cumming said. "The Air Carrier Access Act was not based on the idea that people would use catheters or dehydrate themselves or wear diapers (to get through the flight)," Cumming said. "That is not treating people equally."
Unlike accessible bathrooms in buildings, which must have a diameter of at least 60 inches, airplane lavatories do not have to meet specific dimension requirements.
Rather, the "lavatory shall permit a qualified individual with a disability to enter, maneuver within as necessary to use all lavatory facilities and leave, by means of the aircraft's on-board wheelchair," according to the act. They must also be equipped with grab bars and a call button.
"The language at the very beginning falls apart because the wheelchair cannot be operated by the person with the disability, only pushed by someone else," Cumming said.
Airline staff members are responsible for transporting a passenger with a disability to and from the lavatory, but the passenger is on his or her own once inside.
Department of Transportation regulations do not require the accessible lavatory to be large enough to accommodate an attendant to help the person with the disability, Harvey said.
"If we could get into it, (Livesey) would be just facing a toilet she could not get to," Cumming said. "I would have to reach over the chair holding her out with my arms like a forklift. The bathrooms needs the space for an attendant."
More frustrating, Cumming said, airlines slap wheelchair-accessible signs on lavatories because they have grab bars in them, which actually serve only to narrow the space for the people who need help into a bathroom.
The lavatory on the flight to San Antonio had the symbol on the door, so he thought it would be safe to help Livesey in by holding her under her arms and pulling her in backward.
"With my arms wrapped under hers as I eased her in, the narrow entrance crimped her elbows inward until her arm bone cracked just below her shoulder," Cumming wrote in an article for the online news site Airlines Reporter.
The experience hasn't deterred the couple from traveling, but the lavatory layout is always a concern.
"If you are flying domestically, you are going to be in the world of single-aisle airplanes, and there is nothing to accommodate the fully disabled or nonambulatory person," Cumming said.
Changes could be in the works. Last month, the Department of Transportation announced its intention to establish a committee to negotiate proposed amendments to disability regulations, Harvey said. The committee will consider three issues, including whether to require an accessible lavatory on single-aisle aircraft over a certain size.
"The department has done so in recognition of the fact that a higher percentage of long-distance flights are now being conducted by single-aisle aircraft," Harvey said.
© 2016 The Modesto Bee
Distributed by Tribune Content Agency, LLC
Read more stories like this one. Sign up for Disability Scoop's free email newsletter to get the latest developmental disability news sent straight to your inbox.