Peer Mentors Help Kids With Autism Learn Social Graces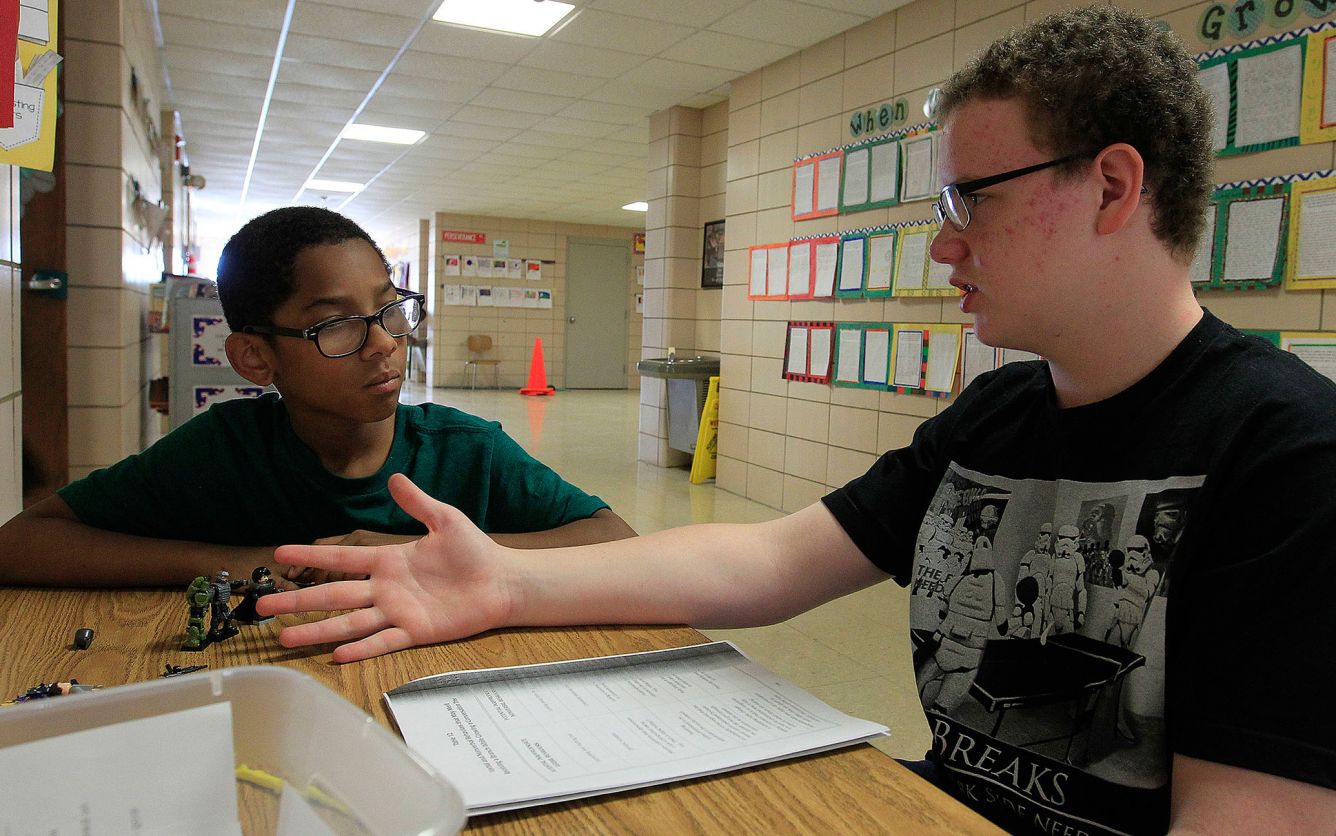 BELLEVILLE, Ill. — At first look, it's hard to tell who in the peer mentoring program has autism and who is in regular education at Belleville's Westhaven Elementary school.
But then a balloon pops, and a kindergartner with autism shrieks — as would many regular eduction kindergartners — and a sixth-grader claps his hands over his ears and keeps them there.
"Did you hear that POP?" he excitedly asked a few minutes later. "Did you hear POP?"
Advertisement - Continue Reading Below
James Moton, 11, was soon calm on a recent morning, alternately appearing either bored or highly engaged when talking about outer space or the show "How it's Made" with his peer mentor, William Hein.
James and William are part of the Belleville District 118 program that pairs students in regular education with students on the autism spectrum. The students with autism are gently coached in social skills, and the mentors like William get to exercise their empathy as well as educate others about the disorder.
The program has gradually grown, says Autism Consulting Teacher Chris Gibson, and now includes all but three of the district's 11 schools.
Autism includes such a wide spectrum of needs, says Gibson, that it's difficult for the district to provide for every student. But she says peer mentoring makes a huge impact for the district's 100-plus students with the disorder. She says mentors don't need to be the smartest students in the class, but they do need to have the maturity and social skills to help others.
Students who are interested in becoming peer mentors begin by hanging out with the students who have autism a day or two a week at lunch. From there, those who form a special bond — like William and James — are paired for the next year, after the mentor undergoes training over the summer.
"He's always been smart and inquisitive," says James' dad, Marco Moton. "He opens up more (now)."
Gibson said that like many young children with autism, James had trouble when he was in kindergarten with controlling outbursts. Now, he's learned some coping techniques that William helps him with. Gibson says one perk of the program is that when a teacher sees that a child is starting to have difficulties, the teacher can call upon the trusted peer mentor to help out.
The district will expand the program next year to all but Washington School, which is pre-kindergarten and early childhood, Gibson said. At that age, they are identifying children who might have delayed social skills and providing more opportunities for the students to develop those skills. Henry Raab and Jefferson are the final schools that will have the program next year.
She said the district chose the slow-but-steady approach to adding peer mentoring throughout the district because it's a time-consuming process.
"Over 100 children in the district fall somewhere on the spectrum," Gibson said. To add the peer mentor program means not just training the student mentors, but also the teachers who will assist.
She says compassion and understanding go a long way when interacting with children who have autism.
"This is the fastest growing — with the most diverse spectrum — ever had in our district," she said. "They are in every aspect of every program we have in this district: regular education, special education, learning disabilities and behavior disorders."
According to the U.S. Centers for Disease Control and Prevention, autism rates are on the rise and Gibson is seeing that play out before her.
"But when I walk into an (Early Learning Center) now versus 20 years ago, you see much more autism. Today, about half of ELC to two-thirds will have autism," she said. "There's a reason I have three kindergartners and one sixth-grader," at the Westhaven school's peer mentor program.
The ELC programs are for children who have been identified in screening as likely to benefit in some way from earlier intervention.
For Moton, the years-long intervention with James will continue.
"Right now, my main focus is on working on being more discerning about people he approaches and talks to because he can tend to be a little bit too friendly," he said. "We're working on that."
Moton said James had been shy and reserved, but is now excelling at school and growing in his social skills.
James is intelligent — Gibson estimates his IQ to be well above average — and as a sixth-grader is doing 12th-grade calculus for fun.
"I'm on the first problem, and he's finished with the fifth," said William of the times he works on their sixth-grade math with James.
"If you can get early intervention, speech and language — and there's a great deal of support — you can lead a very typical, normal life," Gibson said. "(Once, children) were sentenced to a life of special education. That's not the case anymore."
She and Moton expect James to lead a normal life.
"He 100-percent should be a functional adult, making an income and that starts with us," she said.
© 2016 the Belleville News-Democrat
Distributed by Tribune Content Agency, LLC
Read more stories like this one. Sign up for Disability Scoop's free email newsletter to get the latest developmental disability news sent straight to your inbox.