Chef With Down Syndrome Opens Food Truck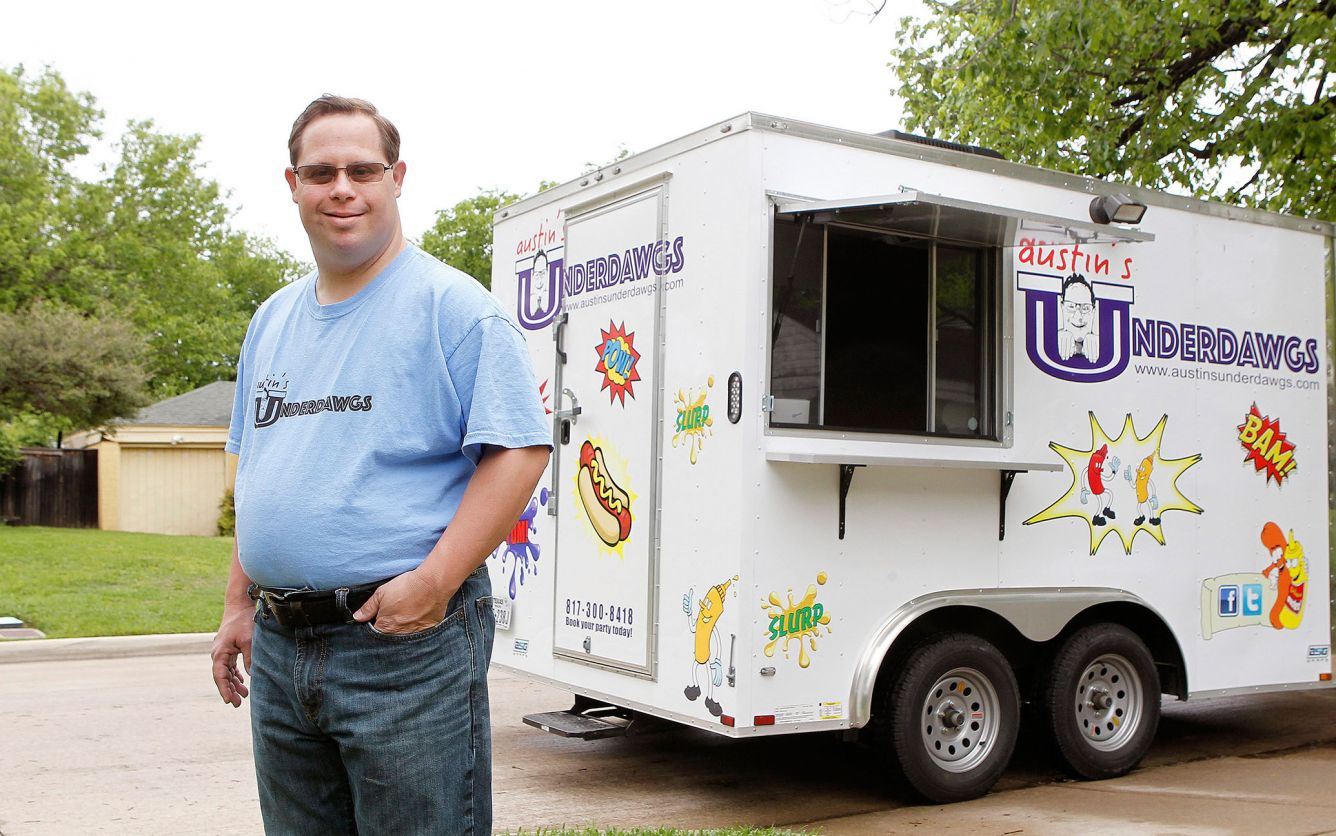 FORT WORTH, Texas — Austin Underwood opened the back latch of his truck and swung open the doors.
He grazed the shining surfaces with his hands, and his face broke into a big grin.
"This is it," he said. "This is where we'll do our cooking."
Advertisement - Continue Reading Below
Fort Worth's newest food truck is the creation of the 37-year-old Underwood, who has Down syndrome and has long dreamed of working as a professional chef and owning a restaurant. Called Austin's Underdawgs, the rolling restaurant will serve hot dogs with inventive toppings such as "dawg sauce," a raspberry chipotle barbecue-flavored concoction.
Underwood's face is sketched on the side of the food truck, alongside the words, "Dream," "Slurp" and "Yum." For now, the truck is available for catering by reservations only.
To many, Underwood is already a familiar face in Fort Worth, where he works as a host and greeter at Campisi's, an Italian restaurant.
Owner David Campisi hired him shortly after the restaurant opened three years ago. The two have grown close, talking by phone every night Underwood works and frequently dressing in matching blazers.
"Austin knows everybody," Campisi said. "He represents the Campisi's culture very well. We are all about handshakes and hellos. He comes to work every single day with a sense of urgency and a great attitude. His attitude is very infectious, not just for the Fort Worth restaurant but our entire company."
Underwood first announced he wanted to work as a chef at age 21, while attending a vocational college in New Mexico for students with special needs. Instructors trained him to work as a prep chef in the school's cafeteria, and by the second semester he was running the stir fry station.
When he returned home to Texas, he landed jobs at McDonald's, a small cafe, Albertson's grocery store, and eventually Campisi's, where he will continue to work while running Underdawgs.
To prepare for his new venture, Underwood spent two days learning the ins and outs of frankfurters at Vienna Beef's Hot Dog University in Chicago. He and his mom then developed the menu with the help of family and friends, who served as taste testers.
So far, the crowd favorite has been The Straw Dog, a frankfurter with dawg sauce, bacon bits and crispy onion straws, served on a toasted bun.
"Everyone raves about The Straw Dog," Jan Underwood said.
Vegetarians can enjoy The Un-Dawg, a bun packed full of avocado, tomatoes, jalapeños, black olives, Sriracha sauce, cilantro and Fritos. The Italian Dawg comes with tomato meat sauce and mozzarella cheese.
All hot dogs are $3 or $4.
Proceeds from Underdawgs will not only help her son fulfill his dream of owning a restaurant, Jan Underwood said, but earnings from the truck will raise money for a cause important to the family. The Underwoods hope to open a vocational school for people with special needs in Texas similar to the one Austin attended in New Mexico.
"That was life-changing for him, to be able to live on his own and decide what he wanted to do with his life," she said. "Everyone with Down syndrome should have the same opportunity."
© 2016 Fort Worth Star-Telegram
Distributed by Tribune Content Agency, LLC
Read more stories like this one. Sign up for Disability Scoop's free email newsletter to get the latest developmental disability news sent straight to your inbox.