Clinton Plan To End Subminimum Wage Stirs Debate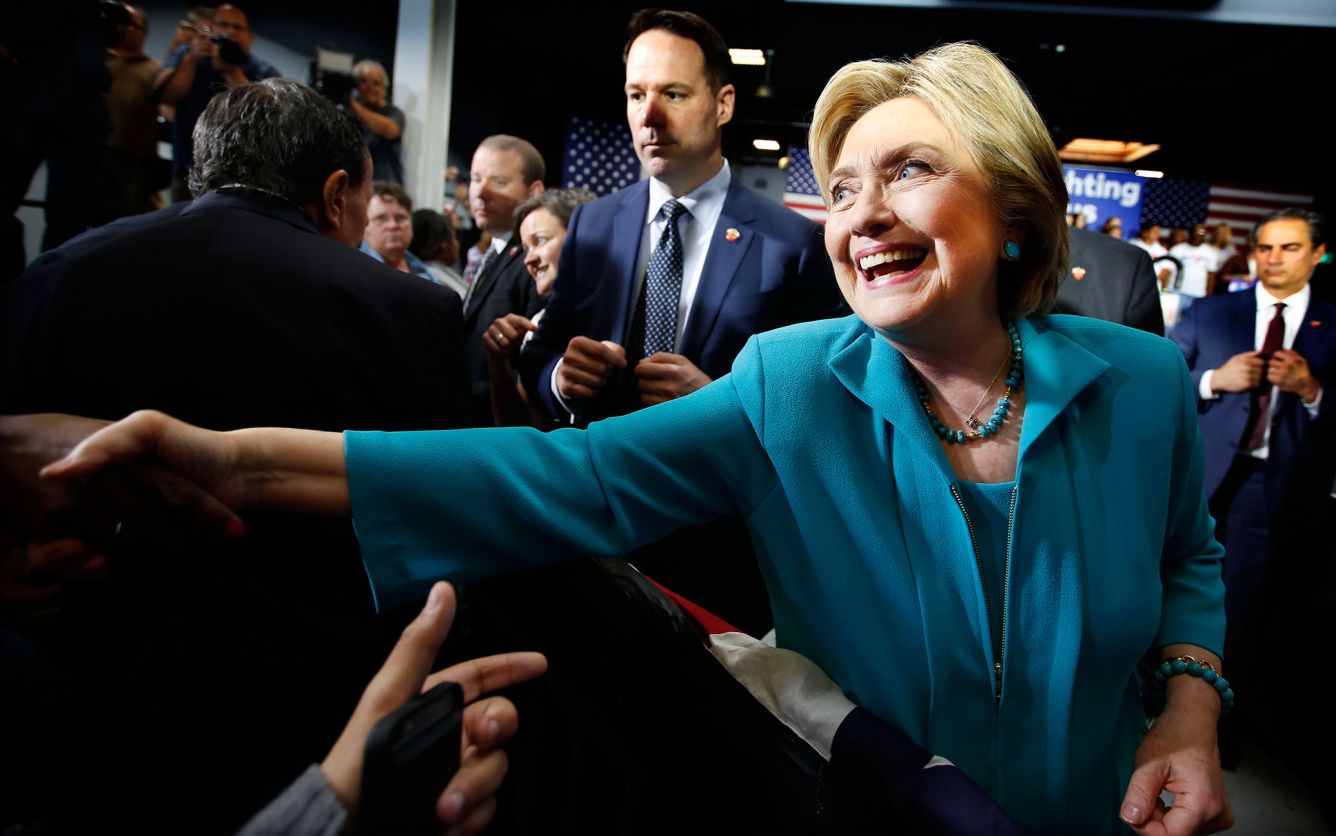 TRENTON, N.J. — Hillary Clinton's call to raise the minimum wage for Americans with disabilities who earn pennies per hour has families and caregivers fiercely debating whether the real benefit of the jobs comes from pay or an intangible sense of self-worth.
The lower pay, permitted by a policy in place since 1938, has been scrapped for federally contracted employees, and Clinton and Bernie Sanders say states should do the same. The issue, with shades of the national row over raising the minimum wage to $15, is hardly one of economics alone. It pits individuals' capability and dignity against a business model built on a cheap labor pool willing, day in and day out, to stuff envelopes or fold bath towels.
"This is so wrongheaded, to make the assumption that this model should be trashed for everybody," said Jane Bernstein, a Carnegie-Mellon University professor of English, whose daughter, Rachel, 32, has intellectual disability and earns a few hundred dollars a year working five days a week. "More capable workers should transition, should find jobs in a more inclusive situation, but why ruin it for everyone else?"
Advertisement - Continue Reading Below
More than 25 years after the Americans With Disabilities Act prohibited job discrimination, some workers with disabilities and their advocates say the enduring subminimum wage treats a vulnerable population as second-class citizens. Like those who say the $15 minimum movement is a jobs killer, though, critics fear that raising pay for workers with disabilities will doom the nonprofit community groups that run most job sites, snuffing not only the paychecks, but also the social atmosphere and the supportive services that are part of the work day.
As many as 241,000 workers earn less than $7.25, the national minimum, because their intellectual or developmental disabilities, such as autism and Down syndrome, have an effect on job performance, according to U.S. Department of Labor data. Most have positions in segregated workshops that solicit contracts for light assembly and other simple, redundant tasks.
The National Council on Disability, the federal agency that drafted the 1990 landmark anti-discrimination act, recommended in 2012 that the subminimum wage for people with disabilities be discontinued. Two years later, President Barack Obama signed an executive order ending the practice for those working under federal contracts. Now, Democratic presidential candidates are hammering the 78-year-old legal loophole.
"Right now there is a tiered wage when it comes to facilities that do provide opportunities, but not at a self-sufficient wage that enables people to gain a degree of independence as far as they can go," Clinton said at the University of Wisconsin on March 28. Sanders also said the practice should be discontinued in a statement a week later, as Govs. Andrew Cuomo of New York and Jerry Brown of California signed legislation raising hourly minimum pay to $15.
The press office of Donald Trump, the presumptive Republican nominee, didn't respond to an email seeking comment. He drew condemnation from people with disabilities and their advocates in November when he mimicked a news reporter's physical impairment during a speech.
Warren Gunnels, Sanders' policy director, and Michael Briggs, his communications director, didn't respond to emailed requests for comment on criticism of the higher wages. Neither did Clinton spokesman Brian Fallon.
New Hampshire banned the subminimum wage last year, a step taken in 2003 by Vermont, and legislation recently approved in Maryland will do the same. In February, an administrative law judge ruled that three workers with disabilities in Ohio, making an average $2.50 per hour, were entitled to the state minimum, currently $8.10, plus $54,000 in damages and back pay.
"The argument that's made by the workshops is something to the effect of: Well, this gives these folks something to do. It gives them dignity. It gives them pride in their work," Chris Danielsen, a spokesman for the Baltimore-based National Federation of the Blind, whose research of Labor Department data has found wages of 3 cents per hour. "I really question how much pride you're going to have in your work if you get your paycheck and discover that your pay isn't even going to buy a McDonald's meal."
U.S. Rep. Gregg Harper, a Mississippi Republican whose adult son has an intellectual disability caused by fragile X syndrome, has been trying since 2011 to end the subminimum policy, contained in a section of the Fair Labor Standards Act that he called "enacted out of ignorance regarding the true capacity of people with disabilities."
"Segregated, subminimum wage work is just an expression of low expectations that instills a false sense of incapacity in individuals who could become competitively employed with the proper training and support," Harper said in a statement after he re-introduced the legislation on Jan. 7, 2015.
The bill would require transitioning workers to jobs in a typical workplace, alongside employees without disabilities, at competitive wages.
Similar efforts haven't gone so smoothly in places like Maine, which ordered a phase-out of workshops for people with disabilities starting in 2008. Two-thirds of those one-time employees didn't find other paid positions, according to a June 2015 study by George Washington University, and enrollment in daycare and other programs soared to 3,178 from 550.
"In many instances, they would have to go back home to mom and dad if they have a mom and dad," said Terry Farmer, chief executive officer of ACCSES, a Washington-based group that lobbies for organizations that run workshops and other services for those with disabilities.
In New Jersey, 50-year-old Joshua Handler, who has cerebral palsy, is among those looking for paid work. Adept with computers, Handler did data entry in a workshop job that lasted three or four years. He enjoyed another position, at a hydroponic greenhouse that trains workers for jobs with restaurants and other private employers, but hasn't found a career that he likes.
"I'm valuable to everybody that I've worked with," said Handler, who is volunteering at a garden and a library. "If I was to get minimum wage, I would be happy with it."
© 2016 Bloomberg News
Distributed by Tribune Content Agency, LLC
Read more stories like this one. Sign up for Disability Scoop's free email newsletter to get the latest developmental disability news sent straight to your inbox.