Aging Poses New Challenges For Those With Special Needs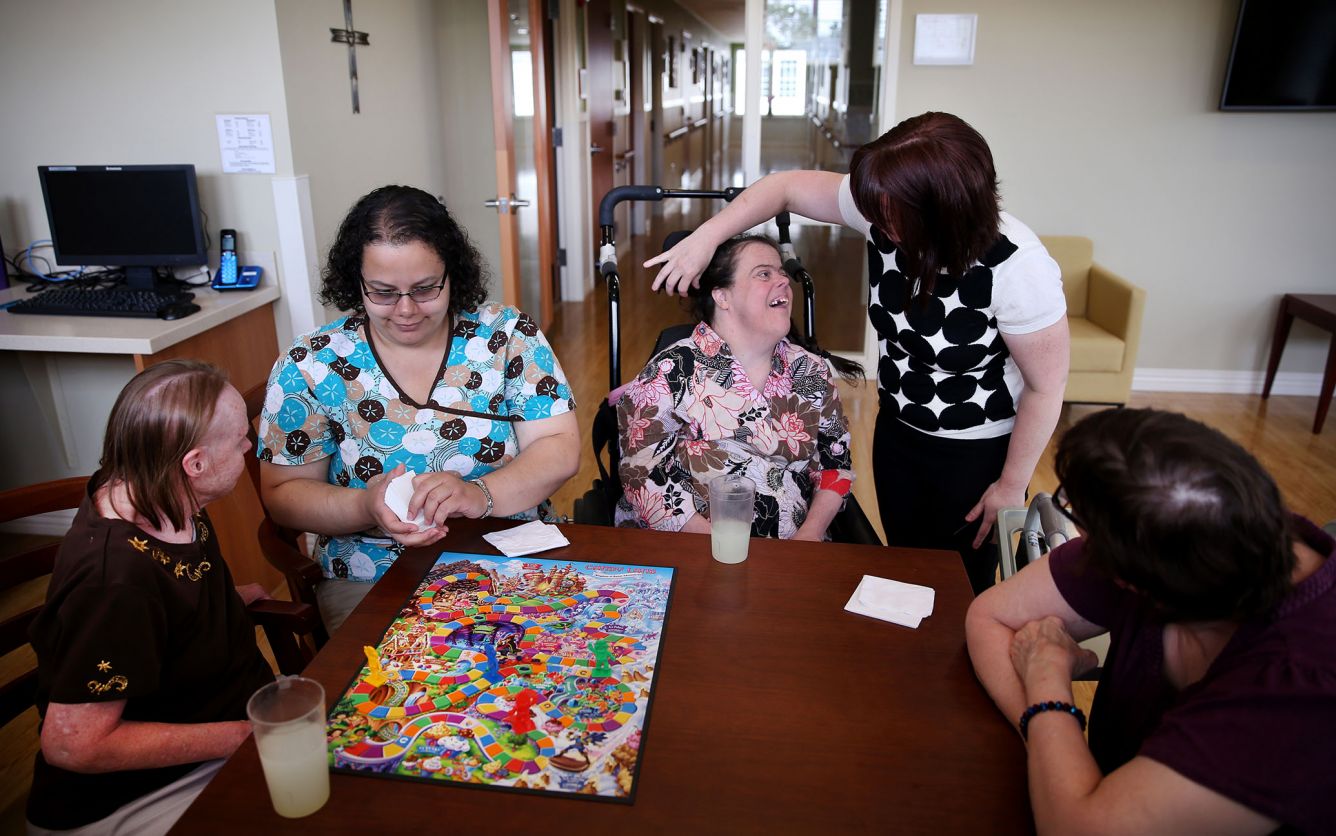 CHICAGO — For more than 20 years, Tricia McGee has lived, worked and taken classes at Misericordia, a sprawling campus serving people with developmental disabilities on Chicago's North Side.
But when the 56-year-old woman with Down syndrome began forgetting her work schedule, becoming disoriented around campus and feeling too confused to do her job in the mailroom, administrators at the Catholic facility moved her to a new program designed to meet a need that advocates say will only be more pressing in the years ahead: caring for people with disabilities as they age.
"It was such a relief," Tricia's sister-in-law, Anne Marie McGee, said of Quinlan Terrace, a $15 million residential program at Misericordia that opened in May. "The fine-tuning would be lost if she just went to a nursing home, where she'd be cataloged as one of the lower achievers."
Advertisement - Continue Reading Below
At Quinlan Terrace, while some activities are similar to those offered at other senior facilities — playing bingo, flipping through scrapbooks and doing memory exercises — staff members keep in mind nuances that are especially important for people with disabilities. For McGee, who thrives on routines, staying at Misericordia allowed her to remain at the place she considers home, while keeping her in the company of peers who know firsthand how hard she has worked to learn skills such as counting and writing her name.
Advocates and service providers say it's one of a variety of care options that will be needed with increasing urgency as people with disabilities live longer than ever before.
In 1983, the average life expectancy for a person with Down syndrome was 25. Today, it's 65 to 70, fueled largely by the mastery of a surgical procedure that corrects a heart defect present in 1 out of 2 people with Down syndrome, said Sara Weir, president of the National Down Syndrome Society, a nonprofit organization based in New York.
"It's a new frontier," Weir said. "We just don't have enough resources in this area."
As the first generation of individuals with disabilities reaches ages not seen before, the medical community is still catching up. Most skilled nursing facilities are still made up of residents without disabilities, so people with disabilities may be better suited to an environment where caregivers are accustomed to taking their special needs into account.
"I don't know that we understand what (people with disabilities) are going to be like when they're 40 and 50 and 60," said Dr. Keith Veselik, associate professor for internal medicine at Loyola University Health System. "I think we have a lot to learn."
At Misericordia, a 45-year-old campus that serves 500 residents with developmental and physical disabilities, signs of aging were hard to miss in residents whom staff had known for decades. Participants who were once active in the nonprofit's on-campus businesses or jobs program got lost on the way to work. Others, once social and gregarious, became quiet and stopped participating in groups. Bifocals and gray hair became commonplace, administrators said.
But the facility didn't have a system in place to care for residents' problems related to aging.
"It was a source of tremendous stress for our staff and for all of the families," said Michael Diaz, developmental training administrator at Misericordia, who noted that in some instances, signs of Alzheimer's disease and other age-related illnesses appeared early and swiftly; in others it was barely recognizable over a long stretch of time.
When she died in 2012, Marie Quinlan, a former member of the Misericordia Women's Board, left an $8.5 million gift to Misericordia on behalf of herself and her late husband, George, who had died previously. The gift was specifically earmarked for addressing the aging dilemma. An additional $30 million was raised for construction and continued operation costs.
Before Quinlan Terrace opened its doors, staff at Misericordia had to turn away Monica Laskey, a then-65-year-old former resident, after a hip injury because the nonprofit wasn't yet equipped to deal with aging-related problems. It was a heartbreaking decision, said Lois Gates, assistant executive director for Misericordia.
"If Quinlan Terrace was a reality at the time when Monica Laskey was with us, we could have continued to meet her needs," Gates said. "We now have the full continuum of care to offer our residents."
The project broke ground in 2013, and the four homes that accommodate 60 residents were completed two years later.
"The aging population is becoming a reality," said Sister Rosemary Connelly, executive director for Misericordia. "It's the journey of life, and we really feel privileged that we can see their journey with them."
Adults with Down syndrome are at greater risk than others to contract Alzheimer's because the conditions are genetically linked, said Brian Chicoine, medical director of the Adult Down Syndrome Center at Advocate Lutheran General Hospital as well as medical director for Quinlan Terrace. Some research shows that an extra 21st chromosome, which is present in people with Down syndrome, adds to the risk of developing Alzheimer's.
But the onset of Alzheimer's in people with Down syndrome often appears differently than it may in the general population, Chicoine added.
While typical Alzheimer's patients may experience seizures about 2 percent of the time, very late in the disease, those with Down syndrome have seizures almost 75 percent of the time, and often as one of the first symptoms. Many people with Alzheimer's disease experience swelling over time. This swelling shows up for people with Down syndrome earlier, Chicoine said.
Being proactive about elder care is a more pragmatic approach than waiting for problems to arise, Chicoine said.
"People are living longer, so we really are going to have to do this and do it well," Chicoine said. "If we don't do the less expensive things well that can keep people out of the hospital and keep them healthy, we're going to pay more for the more expensive things like hospitalizations."
At Quinlan, facilities and activities mirror other homes designed to help people with memory deficiencies transition into their senior years gracefully. Hardwood floors are deliberately patterned in the same direction, following research that shows continuity can be calming to the aging mind. Each door is labeled not just with a name, but with a framed picture of its tenant. And days are structured so that residents shuffle between classes to refresh their counting skills and social activities such as games of bingo and Candy Land.
Staff say that in an environment of peers with similar disabilities and long-standing friendships, the residents experience what many families want for their aging relatives. For now, administrators at Misericordia expect to fill the 60 available beds in the four, 8,000-square-foot homes at Quinlan Terrace with residents already on campus, offering a continuum of care.
"They get to live in their home and with what they know," said Julie O'Sullivan, director of creative arts for Misericordia.
Costs for residents at Misericordia are paid for through a combination of state and federal funding, along with $17 million in donations the institution raised this year. The nonprofit has a waiting list of nearly 300 people for residential placement throughout the campus, Connelly said.
Weir, of the National Down Syndrome Society, said interest in caring for people with disabilities who are aging has been of such concern that the organization compiled an "Aging and Down Syndrome" guide in 2013. Since then, the guide has been requested tens of thousands of times, in both English and Spanish, she said.
And while some families considering their options may prefer smaller, home-type settings for their loved ones with disabilities, as has been the trend for recent years, the existence of Quinlan Center offers an additional option.
"We have to deal with the aging issue," Weir said. "These types of options can be one choice in many."
Recently, residents of Quinlan Terrace sat in chairs in the courtyard as a volunteer set up a bowling pin for them to knock over with a ball. One of the residents, who had lived at Misericordia since 1966 — when he was barely a year old — pointed nostalgically at his former residence across campus. His short brown hair with a smidge of gray blew in the wind.
"That's all finished. Now you're here. It's your new house," coaxed Chris Hegg Krackenberger, administrator of Quinlan Terrace.
The resident repeated the words — "new home, new home, new home" — before tossing the ball, toppling the solo pin to the ground.
© 2016 the Chicago Tribune
Distributed by Tribune Content Agency, LLC
Read more stories like this one. Sign up for Disability Scoop's free email newsletter to get the latest developmental disability news sent straight to your inbox.