Trump Education Pick Seemingly 'Confused' About IDEA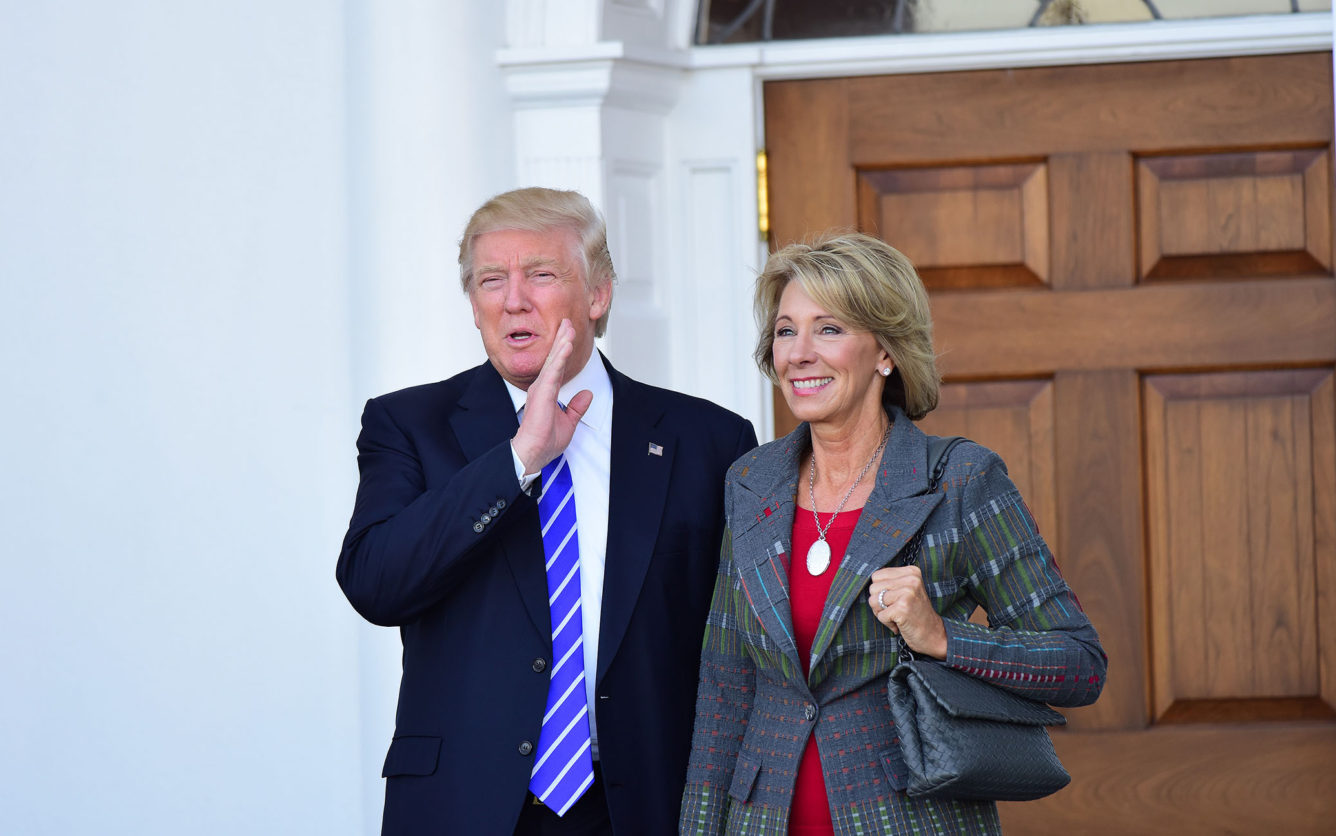 Under sharp questioning from senators, the nominee to lead the U.S. Department of Education suggested that it should be up to states to decide whether schools must follow the Individuals with Disabilities Education Act.
During a confirmation hearing for Betsy DeVos late Tuesday, she was pressed repeatedly about her stance on special education.
A billionaire who has never worked in public education, DeVos is a champion of charter schools and voucher programs. Her comments on special education left some lawmakers questioning her knowledge of the needs of students with disabilities and their rights under the law.
Advertisement - Continue Reading Below
"I think that is a matter that's best left to the states," DeVos said when asked by U.S. Sen. Tim Kaine, D-Va., if she believed that all schools receiving taxpayer dollars should be required to adhere to the mandates of the IDEA.
"So some states might be good to kids with disabilities and other states might not be so good and then what, people can just move around the country if they don't like how their kids are being treated?" Kaine responded.
"I think that's an issue that's best left to the states," DeVos insisted.
Later in the hearing Sen. Maggie Hassan, D-N.H., whose son has cerebral palsy, revisited the issue.
"That's a federal civil rights law," Hassan said of the IDEA. "So do you stand by your statement a few minutes ago that it should be up to the states whether to follow it?"
"Federal law must be followed where federal dollars are in play," DeVos said.
"So were you unaware when I just asked you about the IDEA that it was a federal law?" asked Hassan.
"I may have confused it," DeVos acknowledged.
Hassan said she's concerned that some voucher programs, which DeVos has supported, require students with disabilities to give up their rights under the IDEA in order to take part. This could lead to public schools becoming "warehouses" for students with special needs and those from families unable to pay the difference between vouchers and the cost of private school tuition, she said.
"I just would urge you to become familiar should you become nominated with the Individuals with Disabilities Education Act," Hassan said. "I do have to say I'm concerned that you seem so unfamiliar with it and that you seem to support voucher schools that have made students sign away their rights to make sure that the law is enforced. That's very troubling to me."
"Senator, I assure you that if confirmed, I will be very sensitive to the needs of special needs students and the policies surrounding that," DeVos said.
"And with all due respect, it's not about sensitivity, although that helps," Hassan countered. "It's about being willing to enforce the law to make sure that my child and every child has the same access to public education, high quality of public education."
Aside from the testy exchanges about the rights of students with disabilities under the IDEA, Sen. Susan Collins, R-Maine, asked DeVos about funding of the law.
DeVos said she would "absolutely" commit to looking at ways to increase federal funding for special education to get closer to the 40 percent level originally promised by Congress. Furthermore, DeVos suggested that she would consider a new approach to funding whereby money follows each student rather than going to states.
Lindsay Jones of the National Center for Learning Disabilities said she was pleased to see senators from both parties asking DeVos about special education, but said there is much still unknown about how the nominee would address the rights of students with disabilities.
"Parents of children with disabilities want the next U.S. secretary of education to uphold the federal rights, protections and opportunities provided by (the) Individuals with Disabilities Education Act. Anything less is a disservice to America's six million students with disabilities," Jones said. "It is clear we have more to learn about where Ms. DeVos stands on this topic and how she will ensure our children are protected."
Other disability advocates were more pointed in their assessment of DeVos.
"The fact that she didn't understand the basics about education concepts or the three essential federal education laws is embarrassing and her lack of knowledge on the Individuals with Disabilities Education Act is appalling. We are alarmingly concerned," said Denise Marshall, executive director of the Council of Parent Attorneys and Advocates.
"If Betsy DeVos isn't an advocate for the 6.4 million children with disabilities now, she needs to become one soon," Marshall said.
Read more stories like this one. Sign up for Disability Scoop's free email newsletter to get the latest developmental disability news sent straight to your inbox.