Sheltered Workshops At A Crossroads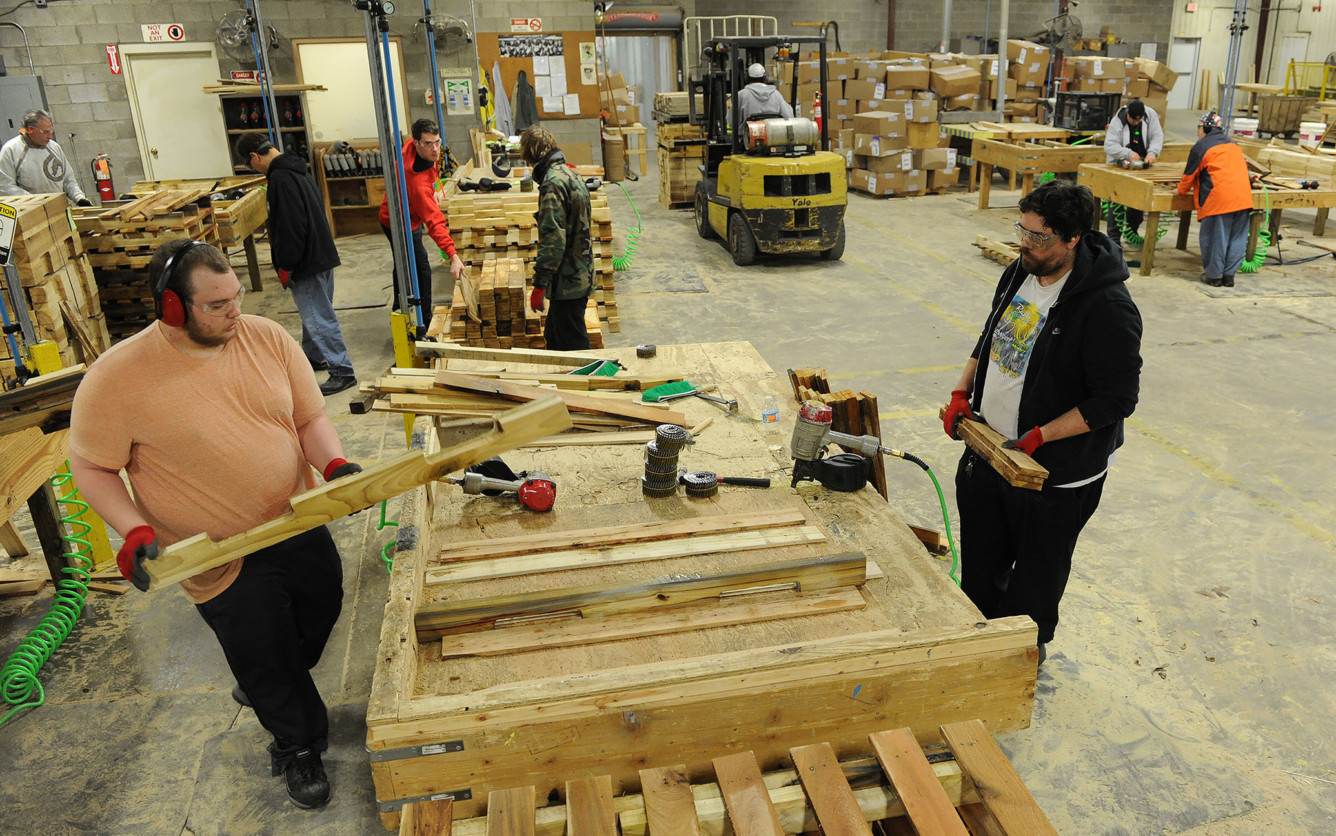 PITTSBURGH — Every day, Perry Blatz knows where his son Bill will be — stuffing and labeling envelopes at the UPMC Vocational Training Center in the South Side, a facility for adults with intellectual disabilities.
"It's safe. He enjoys going there, he talks about going to work," said Blatz, a retired history professor.
When he was younger, Bill had tried to work in other jobs, such as in a grocery store, but that didn't work out. Because of his developmental disability, Bill has a hard time staying on task. He has been at the Vocational Center full-time since 2008.
Advertisement - Continue Reading Below
For many decades, individuals with disabilities have worked in what are called "sheltered workshops" — a safe workplace where they would do simple tasks, sometimes for rates far below minimum wage, primarily working with other adults with disabilities.
Several converging trends mean there likely will be fewer such workshops in the future — and those that continue to exist likely will operate differently, with more community integration.
The changes are due to a 2014 rule from the federal Centers for Medicare & Medicaid Services, which pays for many of these services through the Medicaid program, that said workshop providers have five years to ensure that those services are fully integrated and do not isolate individuals with disabilities.
At the same time, there's also a movement away from the subminimum wage that many such workshops are licensed to pay their workers.
Additionally, younger individuals with disabilities have grown up in more integrated school settings, and some are less inclined to choose a workshop after leaving school.
A number of states have completely stopped funding sheltered workshops, said John Butterworth, a senior research fellow at the Institute for Community Inclusion at the University of Massachusetts Boston. Participation has declined in such workshops in recent years, and the number of providers who hold U.S. Department of Labor 14(c) certificates that allow payment of less than minimum wage also has dropped, Butterworth said.
While these changes are happening gradually, they represent an enormous shift for how certain people with disabilities will spend large parts of their days. It's also a major change for the providers who are charged with caring for individuals with disabilities.
Many people "liken this movement to deinstitutionalization," said Shayne Roos, vice president of ACHIEVA, a Pittsburgh service provider, referring to the mass exodus that began in the 1960s and 1970s of individuals with disabilities from large-scale, state-run institutions. "This is a big deal."
Some oppose changes
"I would say that the current transition is a continuation of a transition that has been going on for the last 40 years," said Nancy Thaler, deputy secretary for the Office of Developmental Programs of the Pennsylvania Department of Human Services.
The changes are not without controversy. Many advocacy groups favor the changes and say they will provide people with disabilities a fuller life with more opportunities, though many individual families and providers favor the current system of sheltered workshops, and say the changes have not been fully thought through. Some providers also have said spending more time in community settings could be difficult for those with complex medical needs, and will require more staffing, and thus higher costs at a time when they are already fighting for limited state dollars. Providers in rural areas also face a greater challenge in trying to transport people to and from community locations and having fewer such places nearby.
Tim Miller, executive director of the Westmoreland County Blind Association, is one of the loudest voices in Pennsylvania against the the new rules.
He said he doesn't see programs like the one he runs in Greensburg, where dozens of workers with disabilities shred paper, as isolating or harmful.
"We're very, very proud of what we do. We run a very good program," Miller said. "It's not like it's some sort of asylum that we lock people in."
Other advocates say it is discriminatory to keep people with disabilities in what is essentially a segregated workplace.
Society has come a long way in integrating people with disabilities into more inclusive school and housing settings, out of institutions, said Jennifer Garman, director of government affairs for Disability Rights Pennsylvania.
"The last frontier is services and supports available to allow them to try community based employment in a meaningful way," she said.
Concerns about disruptions
Some family members, like Blatz, say more community integration is a laudable goal — but he doesn't want to see the place his son spends his days completely upended or rules that are so burdensome that the Vocational Center would have to limit its services.
"If it were disrupted too much, people like Bill would have their lives greatly changed in a negative way," he said.
Similarly, Barb Ginsburg, whose son Kevin has been in the same program for 15 years, said he is very happy with the current system.
"He's happy. You can tell he's happy. He talks about going to work. It's his place," she said of her son.
"We're really on the cusp of change right now," said Allen Gregory, program manager at the UPMC Vocational Training Center, where Blatz's son Bill and Ginsburg's son Kevin spend their weekdays. "What everything is going to look like in five years, is exciting on the one hand, but there is that uncertainty … that this might not fit for everyone. And so that piece is unsettling," he said.
Ian Bonnet, a program specialist at the Vocational Center, said: "I don't want to see a great new exciting thing be put into place and it works for 20 folks, while I've got maybe 30 folks sitting on a couch and mom had to quit her job. That's what we're trying to avoid at all costs."
Thaler's agency must submit proposals to the federal government that detail how the state will follow the federal guidelines for ensuring community integration.
State officials are hoping to have federal approval for their plan in place by July 1.
Transitions
Suzanne Baker's son Jason works at Goodwill as part of the janitorial crew that has cleaned the Lawrenceville facility for the past 13 years.
The job is slightly modified based on his abilities, for instance, certain things are color-coded because Jason can't read.
"This is the best fit for him. He loves it, he loves it. He gets very upset with Monday holidays" because he wants to go to work, Baker said.
She said she is hopeful he will be able to essentially keep doing the same job in a similar program after July 1.
"I hope he'll continue to be able to utilize the skills Goodwill has already taught him, but stay in the safe environment that is Goodwill," she said.
Exceptions allowed
After somewhat of an outcry from upset parents and providers, the state changed the proposal it submitted to the federal government to allow for more exceptions for individuals with medical conditions, and relaxed the guidelines for the amounts of time individuals would be in community activities. Certain changes that were going to be mandated are now optional. It also has relaxed what would have been stricter limits on facility size.
Garman, who's with Disability Rights Pennsylvania, said what the state eventually submitted was viewed as a compromise. She is hopeful that certain supportive services to assist people seeking community employment will be available for a much longer time — for instance, a job coach who might assist a person who might want to get a job in a grocery store. Previously, such assistance only would be available for 90 days, which could have discouraged some people from reaching for more competitive employment. That assistance now will potentially be available for up to two years, she said.
State officials have emphasized they do not intend to close any workshops. Some programs already have changed, however.
At an ACHIEVA facility in Bridgeville that manufactures pallets, workers with and without disabilities work together.
"People are easygoing … it's good, it's a good business," said Eric Migliorato, a materials handler at the facility who has worked there for four years.
He said he enjoys the occasional workplace celebrations such as Halloween and Christmas parties, and likes getting paid by the hour, rather than by the piece, as was the case at a previous job.
As of December, Goodwill Industries of Southwestern Pennsylvania no longer operates a sheltered workshop. At its Donation Processing Center on 52nd Street in Lawrenceville, workers with disabilities work alongside people who are typically developing who have other employment barriers — such as people who have been previously incarcerated.
Here workers sort, tag and hang donated clothes, and process books for sale online. Many are paid minimum wage, some are at a lower "training rate" but the plan is to have everyone earning minimum wage by July 1, said David Tobiczyk, Goodwill's vice president of marketing and development.
Nicole Jorwic, director of rights policy at The Arc, said her organization is supportive of the discontinuation of workshops, but she emphasizes it must be done in a thoughtful and deliberate way that supports all the individuals who would be impacted. "This change has to happen over time and there has to be options for people leaving workshops," said Jonathan Lucus, managing director of The Arc@Work.
Back at the Vocational Center, Bonnet said whatever happens, he and his colleagues will make the new rules work, because they recognize the centrality of the center to people's lives. "This is not just some business," he said. "This is not just some place of work … Every one of my staff and every one of the people here, their heart is wrapped up in this experience."
© 2017 the Pittsburgh Post-Gazette
Distributed by Tribune Content Agency, LLC