Dozens With Disabilities Arrested On Capitol Hill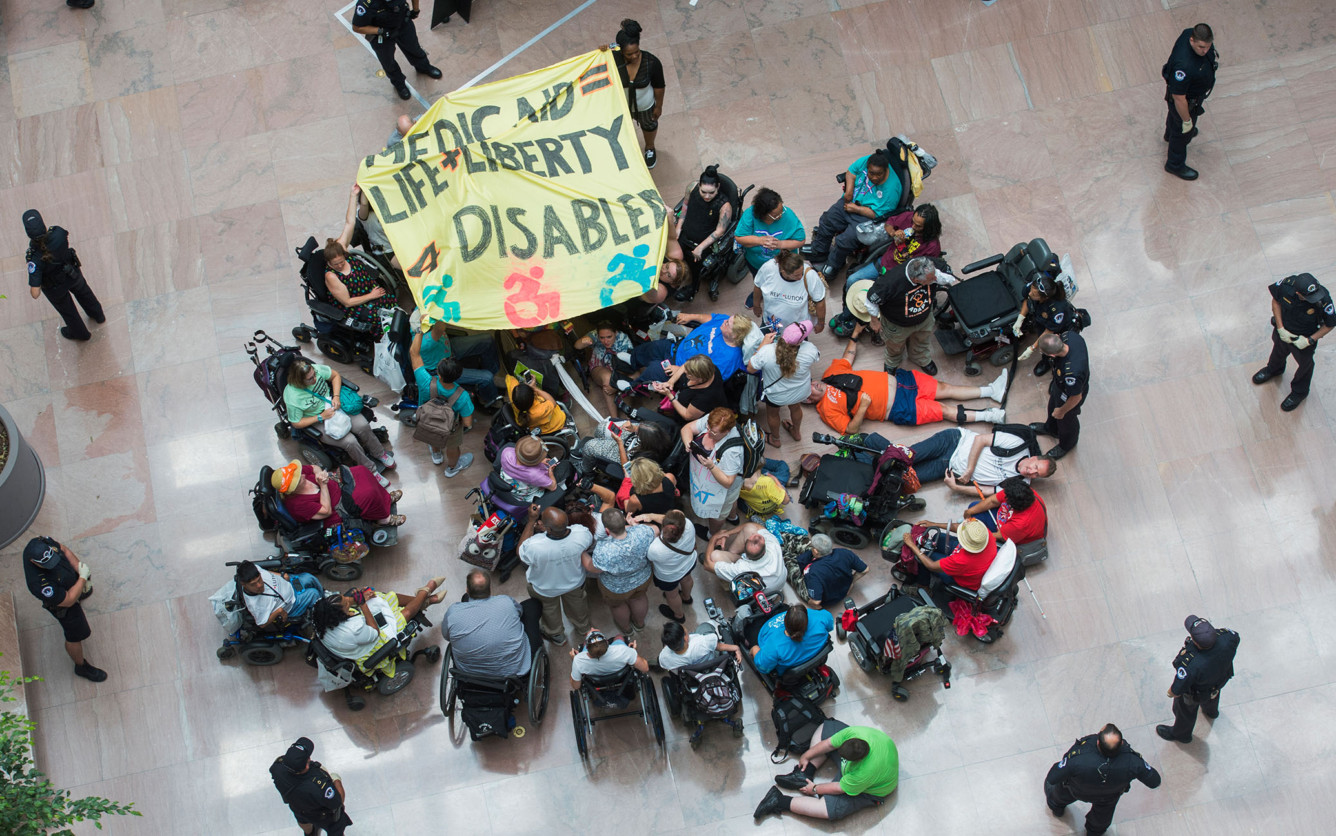 After the U.S. Senate narrowly voted to begin debate on a health care bill that includes sweeping changes to Medicaid, several dozen protesters with disabilities were arrested.
U.S. Capitol Police said 64 people — many in wheelchairs — were arrested Tuesday in the atrium of the Hart Senate Office Building while participating in an action organized by the disability rights group ADAPT.
Those arrested were among some 250 people demonstrating after the Senate voted to begin debate on legislation to repeal the Affordable Care Act, with Vice President Mike Pence casting a tie-breaking vote.
Advertisement - Continue Reading Below
"I'd rather go to jail than die without Medicaid," the protesters chanted.
It's unclear exactly what legislation will emerge from the debate, if any. Senate Republican leaders have floated a proposal to repeal and replace the Affordable Care Act as well as an option to simply repeal parts of the law, but neither plan has attracted sufficient support thus far.
Either way, advocates say changes would be devastating for people with disabilities.
"Today, a majority of senators ignored the pleas of their constituents and moved ahead with debating disastrous health care proposals that will result in people losing health care coverage and threaten the Medicaid home and community-based service system," said Peter Berns, CEO of The Arc. "All roads from this vote are bad for people with intellectual and developmental disabilities."
The Republican proposal to replace the law includes fundamental changes to Medicaid, a program that millions of Americans with disabilities rely on for access to everything from doctors and hospitals to supports that allow them to live and work in the community.
Currently, states receive matching grants from the federal government to provide services to anyone who meets Medicaid eligibility requirements, no matter the cost. Under the Republican plan, however, states would get a fixed amount for each beneficiary regardless of the true cost of their care, with states left to make up the difference.
The nonpartisan Congressional Budget Office said that the proposal to replace the Affordable Care Act would lead to $756 billion less in federal spending on Medicaid by 2026.
Advocates say that home and community-based services would likely be the first to go if states scale back offerings due to reduced federal funding since those services are considered optional under current Medicaid policy.
Those arrested were charged with crowding, obstructing or incommoding "after refusing to cease and desist with their unlawful demonstration activities," the U.S. Capitol Police said. They were ticketed and released.
Read more stories like this one. Sign up for Disability Scoop's free email newsletter to get the latest developmental disability news sent straight to your inbox.