Disability Advocates Arrested Protesting Medicaid Cuts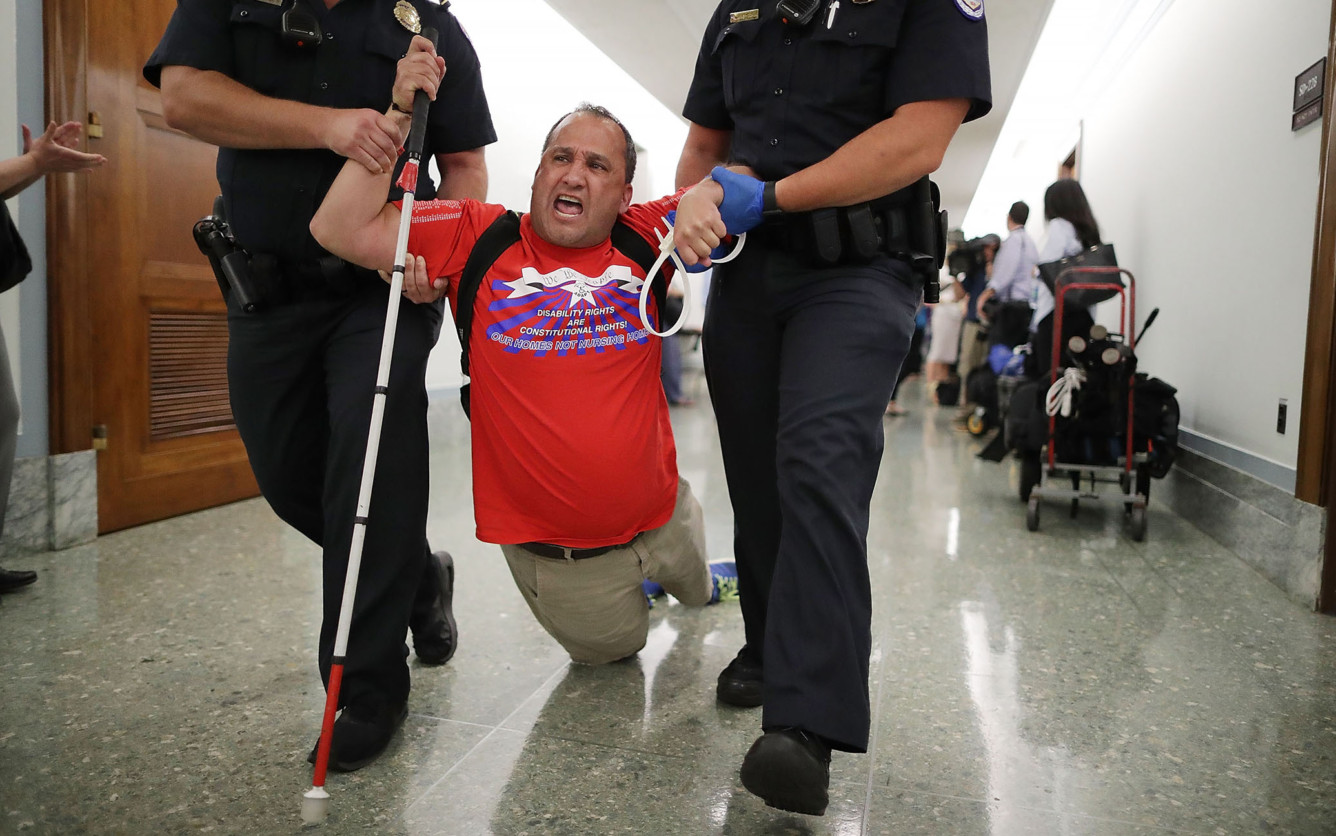 Over 100 disability rights advocates were arrested while protesting Medicaid changes in a proposal to overhaul the nation's health care system. Hours later, the GOP plan appeared doomed.
U.S. Capitol Police forcibly removed 15 activists — many in wheelchairs — from a Senate Finance Committee hearing on Capitol Hill Monday afternoon after their roaring chants of "no cuts to Medicaid, save our liberty" delayed senators from proceeding.
The protesters were dragged from the hearing room as lawmakers looked on. Another 166 demonstrators were arrested in the adjacent hallway.
Advertisement - Continue Reading Below
Some were charged with disruption of Congress, while others were cited for crowding, obstructing or incommoding and a portion of the demonstrators also faced charges of resisting arrest, according to Capitol Police.
The majority of those detained were members of the disability rights group ADAPT who came from across the country to oppose the Graham-Cassidy bill, which would repeal the Affordable Care Act and fundamentally alter Medicaid.
By Monday evening, the Republican proposal appeared to be nearing collapse as Sen. Susan Collins, R-Maine, joined Sens. John McCain, R-Ariz., and Rand Paul, R-Ky., in announcing that she would oppose the measure. With Democrats and independents against the plan, Republicans could not afford to lose more than two votes from their own party.
Collins' announcement followed the release of a preliminary analysis of the Graham-Cassidy bill from the nonpartisan Congressional Budget Office indicating that the plan would leave "millions" without health insurance.
The GOP proposal would grant states significantly more discretion over health care and impose first-ever caps on Medicaid. Under the plan, federal spending on Medicaid would be reduced by about $1 trillion between now and 2026, according to the CBO analysis.
That would leave states to chip in more of their own funds or cut costs by reducing payments to providers, restricting eligibility, slashing optional services or enhancing program efficiency. States would likely resort to a mix of those approaches, the budget office said.
Disability advocacy groups have united against the proposal, arguing that cuts to Medicaid would lead states to curtail home and community-based services, which are considered optional.
"Forcing disabled people and seniors into institutions just to pay for tax cuts, which is what this bill does, is not equality. It's not liberty," said Dawn Russell, an ADAPT organizer from Denver. "Graham-Cassidy is a policy for a much crueler and meaner country than this one, and the people who support it should be ashamed of themselves."
The renewed push to repeal the Affordable Care Act comes as the clock is ticking for Republicans. Thanks to a procedural maneuver, a health care bill could pass with only a simple majority by Sept. 30. Beyond then, however, 60 votes would be needed.
Even with momentum for the Republican plan waning, disability advocates are continuing to push their members to call senators since there hasn't yet been a vote.
"The danger right now is if Senate offices think that folks aren't as outraged about this bill as the last, so every individual voice adds to the overwhelming wall of pressure we're fighting to maintain," said Julia Bascom, executive director of the Autistic Self Advocacy Network.
Read more stories like this one. Sign up for Disability Scoop's free email newsletter to get the latest developmental disability news sent straight to your inbox.