For Those With ASD, Improv Classes Can Aid Communication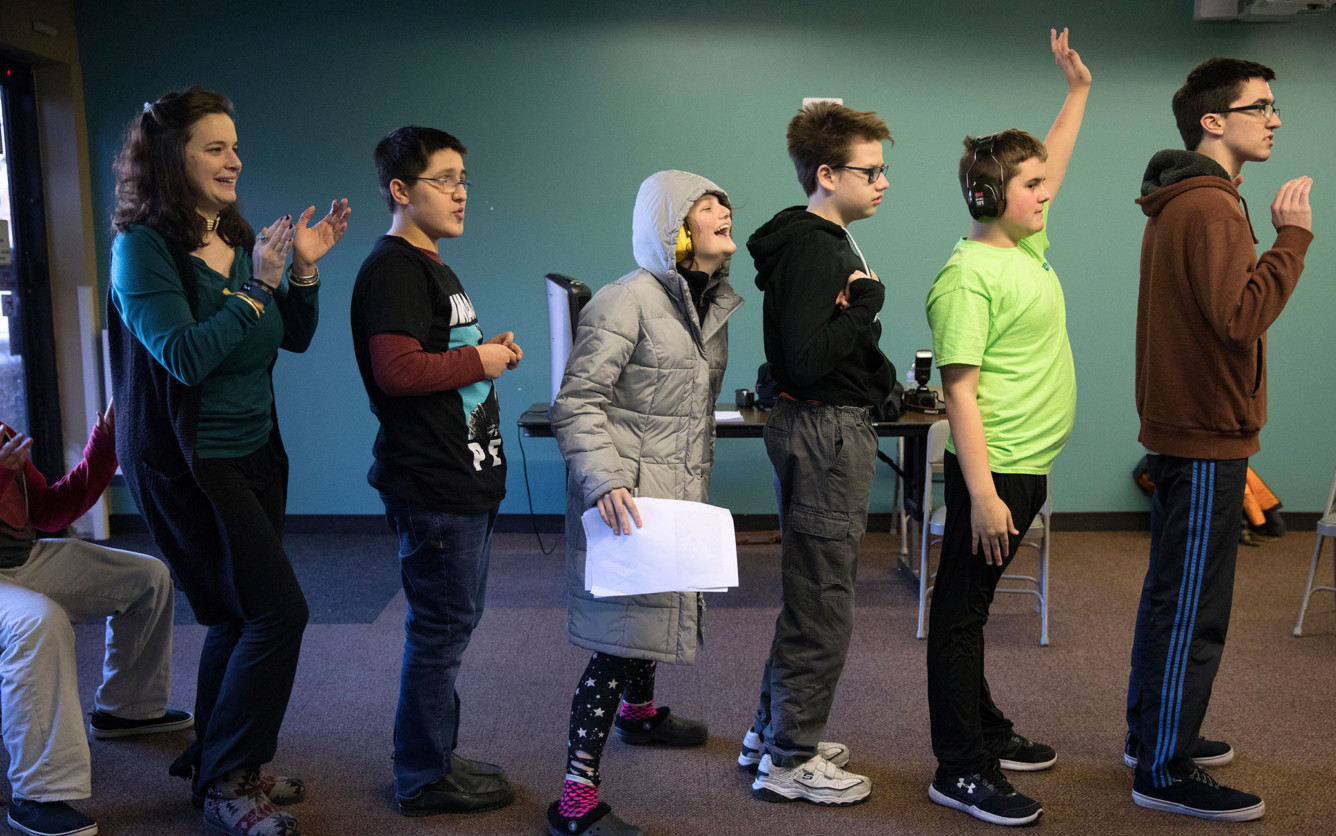 CHICAGO — At the start of a recent improv class, some teens excitedly joined in while others sat off to the side. Others said they'd rather go home. But after a few games, giggles and encouragement from teachers, all the students participated. Parents in the audience clutched their bellies with laughter and beamed with pride.
Trying improv comedy for the first time could be daunting for anyone, but for these teens — who all have autism spectrum disorder — the progress was even more meaningful.
The Second City, which offers improv classes specifically for people on the autism spectrum, this month expanded the program to teens in the Chicago suburbs through a partnership with Lisle-based Giant Steps, which runs a private school for students with autism and offers therapy and other programming. Leaders at both organizations say the fundamentals of improv comedy help improve communication skills, which are often a challenge for those with autism.
Advertisement - Continue Reading Below
"We know (improv) changes people's lives," said Kelly Leonard, executive director of insights and applied improvisation at The Second City. "We've seen it over and over again."
Abby Wagner, The Second City's vice president of training centers and education programs, said Improv for Autism, which launched in 2013 for adults and teens, is just one of the comedy group's "wellness" initiatives. There also are classes for people with anxiety, senior citizens and those with Parkinson's disease.
Giant Steps founder Debra Nauman has two sons on the autism spectrum and enrolled her youngest, Christian, 14, in the class. She said she told him, ""You know those goofy things you do? Nobody's going to look at you funny. They're going to laugh.'"
All the students in the Giant Steps class received laughs as they participated in several improv games. A crowd favorite was the "World's Worst" game, in which the students called out professions and others then had to act out the world's worst version of them. One student mimicked unsuccessfully searching for a rabbit in a hat as his version of the world's worst magician; another suggested building "a wall," in response to the "world's worst president."
Some psychologists say they've seen therapeutic benefits of improv, not only for some of the challenges associated with autism, but also for people with anxiety and depression. They continue to study the effects of improv on the brain and say the gains go beyond entertainment and could open a door to a new area of mental health treatment.
"This is my great hope," said Kristin Krueger, an Elmhurst neuropsychologist and researcher who studies the effects of improv on anxiety and depression. "What motivates me to do this work (is) … I would like to see a change in the way we provide mental health services."
Further study of improv is needed, Krueger said, but if the benefits she's seen are shown through more research, access could expand for those who might not be receiving adequate mental health treatment.
"Adding improv groups would be a wonderful thing," she said. "Instead of wait lists for therapists, what if we had small rooms filled with people doing improv? It's entirely possible, because this is not an expensive or mystical treatment."
For people with autism, experts say, improv offers an opportunity to practice communication skills — including talking to people and looking them in the eye, and listening and relating to others.
The possibility of improved communication is what attracted the Hoffman family to the Giant Steps improv class, said Adam Hoffman, of Glen Ellyn, whose 14-year-old son Archer is on the spectrum.
"We were familiar with The Second City, so the opportunity to do something with them was a big draw," said Hoffman, explaining that Archer has trouble with language. "We've tried to figure out how to help him communicate," he said. "So this was a really natural fit."
Archer was hesitant when the class began but soon participated on his own without prodding from the teachers or his dad. He said his favorite part was the World's Worst game.
Blythe Corbett, a pediatric neuropsychologist and associate professor at Vanderbilt University, studies how theater and improv can aid children with autism. Through her work, she runs the SENSE Theatre Research Program, which includes an improv component for children.
Her studies in the field show improvement in social cognition, communication and "the ability to look at the world from another person's perspective," she said. Corbett's research centers on how "to think more expansively of how we define treatment."
Corbett and the SENSE Theatre recently received a National Institute of Mental Health grant to expand the program and further study how the drama program, including improv, compares to other, more traditional treatments for autism.
"Improv teaches one to think more broadly about different situations," Corbett said. "A lot of our children with autism have very rigid, concrete patterns of thinking. So, the idea of engaging in improvisational exercises allows a child to think more expansively."
© 2018 Chicago Tribune
Distributed by Tribune Content Agency, LLC
Read more stories like this one. Sign up for Disability Scoop's free email newsletter to get the latest developmental disability news sent straight to your inbox.