Their Disabilities Challenge Their Lives, But Not Their Love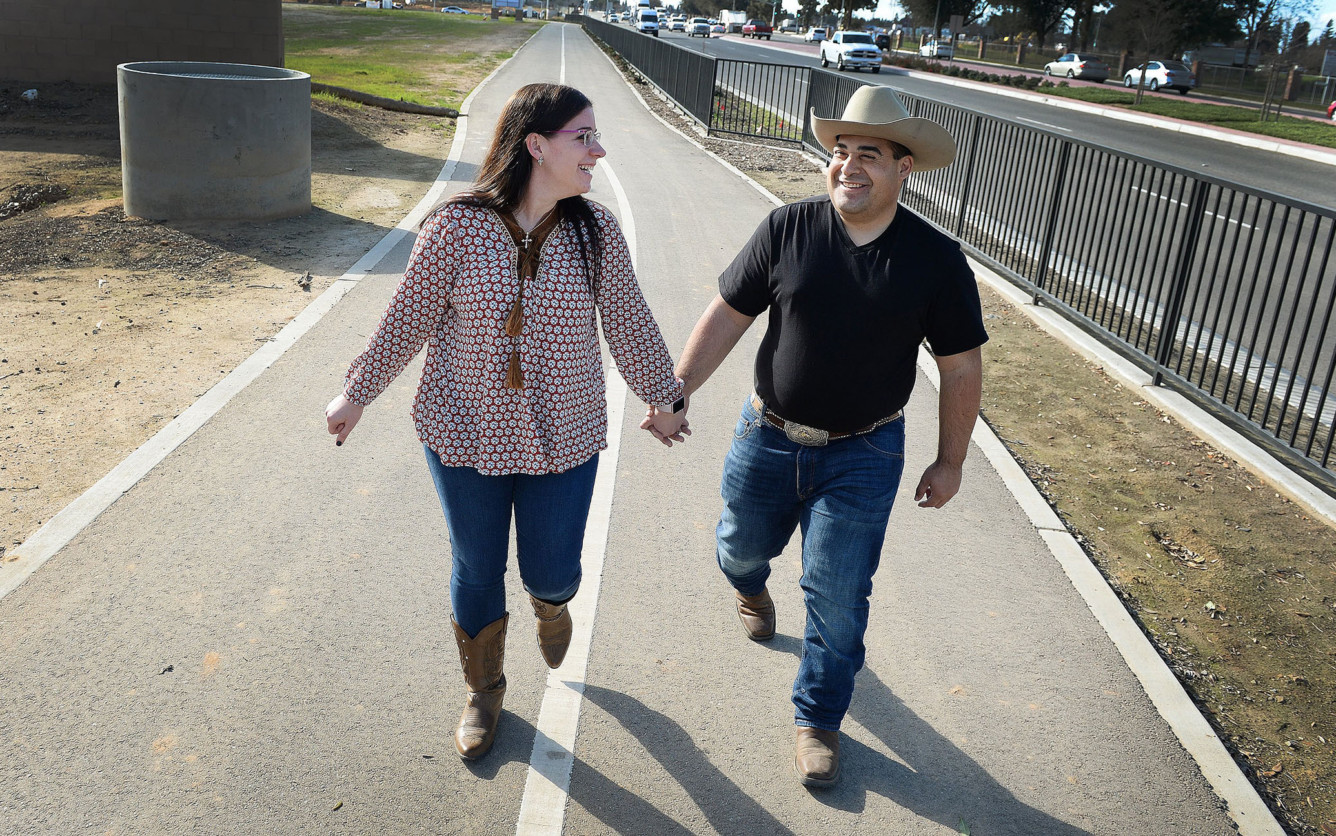 FRESNO, Calif. — Morgan Cansler is beaming beside her fiancé as she holds out her left hand to show off her engagement ring.
"I almost cried when he gave it to me," she says of Conrad "Tyler" DiFalco-Jimenez's wedding proposal, "because he got down on his hands and knees."
"Just my knees," DiFalco says, offering his correction tenderly.
Advertisement - Continue Reading Below
"Well, just your knees," Cansler says. The couple share a smile and giggle.
Sometimes finding the right words is a challenge, but loving each other is not.
DiFalco has autism — a developmental disorder that affects a person's ability to communicate and interact with others — and Cansler has epilepsy, a neurological disorder that delays her ability to process information and impacts some of her movements.
The Fresno couple met about three years ago at Wayfinders at Fresno State, a program for young adults with intellectual disabilities that teaches independent living and vocational skills. They got engaged in June and plan to be married next fall.
DiFalco says his grandparents, Frank and Rosemarie DiFalco, are role models. They celebrated their 64th anniversary this year on Valentine's Day.
"Valentine's Day is for people who love each other, and they are a prime couple," Rosemarie DiFalco says of her grandson and future granddaughter-in-law, "because she cares very much about him and he cares very much about her, no matter what. Isn't that what Valentine's Day is all about?"
Not everyone is as supportive. Anna Marie DiFalco often receives the question, "So how's it going?" about her son and Cansler's relationship, in a tone that conveys an expectation of problems and failure.
"Their view is, 'They can't do that. They can't love. They can't be in a serious relationship.'" DiFalco's mother says. "Of course they can."
DiFalco, 31, and the 27-year-old Cansler have been proving the naysayers wrong since their first date, a dinner and dance organized by the Future Farmers of America chapter at Clovis East High School.
"I knew she was a good person to be around and I would gravitate to her as a friend first … she's an awesome person to be around," DiFalco says of why he asked Cansler to be his date. "She's a joy. She's friendly, she's nice, she's loving, and I picked her because I want to be with that person. I was lacking in a little bit of that — the happiness and going forward and stuff. And Morgan just stole my heart because that's what I wanted in a relationship."
Cansler describes their relationship as "meant to be." Both say they help each other and make the other feel better.
"Morgan can get Tyler to laugh and smile," Anna Marie DiFalco says, "and be light and airy. … When he just breaks out in that big smile, you know he's really definitely happy."
DiFalco helps Cansler stay safe.
"He just looks after her and helps her manage skills that you and I take for granted," Anna Marie DiFalco says, "and he does it in a very patient and loving way."
When cooking together in their north Fresno home, for example, DiFalco gives Cansler tasks he knows she can accomplish.
"He never wants her to feel like she can't do something, or that she has failed at something," Anna Marie DiFalco says.
They sometimes misunderstand each other and struggle with understanding one another's feelings, Anna Marie DiFalco says, but so do couples without intellectual disabilities.
"They still love each other," she says. "They still respect each other. They still want the best for each other."
Leslie Shirakawa, a Wayfinders' vocational specialist, has been a longtime supporter of their love story: "I kept telling them, 'You guys should just get married, you are so right for each other.'"
Cansler's family is also supportive.
"There's really always somebody for everybody," says Cansler's mother, Angie Cansler.
The couple's next relationship goal: Get a dog that looks like one of their uncle's corgis.
Playing with his corgis is among their favorite pastimes.
DiFalco works a couple days a week on his uncle's cattle ranch in Clovis. He hopes to get more work in agriculture, while Cansler is looking for a job in child care. Their disabilities have made some employers hesitant to hire them. DiFalco says he wants the opportunity to give back to society.
"Don't take us as an inferior person," he says. "Take it as who we are as an American citizen with a disability. We have rights. We support the military. We love our country."
DiFalco also hopes people don't question his ability to have a romantic relationship. He says "love is everywhere" and "love is not just simple — it's complex."
"You think love is only for certain individuals, certain classes, and love can be more than just that," DiFalco says. "Love for a person who is challenged or who is disabled — they can still find love with somebody else, without family members' love. Find their soul mate, be loved and appreciated and comforted and stuff."
© 2018 The Fresno Bee
Distributed by Tribune Content Agency, LLC