Increasingly, Businesses Tailoring Employment To Adults With ASD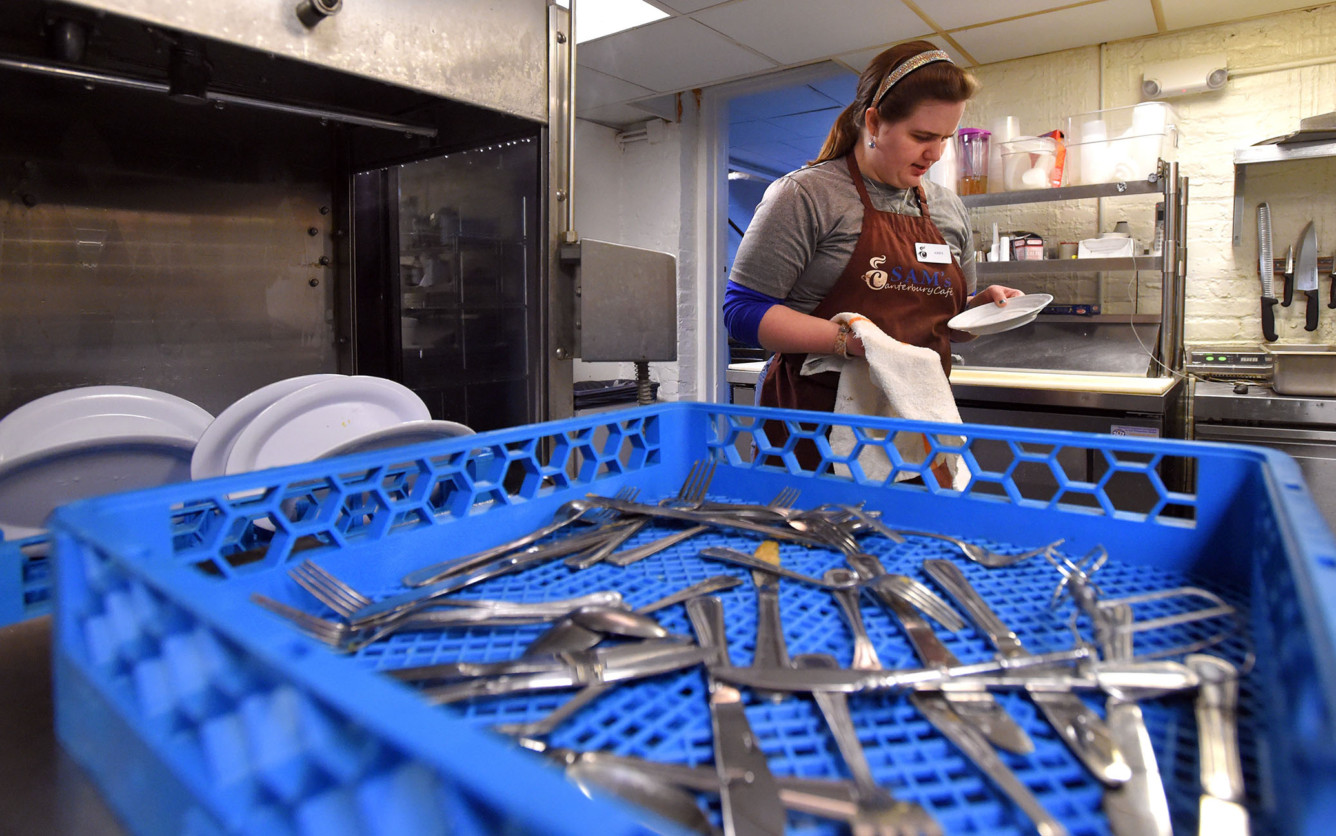 BALTIMORE — With its bustling kitchen, the warm oranges and grays on the walls and the scent of cappuccino in the air, Sam's Canterbury Cafe has the look and feel of any other coffee shop.
But the discreet signs positioned on each table at the North Baltimore cafe give away the difference: "Our service team includes six adults on the autism spectrum. We invite you to get to know them."
Sam Myers weaves his way through the dining room tables to bus dishes and stock shelves.
Advertisement - Continue Reading Below
Myers, a 25-year-old Baltimore man who is on the spectrum, goes about his responsibilities with precision and exacting detail. When he started at the cozy cafe, he worked only 15 minutes at a time. As he became more comfortable with the work, he began to add minutes. He now works up to 2 1/2 hours.
That accommodation is necessary in Myers' case to give him the chance to master different tasks — but few workplaces would offer it. That's why his father opened the cafe.
Like other parents of adult children with autism and other developmental disabilities, Michael and Jennifer Myers had long anguished over how to forge a path for their son after he left school and many support services went away.
A generation ago, parents of children with disabilities pushed for protections in the school system. Today's parents are pressing to integrate their children into jobs in health care, retail and information technology.
They are part of a burgeoning national movement, increasingly encouraged by state and federal government policies, to get more people with developmental disabilities into the workplace.
Some are pioneering their own solutions.
"We weren't willing to leave it to chance," said Michael Myers, who employs about 15 people at Sam's Canterbury Cafe. He chose a location in the quiet Tuscany-Canterbury neighborhood where their coffee shop would draw regulars, rather than tourists, and he made sure the walls were painted soothing colors.
"Our hope for Sam has always been and always will be for him to continue to grow and progress, so that he can live as independent and fulfilling a life as possible."
The number of adults with disabilities who are employed in the general workforce is growing, but the population still suffers high rates of unemployment and underemployment.
Advocates say the need to expand opportunities is growing more urgent. Over the next decade, an estimated 500,000 teens nationwide who have been diagnosed with some form of autism will age out of their schools, and lose access to the support services they provide.
State and federal policymakers are beginning to respond. Between now and 2020, Maryland will stop allowing employers to pay people with disabilities less than the minimum wage.
The state has developed an employment-first strategy to guide agencies to increase the number of people with developmental and intellectual disabilities working in competitive jobs. It includes steps such as providing training and technical assistance to schools so they can help young people move from high school to jobs.
Maryland's Developmental Disabilities Administration serves about 25,000 people with developmental and intellectual disabilities each year. It helps them find jobs, teaches life skills — money management, cooking dinner, taking a public bus to work — and troubleshoots problems in the workplace. Waiting for services are another 5,300 people who can't live on their own without help.
The U.S. Department of Labor has created rules aimed at disrupting the school-to-segregated workshop pipeline by pressuring states to ensure students with disabilities are leaving schools ready to work and to provide targeted employment.
Some parents say their children are too vulnerable to be working in the general population, or require constant therapeutic support. And companies concerned about the bottom line worry that hiring people with disabilities — who might require accommodations — will may cost them time and money.
The Arc Baltimore trains clients to prepare surgical trays at hospitals, to work on janitorial and landscaping crews and to perform other marketable tasks.
Joanna Falcone, director of competitive employment for The Arc Baltimore, says people with autism and other disabilities have much to offer employers.
Falcone says parents starting businesses to employ their children show that policies and perceptions have not yet caught up with reality.
Still, advocates say, the community is seeing a radical shift. Employers are becoming more aware of the potential of people on the spectrum, technology is advancing and the workers themselves are demanding equal pay and opportunities.
"We're getting dramatically better at helping people understand the different skills and abilities," said Leslie Long, vice president of adult services at Autism Speaks.
As a little boy, Sam Myers struggled with speech. He sometimes had a hard time remembering specific words or shaping his mouth to form the right sounds.
As an adult, he is resistant to change, his father says, but he managed to try out an assortment of positions — working in a computer lab, a bookstore, an office and in dining services — through a program that allows people with autism to sample different jobs.
He thrived working with food and people, so his parents decided opening a cafe was the best fit.
Michael Myers' grandfather founded London Fog. His father was the company's president. Myers did not have any experience in restaurants. He chose to start one because it best matched his son's abilities and interests.
The cafe's managers develop individual strategies to help each of the workers with autism succeed, Michael Myers says, just as any boss would work with employees to overcome challenges. They don't schedule workers for busy weekend shifts until they master their jobs. In one case, they started a cook out alone in a quiet area before moving the worker to the main kitchen line.
In the kitchen, 28-year-old Stephen Wittstadt works at his own pace. He used to stock grocery store shelves, but says he prefers the cafe's smaller setting and his job here as a prep cook. A peeler in one hand, he spins a potato in the other, and lets the skins fall to the cutting board.
For the Parkville man, developing the ability to peel a potato was an accomplishment. The managers gave him a set of knives and videos to improve his fine motor skills. He spent weeks practicing at home.
Wittstadt lost his job at the grocery store when it closed. He applied for work at several other places, including a hobby shop and a pet store, his mother says, but each one turned him down.
When he was younger, he could get therapy, emotional support and other services from school. His parents were overjoyed when he completed high school, Carol Wittstadt says, but with the end of his formal education came the loss of key services. The challenges he would face became apparent.
"Here is where the anger and stress and sadness come in," Carol Wittstadt said. "Once he does have a job, will he be safe? Will he be able to advocate for himself if something went wrong?"
She is haunted by what will happen when she's gone.
For now, working 20 hours a week at Sam's cafe, he is learning. The more he interacts with people at the cafe, his mother says, the more his independence grows. He orders his own meals at restaurants, takes an Uber to work and is on track to get his own apartment in an assisted living setting.
The best part of his job are the friends he has made.
"It's almost like a small family," Stephen Wittstadt said.
All of the people on the spectrum employed by Sam's cafe are clients of Itineris, a local nonprofit founded by parents a decade ago. It provides customized work development for people with autism.
Michael Myers serves on Itineris' board of directors.
Lauren Eaton, the nonprofit's program director, said the challenges people with autism face do not preclude them from working. The key, she says, is to connect the right person with the right job.
Itineris helps clients prepare for interviews by working on interpersonal skills such as shaking hands and making eye contact. The staff tells employers that a person with autism who interviews poorly might still be a good worker for the job.
"It's not charity work," Eaton said. "They can help your bottom line."
Some Itineris clients box donations for the Baltimore Hunger Project or stamp and shelve contributions to The Book Thing. One founded a recycling business that collects and sorts items, and became successful enough to hire an employee. Another plays the piano in the lobby at Kennedy Krieger Institute in East Baltimore.
"Never underestimate what anyone is capable of," Eaton said. "Different is good."
More than half of Itineris' 85 clients are in paid positions or are self-employed. The rest hold volunteer jobs.
Such work is not for everyone.
Nicole Liggins sends her 26-year-old son Tyrique who has autism to a day program at Chimes in Milford Mill. It offers sheltered employment, vocational training and other supports.
The Owings Mills woman says her son talks little, and is closer in neurological age to a first-grader. When she considers sending him out to a traditional job, she gets scared. She remembers the time years ago when Tyrique hung his head after a group of boys laughed and made fun of him. She fears that he could be followed into a bathroom and attacked.
Liggins says she supports the push for more work opportunities for people with autism. But she hopes it doesn't come at the expense of services for adults such as her son who need intensive support.
"They are a community that needs protecting," she said.
Sam's cafe is not yet profitable, but Michael Myers says the investment is paying in other ways. His son is conquering his latest goal: Learning how to take orders and send them to the kitchen.
New customer Angela Sriram walked into the cafe one recent day and asked for a recommendation.
Myers introduced himself, told her about the cafe's unique workforce and urged her to try the popular "Grown-Up Grilled Cheese," stuffed with bacon and gruyere and cheddar cheeses.
Sriram, a local artist, said she was eager to support Sam's because businesses like it help build community, and in a community, people take care of one another.
"I want us to get back to that," she said. "When I come in here, I know why I am spending. I am spending to help Sam and others like him."
© 2018 The Baltimore Sun
Distributed by Tribune Content Agency, LLC
Read more stories like this one. Sign up for Disability Scoop's free email newsletter to get the latest developmental disability news sent straight to your inbox.