Students Dream Up Assistive Devices For Kids With Disabilities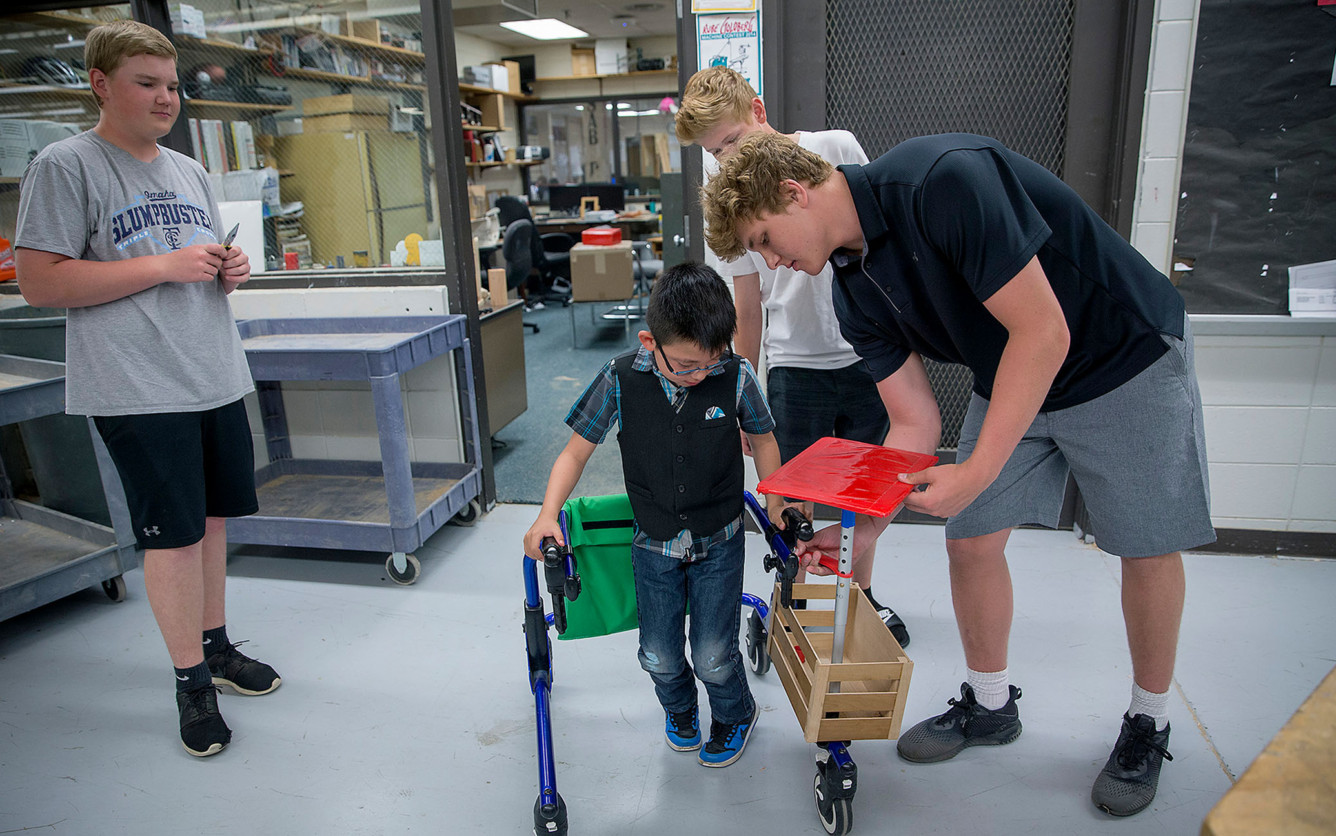 MINNEAPOLIS — Faced with a challenge, three young engineers dreamed up a $12 solution.
A simple wooden box affixed to 8-year-old Alex Benitez-Alvarez's walker gave the boy more storage space to carry school supplies — and the independence to perform tasks by himself.
"Now if he wants to go to the library at Eagle Creek Elementary and get a book out, he can," said Tommy Johnson, one of three ninth-graders assigned to Benitez-Alvarez's case.
Advertisement - Continue Reading Below
Their contraption evolved from the Inclusive Engineering Project, which pairs introductory engineering students with real-life "clients" from the district's special education programs. For the second straight year, the project has tasked teens with designing accessible products for fellow students with disabilities.
Over seven weeks, engineering teams from East and West junior high schools and Shakopee High School made prototypes of devices to help their student clients enjoy increased mobility while improving their overall quality of life. The young engineers debuted their designs at Hennepin Technical College's Engineering Technology Fair last month.
What observers found was that some of the simplest concepts were the most thoughtful:
An adjustable stool to assist a child taking their shoes off or putting them on. Color-coded glove fingers to help a first-grader who struggled with dexterity. Braille building blocks to help a toddler who is blind learn by touch.
Each prototype was built with a $35 budget, funded through a $2,000 grant from the Shakopee Education Endowment Foundation.
In an education system driven by standardized tests and rigid schedules, engineering teacher TJ Hendrickson said the project gave students the rare opportunity to create something tangible, and then to repeatedly revise it.
That real-world experience caused a radical transformation in his type A personality engineers, he said.
"Almost all the kids, somewhere along the way, stopped worrying about their grades and started worrying about failing their clients," said Hendrickson, a Project Lead the Way instructor at West Junior High. "That's such a major psychological and mental switch (for a teen)."
Group projects encourage teamwork and motivate students differently than independent assignments do, teachers said. In this case, the effort was also a much-needed lesson in developing interpersonal skills.
"The first time they met (their client) it was very awkward," said Jake Toufar, an engineering teacher at East Junior High. "But eventually they learn to kneel down and get at the student's eye level."
Limited to only three 40-minute sessions together, teens had to work quickly to develop a relationship and assess their clients' needs.
The meetups also helped engineers incorporate personalized touches on their finished products.
Benitez-Alvarez, who loves soccer, had the Minnesota United logo and a ball emblazoned on his wooden storage box. On a recent Tuesday, he happily tested out the modified walker, which now has an attachable tray stabilizer that allows him to carry his own lunch.
Grant Bain, who invented a retractor watch to help a client who's visually impaired keep track of writing utensils, 3-D printed the child's favorite animal — a shark — on its face. (The ninth-grader might even explore a patent next year.)
Overall, the collaborative process encouraged students with special needs to become self-advocates and describe their physical impairments, while teaching engineers about the struggles of living with disabilities, paraprofessionals said.
"So many people take for granted what they're actually able to do," said Stephanie Betley, a physical health disability consultant in Shakopee, who hopes to see the project continue at other schools.
Hendrickson dreams of expanding the inclusion project to a metro or statewide contest, where industry professionals are brought in to assess designs and provide feedback. Even students welcome the challenge.
"Everyone in the country should do this," East Junior High student Jake Hallett said. "It's for someone else rather than yourself."
© 2018 Star Tribune
Distributed by Tribune Content Agency, LLC
Read more stories like this one. Sign up for Disability Scoop's free email newsletter to get the latest developmental disability news sent straight to your inbox.