New York Woman Is Nation's First Lobbyist With Down Syndrome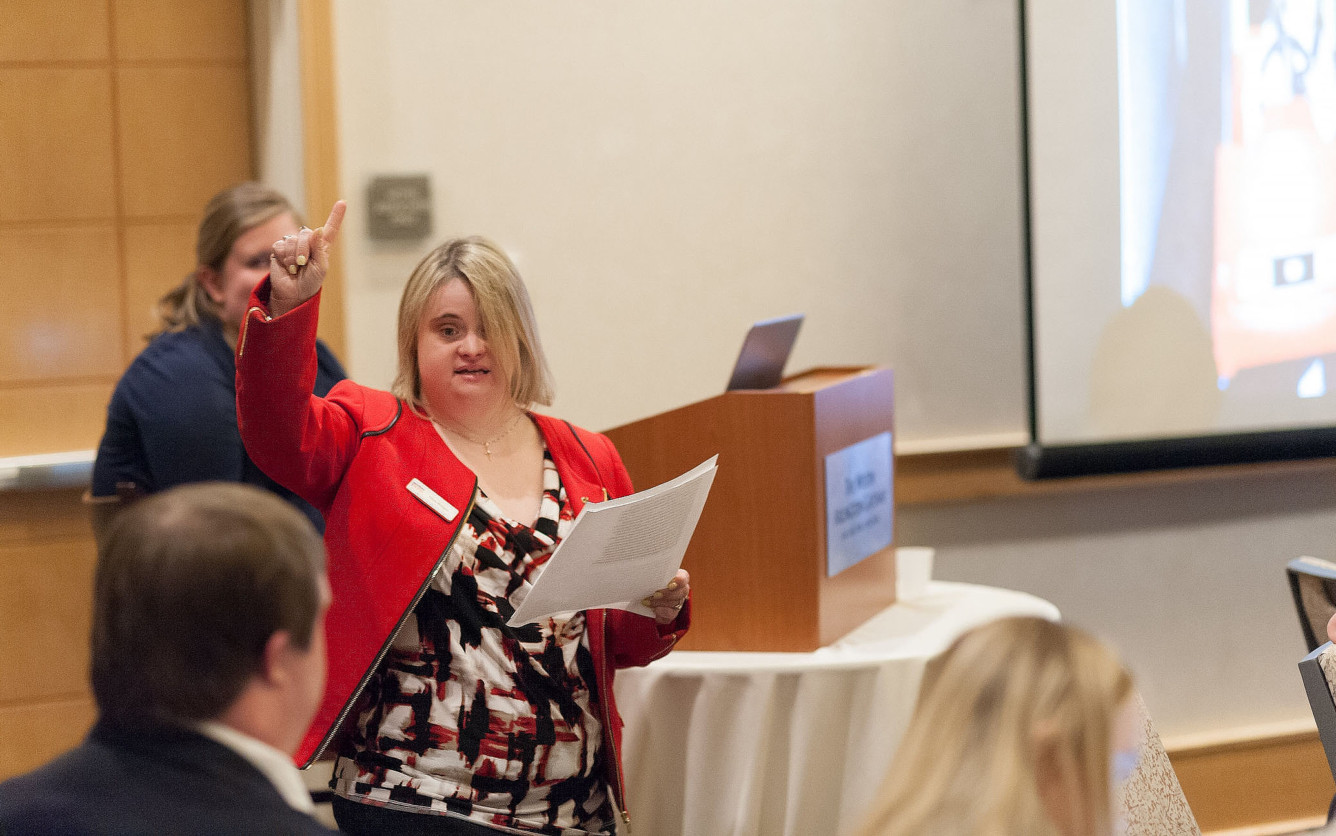 As the first registered Capitol Hill lobbyist with Down syndrome, Kayla McKeon speaks with powerful credibility when working to change laws that limit career opportunities for people with disabilities.
"I like being able to share my story and my experience to members of the Senate and congressmen and women," McKeon said. "I like telling them about my abilities and how they can help us and pass these laws. It's hard for them to say no to a self-advocate."
McKeon, 30, who works for the National Down Syndrome Society, has already helped achieve passage of the ABLE to Work Act, which allows employees with disabilities to save more money without losing their Medicaid or Social Security benefits. She's now working to eliminate subminimum wage, which pays workers with disabilities as little as pennies per hour.
Advertisement - Continue Reading Below
"Down syndrome doesn't hold us back, it's old, antiquated laws that do," McKeon said. "We also want the same pay and benefits as everyone else because we are like everyone."
In October, McKeon began working part-time at the nonprofit, where 25 percent of employees have Down syndrome. She lives with her parents in Syracuse, N.Y. and flies to Washington or New York City several times a month.
She has met with elected officials ranging from U.S. House Speaker Paul Ryan, R-Wis., to Sen. Tammy Duckworth, D-Ill. The hardest part of her job is getting on the calendars of busy lawmakers who may need to reschedule if they are called to the floor, McKeon said.
"I am nonpartisan and bipartisan," McKeon said.
Sara Hart Weir, president and CEO of the National Down Syndrome Society, said McKeon's position was created as part of a strategic process to hire more people with Down syndrome. Weir said McKeon has a passion for advocacy and exemplifies achievement.
"She is fun, spunky and loves life," Weir said. "She's quick for a jaunt across the street to Starbucks with you, a trip to the shopping mall, happy hour or just hanging out with her colleagues and friends."
McKeon's work has been noticed by others advocating on behalf of people with disabilities. Stuart Spielman, senior policy advisor and counsel for Autism Speaks, said McKeon is positive and well prepared as she weaves together policy with personal experience.
"It has been wonderful getting to work with Kayla," Spielman said. "She is an asset to NDSS and a great advocate for people with intellectual and developmental disabilities on Capitol Hill. We are lucky to have the opportunity to work alongside her."
McKeon's mother, Patti McKeon, said her daughter is well suited to her role because of her social graces and ability to talk to anyone without feeling nervous.
"She's gained a lot of independence doing this," Patti McKeon said. "She travels on her own. Her father and I are just so proud of her. I see the people she talks to and I'm, like, wow."
McKeon, who also attends community college, said people with disabilities should not have their dreams squashed.
"We can do anything that we set our minds to," she said. "We go to college, we drive a car, we can pursue relationships. We can work. Let us be who we are."
Read more stories like this one. Sign up for Disability Scoop's free email newsletter to get the latest developmental disability news sent straight to your inbox.