Sensory-Friendly Design Enters The Classroom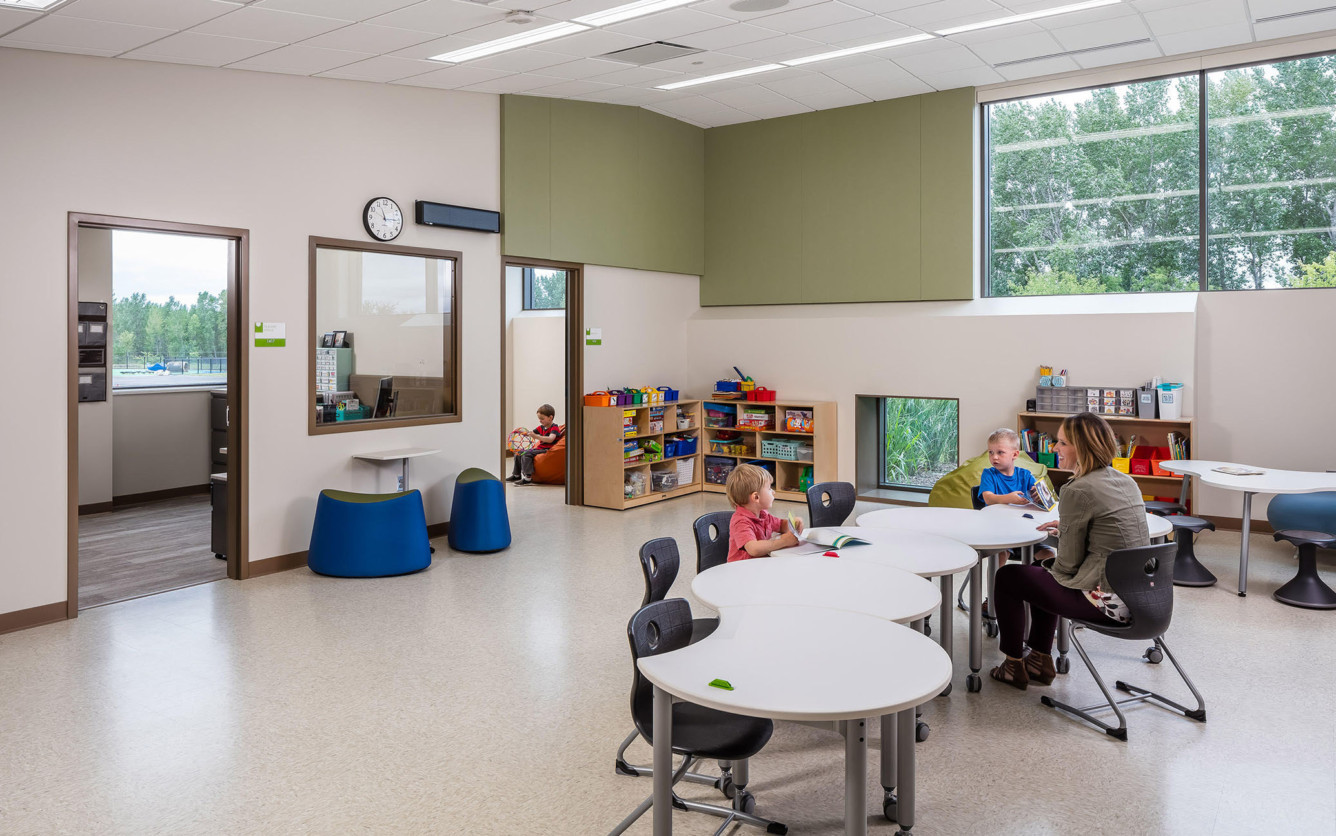 As more students with special needs enter school systems nationwide, educators are increasingly designing their classrooms to boost behavior and academic performance.
Sensory-friendly design focuses on controlling the sights, sounds and smells that can be under- or overstimulating to students with autism or other developmental disabilities. A few schools have been built for this purpose, but any classroom can be retrofitted to improve its sensory environment, experts say.
"Surprisingly, you don't need an elaborately designed, high-tech building to support a child's sensory needs," said Nicole Eredics, a California-based educator and author of "Inclusion in Action," a book about creating welcoming classrooms for all students.
Advertisement - Continue Reading Below
The adjustments can be as simple as filling small plastic bags with rice for a fidgety child to hold or offering flexible seating that allows students to use bean bags, standing desks or even rocking or swinging chairs, Eredics said.
"I really do see quite a lot of variations in classrooms now," she said. "They don't all look the same with desks in rows and the teacher sitting at the front."
Several newly-built schools in Minnesota's Northeast Metro Intermediate District 916 set the gold standard for sensory-friendly design. At the elementary and high schools outside St. Paul, architects and designers worked with teachers to create a healthy environment for students with special needs.
"We paid a lot of attention to materials for a healing, learning environment that is warm and welcoming," said Hanna Kuehl, senior interior designer at BWBR, an architecture firm that worked on the school district's projects.
At the district's Karner Blue and Pankalo education centers, which opened in 2014 and 2017 respectively for kindergarten through eighth grade students in special education, hallways are shortened and curved to discourage running. Venting ducts run through the hallway ceilings instead of in classrooms and are larger than average to help diffuse the force of air and potential noise. There are breakout rooms for one-on-one therapy sessions or quiet reflection.
The results have been positive, Kuehl indicated. Early data show that behavioral issues are down, academic achievement is up and students are transitioning back to their neighborhood schools more quickly.
Since the Minnesota schools opened, a steady stream of administrators from other districts around the upper Midwest have toured the spaces for inspiration, Kuehl said. While districts may not have the funding for new construction of sensory-friendly schools, she gives them tips that can be incorporated into existing buildings.
When possible, natural light is preferred. Schools should switch from fluorescent lights, which can flicker and hum, to LED bulbs if they're able. Dimmers can be installed for more control in each room. Shades with different colors can also soften the light or disperse it more subtly, she said.
Visual clutter on classroom walls can be overwhelming. Walls should be painted in muted tones, with accents like bulletin board decorations added slowly throughout the year.
Extra insulation, or carpets on the walls and floors can help reduce noise.
Some students dislike large open spaces while others don't want to feel closed in. Schools can "layer" their spaces by placing furniture and panels to section off larger spaces, Kuehl indicated.
"Taking a space and breaking it down into different activity centers helps children process and plan their expectations for each subject," she said.
Soft seating in a reading or relaxing corner can create a safe zone for anxious moments. These small but thoughtful changes can show extra care for all students, Kuehl noted.
"All of the educators we've talked to want to create a space where students can learn and be proud of being at school and be happy to go," she said.
Read more stories like this one. Sign up for Disability Scoop's free email newsletter to get the latest developmental disability news sent straight to your inbox.