For Kids Who Are Medically Fragile, Return To School May Be A Long Way Off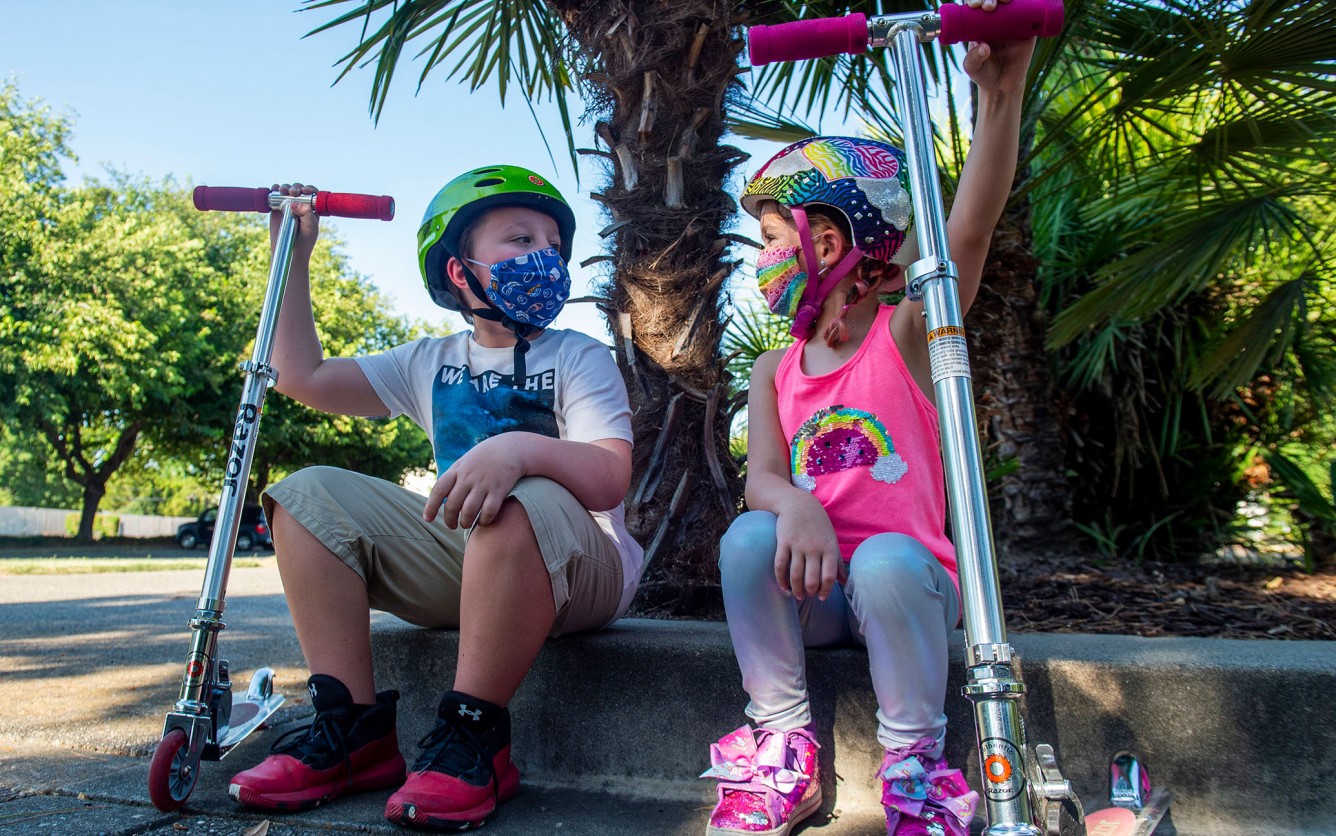 SACRAMENTO, Calif. — Sacramento mom Erin Gottis knew she wasn't going to send her 9-year-old son Mason back into the classroom this fall well before his school district announced plans to start the academic year with distance learning.
Mason has severe asthma and Type 1 diabetes. Keeping him healthy and out of the hospital for something as simple as getting a cold during a normal school year was hard enough, Gottis, 39, said. Physically sending him back to school amid COVID-19 could kill him.
"There's just no way he's going to school unless they can give a 100% guarantee he won't contract the coronavirus," Gottis said. "Which is impossible at this point."
Advertisement - Continue Reading Below
Many California families like hers are bracing for months if not years of educating their medically fragile kids at home. They won't send their kids to class until there's a widely available vaccine or treatment for COVID-19.
Mason is one of 14,612 students in the Sacramento City Unified School District with chronic health conditions that range from allergies to more life-threatening illnesses that could render these kids vulnerable to the worst of COVID-19. More than 2,550 students needed an emergency care plan during the 2018-2019 school year due to medical issues like seizure disorders and anaphylactic allergies, according to the district's student support and health services department report.
The California Department of Education doesn't have statewide numbers to show how many families are facing choices like Gottis.
Still, the state is developing guidelines to make schools safe again for immunocompromised children.
Its reopening guidebook for schools emphasizes widespread use of protective gear like masks, temperature checks and health screenings. The recommendations underscore the importance of these health precautions particularly for medically vulnerable children.
The department's recommendations encourage schools to find innovative ways for at-risk students to connect with their peers and teachers if it's not safe for them to be physically in the classroom.
But those good intentions conflict with what parents know about their own children. "We are anticipating not this entire school year," Gottis said, meaning she won't send him to school even if Sacramento City Unified calls kids back to class in the winter.
Dr. John Takayama, a pediatrician at UCSF Benioff Children's Hospital who specializes in care for children with unique medical needs, said he helps these families weigh their options before they decide to pull their kids from school or push them back into the classroom. The decisions often depend on the severity of the kids' conditions.
"Asthma may mean different things for different families," Takayama said. "COVID-19 can have sort of similar mild respiratory symptoms (to a cold), but for others it could be a death threat."
Classroom in an apartment
During a normal school day before the coronavirus outbreak, Mason would attend class with his own licensed vocational nurse. Gottis said she communicated nearly constantly with staff regarding Mason's meals and activities. COVID-19 would make that routine even more complicated, she said.
Instead, she prepared her family's two-bedroom Midtown apartment with homework bins, work stations and new computers for home schooling when Sacramento announced its decision to delay in-person instruction.
Erin Richardson, a Ventura County mom of two, also didn't wait for a top-down decision before she decided to keep her 7-year-old son Jayden Wesley home for at least the start of the year.
Born 17 weeks early, Jayden's lungs never had the chance to develop fully before he was born. He now has asthma and struggles to fight infections other kids can more easily battle.
Richardson, 45, said she agonized over selecting from the three education options Jayden's school, Flory Academy, had offered families. They could choose a blended learning model of half in-person and half distance-learning, an online-only option or an independent study program.
She knew Jayden wanted to return to school. He misses his friends.
"In my mind, I think no. I can't. It's not even a possibility," Richardson said. "But when I talk to him with his big eyes telling me he wants to be with his friends, he'll wear a mask, I have to think what am I doing keeping him away from that."
She waited until the last day to submit the paperwork for Jayden and his fourth-grade sister Harper.
"I officially selected independent study for both Jayden and Harper for the fall," Richardson wrote in an email. "Looks like I'm going to be a teacher!"
When schools do get the green light to reopen, Takayama said sanitation and social distancing protocol, along with rigorous staff training on the measures, will be critical for keeping students, as well as their families at home and teachers in the classroom, healthy and COVID-free.
"Education and being in school is important for children," Takayama said. "How do we do it safely? And can we do it safely?"
The decision is a much simpler one for Dr. James D. Cherry, a pediatric infectious disease specialist at UCLA.
"They shouldn't go to school," Cherry said. "They should be home-schooled. That part is easy."
Therapy at home
The choice isn't so clear for some Californians.
Since March, parents have struggled to balance their children's education with their job responsibilities. For essential workers, who are disproportionately Black, Latino and low-wage laborers, that option isn't even on the table.
For families of children with disabilities and medical considerations, striking a balance between keeping them safeguarded at home and making sure they're receiving certain therapies traditionally offered at school is a challenge.
"We have single parents living with two kids with disabilities in a small apartment and they can't go out and obviously it's really, really stressful," said Juno Duenas, executive director of the San Francisco-based advocacy organization Support for Families of Children with Disabilities. "And then if you have a kid with medical issues and trying to take care of those too, it's extraordinary."
Gillian and Sam Davidson ran a risk-benefit analysis to determine whether teletherapy for their son Misha, 3, would do for now, or if having a therapist enter the house was more advantageous. Misha was born with a brain condition called an arteriovenous malformation. The elementary school that houses Misha's preschool classroom will begin the school year with online learning.
Misha has had four brain procedures, Gillian said, and has been diagnosed with other health conditions including hydrocephalus, cerebral palsy, autism, epilepsy, a visual impairment and has speech delays.
The Davidsons can work from home and have the resources to be with Misha daily, Gillian said. Still, the family decided, despite the pandemic, Misha needed the therapy.
"We agreed that was the risk we were going to take," Gillian said of starting Misha's therapy at home.
The even harder part will come later, when the Davidsons have to decide how rigorous COVID-19 protocol will affect Misha's schooling once classrooms can accept students again.
"Any transfer from chair to floor or floor to chair or his gate trainer that he walks around in — none of that is independent," Gillian said. "There's going to have to be touch."
© 2020 The Sacramento Bee
Distributed by Tribune Content Agency, LLC
Read more stories like this one. Sign up for Disability Scoop's free email newsletter to get the latest developmental disability news sent straight to your inbox.