New Housing Concepts Emerge For Adults With Developmental Disabilities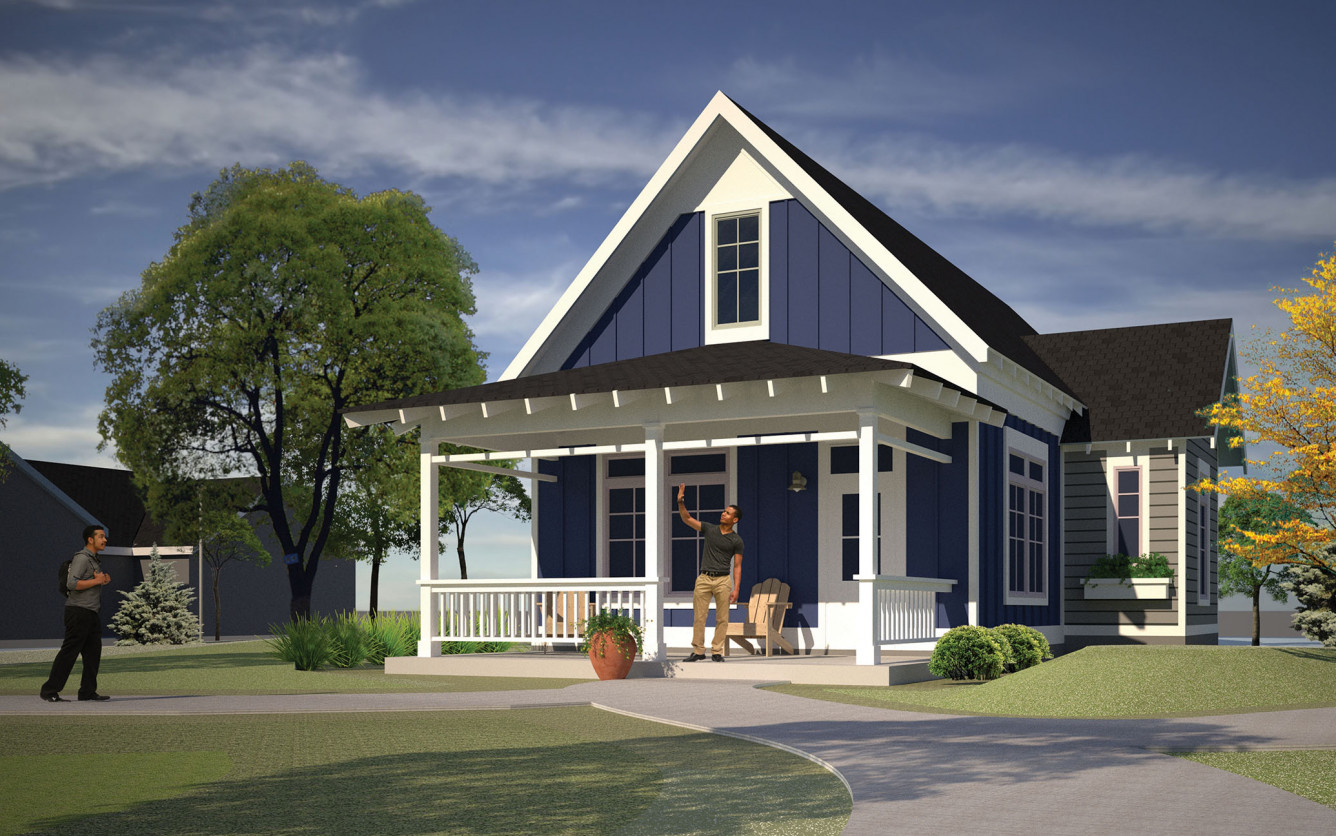 Communities of varying shapes and styles are popping up across the country, all aiming to address the severe shortage of housing options for those with developmental disabilities.
Among the newest projects underway is a 15-acre community planned about 20 miles outside of Indianapolis that will offer homes for adults with and without developmental disabilities. The $12 million project that's expected to open in 2023 will include various size homes as well as a community center and feature clubs and classes promoting independent living skills. Known as Crossbridge Point, the community being developed by the nonprofit ILADD, Inc. is among the first aimed at people with developmental disabilities that will allow families to purchase homes, though the plan also calls for rental units to be available.
"Families increasingly are telling us they want the permanence and equity of home ownership," said Mark L. Olson, president and CEO of LTO Ventures, which serves as consultant and project manager for the development and others like it. "It provides certainty in that a landlord cannot sell a home out from under tenants who may be leasing. It gives the family more control over accommodations or modifications that may need to be made. It builds equity that the adult with IDD can tap into later in their life after the parents are gone. It protects against rent increases or landlord discrimination."
Advertisement - Continue Reading Below
The ownership concept first emerged with Luna Azul, a 4½-acre development of 30 homes in Phoenix, which opened last year as the nation's first for-sale community aimed at adults with developmental disabilities. Anyone can live in the pocket neighborhood, but it offers amenities like a full-time director and overnight staff to promote community engagement and safety in an effort to include and support those with special needs. The first phase of homes in the neighborhood has already sold out.
In addition to Crossbridge Point in Whitestown, Ind., Olson said he's working on projects in Texas, Wisconsin and Missouri that will offer homes for sale as well as rental options. One factor driving this trend toward ownership is the finances.
"For nonprofit project developers, sales versus lease reduces long-term debt load and can reduce the amount that may need to be raised from donations, enabling projects to get built faster," said Olson. "A lot of donation-reliant projects can take five to eight to 10 years to get built. For-sale projects can get built in three to five years."
Nonetheless, many new housing opportunities aimed at people with disabilities remain rental. Main Street, an inclusive apartment building in downtown Rockville, Md., outside of Washington, D.C., just opened in August, offering affordable housing for people with and without disabilities. It features a community center and is located steps from shopping, dining and a Metro stop.
Meanwhile, a new development in the Minneapolis suburb of Victoria that opened in September is tailored to meet the needs of adults with developmental disabilities as well as typically-developing individuals over age 55. The property offers accessible homes, community activities, outdoor walking paths and is located in close proximity to shops, restaurants and other amenities.
Bethesda, a Christian nonprofit that provides services to people with intellectual and developmental disabilities in 13 states, is behind the community known as Bethesda Cornerstone Village. The organization says that other similar developments are already in the works.
"Our belief is the strongest communities are inclusive and create an environment where everyone is welcome," said Tom Campbell, vice president of real estate at Bethesda. "Both seniors and people with intellectual and developmental disabilities struggle to find high-quality, accessible housing in nice neighborhoods. Bethesda Cornerstone Village Victoria meets those needs and delivers so much more."
Read more stories like this one. Sign up for Disability Scoop's free email newsletter to get the latest developmental disability news sent straight to your inbox.