On ADA Anniversary, Biden Recommits To Disability Rights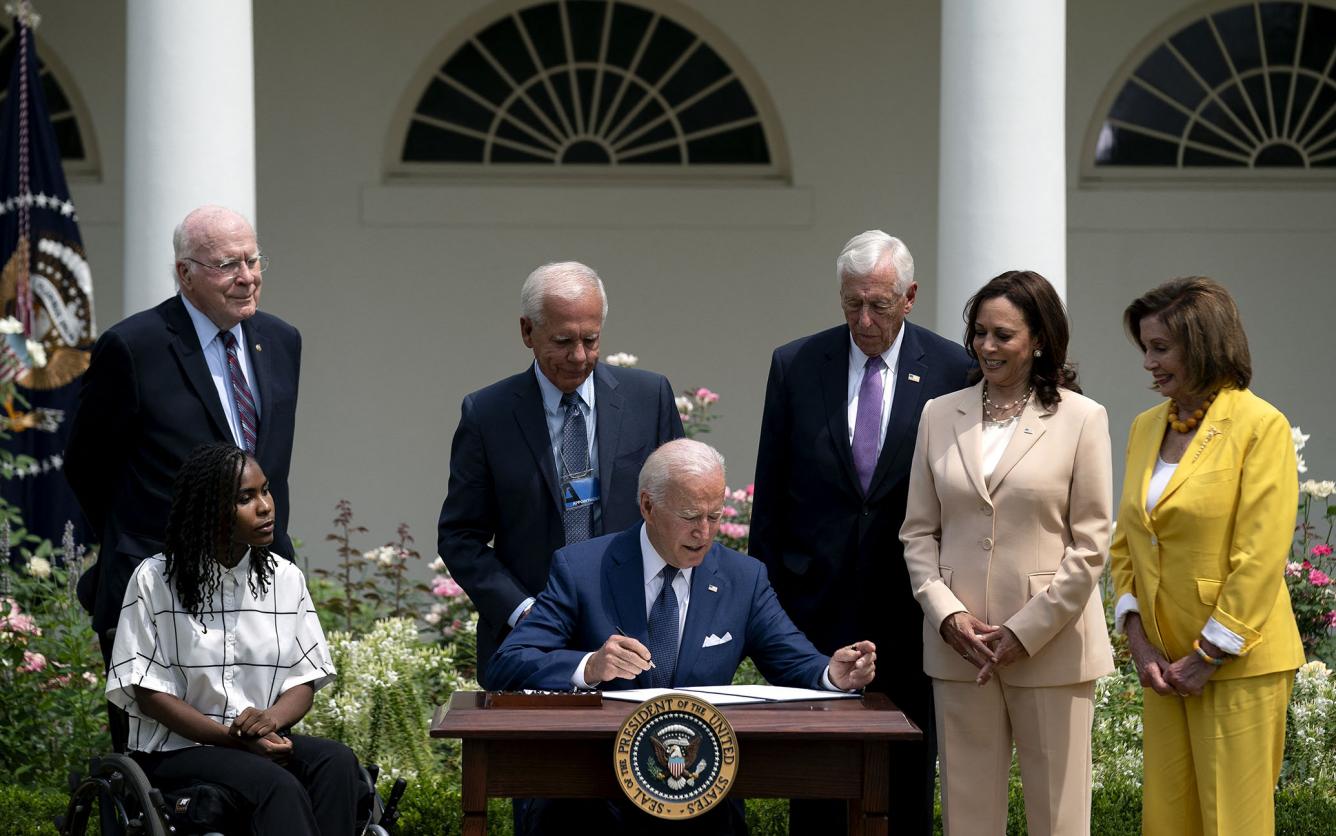 President Joe Biden used a White House ceremony marking the anniversary of the Americans with Disabilities Act to push his plans to spend billions on home and community-based services and end subminimum wage.
Biden, who was a co-sponsor of the ADA during his time in the U.S. Senate, hailed the landmark disability rights law for transforming American life for people with disabilities, but said there is still more progress to be had.
"For more than 60 million Americans living with disabilities, the ADA is so much more than a law; it's a source of opportunity, participation, independent living and respect and dignity, the bulwark against discrimination, and a path to independence," Biden said. "But, of course, this law didn't bring an end to the work we need to do. Today, too many Americans still face barriers to freedom and equality."
Advertisement - Continue Reading Below
The comments came during an event Monday in the Rose Garden at the White House that brought together about 60 political leaders and disability advocates on the 31st anniversary of the ADA. Among those at the ceremony were people like former Congressman Tony Coelho who helped pass the ADA and a bipartisan group of current lawmakers including Democratic House Speaker Nancy Pelosi and Republican Minority Leader Kevin McCarthy.
Biden touted his plan to invest $400 billion into home and community-based services, which he indicated would help people with disabilities live more independently. He said he's glad to see Congress starting to move forward on a bill known as the Better Care Better Jobs Act, which would turn that proposal into a reality.
"This past year, the entire nation saw just how vital our caregivers are and how critical home-based care truly is for so many Americans. This legislation will help ensure that caregivers are fairly compensated for their work," Biden said.
In addition, the president emphasized his stance on the continued ability of employers to pay people with disabilities less than minimum wage.
"I've also called on Congress to eliminate the discriminatory subminimum wage provisions that too often keep people with disabilities from getting good jobs with fair wages," Biden said.
More broadly, Biden said his administration will work to ensure the "dignity and rights of disabled Americans are lifted up in every policy."
He spoke about his efforts to ensure voting rights for people with disabilities and said he was proud to appoint the first-ever White House disability policy director, Kim Knackstedt. And, Biden committed to making the federal government a model employer for people with disabilities in terms of wages, accommodations and advancement opportunities.
The Biden administration also used the ADA anniversary to issue guidance and resources to help Americans who are dealing with what's known as "long COVID." Some people with the condition qualify as having a disability and have rights under civil rights laws, the guidance indicates.
"We made important progress, but we still have work to do," Biden said. "We have to keep going to ensure that every single American has a chance to contribute their talents and thrive and succeed."
Read more stories like this one. Sign up for Disability Scoop's free email newsletter to get the latest developmental disability news sent straight to your inbox.