No More Stairs: Cash Influx To Make Transit More Accessible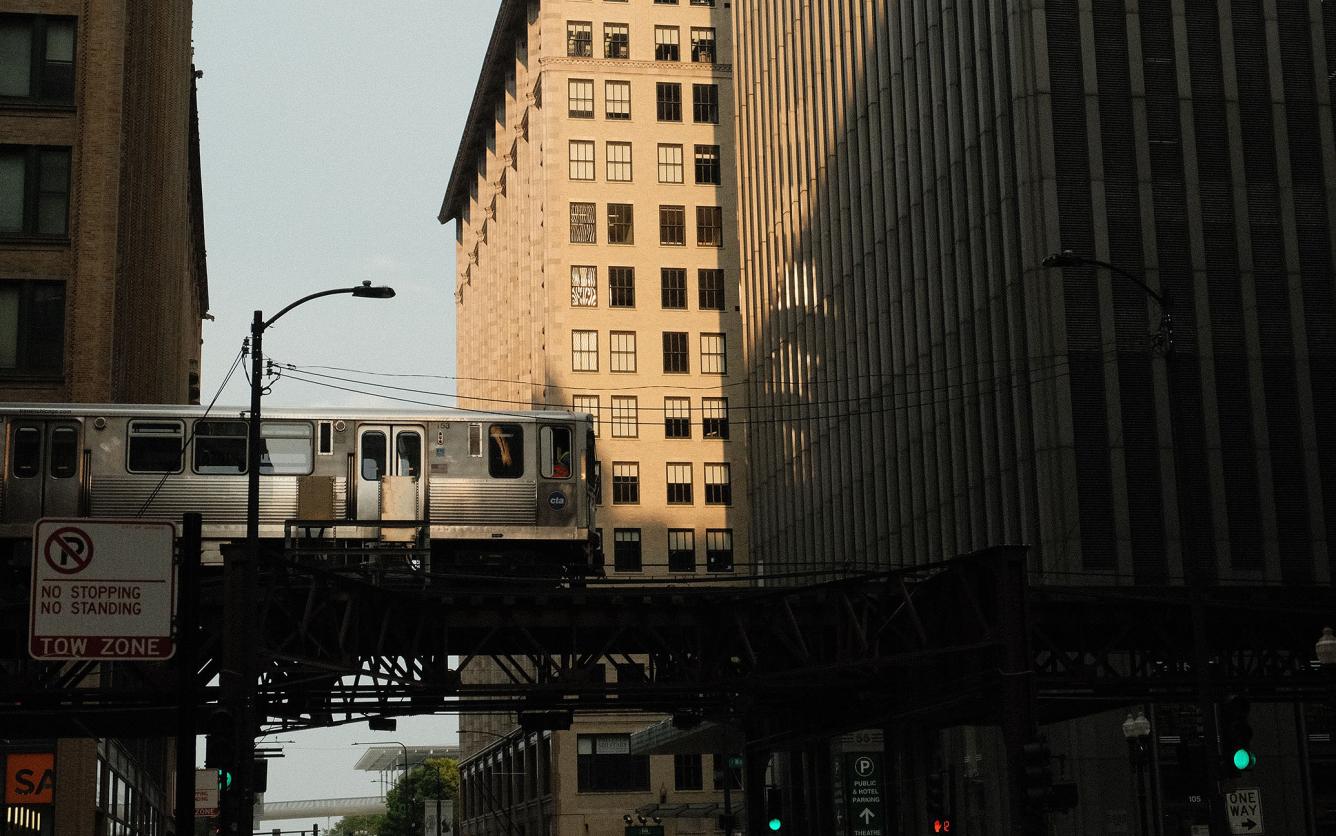 When Chicago resident Michele Lee wants to take public transit around town, she doesn't even consider the "L," the city's subway and elevated train system.
Lee, 39, who uses a wheelchair, is a quadriplegic who was paralyzed from the chest down after a car crash nearly two decades ago. Lots of Chicago Transit Authority subway and elevated stations don't have elevators, so there often is no way for her to access a train in the system, known as the CTA. She relies instead on buses to get around, even though they take a lot longer.
"I'm severely limited because I'm not able to rely on the CTA infrastructure. I'm not able to get on the train, visit friends, go to doctor's appointments, get to the airport," Lee said in an interview with Stateline. "I pay taxes. I have a job. I have the means to travel around the city, but I can't because of the lack of accessibility."
Advertisement - Continue Reading Below
Lee is not alone. In some of the nation's largest cities, where a lot of daily commuters rely on trains, people with disabilities who would like to use subways and commuter rail aren't able to because there aren't elevators at every station.
"It really locks you into your neighborhood. You're not able to move about, be independent," said Lee, a program director at the United Spinal Association who helps people with spinal cord injuries. "It's very dehumanizing and demeaning. Everybody else can go down the stairs and hop on the train. It's really frustrating."
More than 25 million Americans have self-reported travel-limiting disabilities, according to the federal Bureau of Transportation Statistics. Money included in the $1.2 trillion infrastructure bill signed into law by President Joe Biden last month aims to make public transportation more accessible to them.
The new federal All Stations Accessibility Program will provide $1.75 billion in competitive grants over five years to state and local governments to upgrade older rail transit stations that remain inaccessible to people with disabilities. It's part of the larger bipartisan infrastructure law, which provides nearly $107 billion for public transit; agencies also can use that money to improve accessibility.
Currently 28% of the country's 3,447 rail transit stations are not accessible, according to the Federal Transit Administration.
The problem is most acute in big cities such as Boston, Chicago, New York and Philadelphia, which have legacy transit systems that are a century old or older.
"These are critical needs, but very expensive projects to fund for these legacy systems," said Ward McCarragher, a vice president at the American Public Transportation Association, a trade group. "Having a dedicated source of funding will enable them to make investments that are badly needed."
People with disabilities are legally guaranteed equal access to public transit under the 1990 Americans with Disabilities Act, known as the ADA. The law prohibits public transportation authorities from discriminating against people with disabilities and requires that transit stations, vehicles and facilities built or acquired after that date must be accessible.
But older transit systems with stations that were not accessible when the ADA became law were required only to identify "key stations" and make them accessible.
Riders who want to use subways or elevated trains at some older locations must be able to climb stairs. People who can't must turn to buses or to paratransit, a shared ride service that picks up passengers.
In New York, 338 out of 472 subway stations — or 72% — are non-ADA accessible, according to the Metropolitan Transportation Authority, known as MTA. In the Philadelphia region, more than 40% of heavy rail stations are inaccessible; in Chicago, nearly 30% are not accessible, Federal Transit Administration 2020 data shows.
A 2018 report by New York City Comptroller Scott Stringer, a Democrat, concluded that the lack of ADA access to the city's subways placed a "severe strain" on the lives of people with disabilities, affecting where they live and their access to jobs.
"These mobility-impaired residents have been left in the lurch by the MTA, victims of decades of underinvestment," the report stated.
Quemuel Arroyo, the transit agency's chief accessibility officer, who uses a wheelchair, agreed that ADA updates are badly needed for the nation's largest transit system.
"Our system is 107 years old and we're playing catch-up," Arroyo said in an interview with Stateline. "It was never designed with elevators in mind."
He said his agency's 2020-2024 capital plan proposed to make 70 stations ADA compliant during that period, but there hasn't been the funding to do that.
The injection of new federal money for public transit nationwide will help, Arroyo said. The MTA expects to receive more than $10 billion for its capital plan over five years. It has earmarked $5.2 billion in the plan to improve ADA accessibility.
That will be in addition to money the agency hopes to get from the new ADA access grant program, which not only would be used to build new elevators, but also to make changes that would assist riders who are blind or hearing impaired or who have developmental disabilities, Arroyo said. That would include installing audible announcement systems for train arrivals and changing the physical layout of stations.
In Philadelphia, the Southeastern Pennsylvania Transportation Authority, known as SEPTA, also hopes to get a piece of the new infrastructure grant pie.
In its 12-year capital budget program approved this year, the agency proposed to make its two subway and elevated lines fully ADA accessible at a cost of $355 million, spokesperson Andrew Busch said.
Philadelphia's system, which dates to the early 1900s, lacks elevators at many stations, especially those outside the city center, Busch said. And about half of its even older commuter heavy rail service, which connects the city to the suburbs, also aren't ADA accessible.
The agency hopes to spend a portion of the more than $600 million it will be getting from the federal infrastructure package for ADA upgrades, he said. And it wants to use whatever infrastructure grant money it can get from the new program to accelerate its accessibility goals.
Scott Bogren, executive director of the Community Transportation Association of America, a trade group that represents smaller transit operators, said improving access to train stations won't just be helping people with disabilities.
"It improves the service for everyone, like a mother with a child in a stroller," he said. "A lot of older adults don't want to do stairs. An elevator suddenly allows them to use the system. We've got an aging society."
Officials point out that retrofitting older systems to meet ADA standards will cost far more than is available in the federal infrastructure grant program.
In 2018, the Chicago Transit Authority estimated that it would cost $2.1 billion to make 42 stations ADA accessible.
In Philadelphia, Busch said the total projected cost to make its whole system, including commuter rail, the trolley system and heavy rail, fully ADA accessible would be $2.4 billion.
In New York, Arroyo said bringing every one of the agency's stations into ADA compliance could cost an estimated $35 billion over 25 to 30 years. Designing and installing a new elevator at a station can cost anywhere from $10 million to $65 million — or more.
Arroyo pointed out that meeting accessibility standards isn't just about adding elevators. His agency is spending $200 million rebuilding its Times Square shuttle train to make it fully accessible, including realigning tracks and creating a single platform that eliminates gaps between the platform edge and the track.
Trying to pay for major accessibility changes has been especially challenging in recent years because of budget shortfalls at many transit agencies, officials say. The situation has gotten worse because of the pandemic, which sent ridership plummeting.
But the failure to make stations ADA compliant isn't just about cost, advocates say.
"Even after passage of the ADA, it was not a priority for many agencies to make stations accessible for a long time," said Ben Fried, a spokesperson for TransitCenter, a nonprofit research and advocacy group based in New York. "Decisionmakers had to be dragged kicking and screaming. A lot of advocacy had to be done to get them to adopt a different point of view. We're seeing some progress. It's not where we want it to be."
Unlike older stations, buses, which have lifts and ramps for wheelchair access, and most train cars meet ADA standards. A 2021 report by the American Public Transportation Association found that 100% of heavy rail cars are accessible as are 99% of buses. So are 92% of light rail cars and 82% of commuter rail cars.
While paratransit, the shared ride service, is an option for those who can't access train stations, advocates say there is no flexibility, service is often unreliable and trips take much longer than regular transit.
"I have to make a reservation 24 hours in advance of pickup or drop off. Life doesn't work like that," said Lee, who has given up on paratransit, just as she has on the trains. "I tried to take it once to the airport and it made me miss my flight because I was late. You're beholden to whenever the paratransit system picks you up."
People with disabilities who want to take the train but don't have access to it often are forced to backtrack to another station or map out a circuitous route.
And advocates say that even if agencies install elevators at stations, they still need to make sure there are other ADA accommodations, such as having gates large enough for a person in a wheelchair to pass through.
"You have to make the whole passage from the street to the train accessible," said Claire Stanley, a public policy analyst at the National Disability Rights Network.
Cara Liebowitz, who has cerebral palsy and uses a wheelchair when she's not at home or in familiar places, grew up in Long Island and visits her family there often. She said using the New York subway system can be quite difficult.
"There have been times I've screwed up and gotten off at an inaccessible station," said Liebowitz, 29, an engagement coordinator for a national disability rights group based in Washington, D.C. "You have to plan as a wheelchair user in New York so much more than the average person, and your trips take so much longer."
When Liebowitz recently met a friend to see a Broadway show, instead of taking the subway from Penn Station, she rolled her power wheelchair those 12 blocks.
"I trust the wheels under my butt more than any form of public transportation," she said.
Stateline is a nonpartisan, nonprofit news service of the Pew Charitable Trusts that provides daily reporting and analysis on trends in state policy.
Read more stories like this one. Sign up for Disability Scoop's free email newsletter to get the latest developmental disability news sent straight to your inbox.