NYC Gallery Displays Works By Artists With Special Needs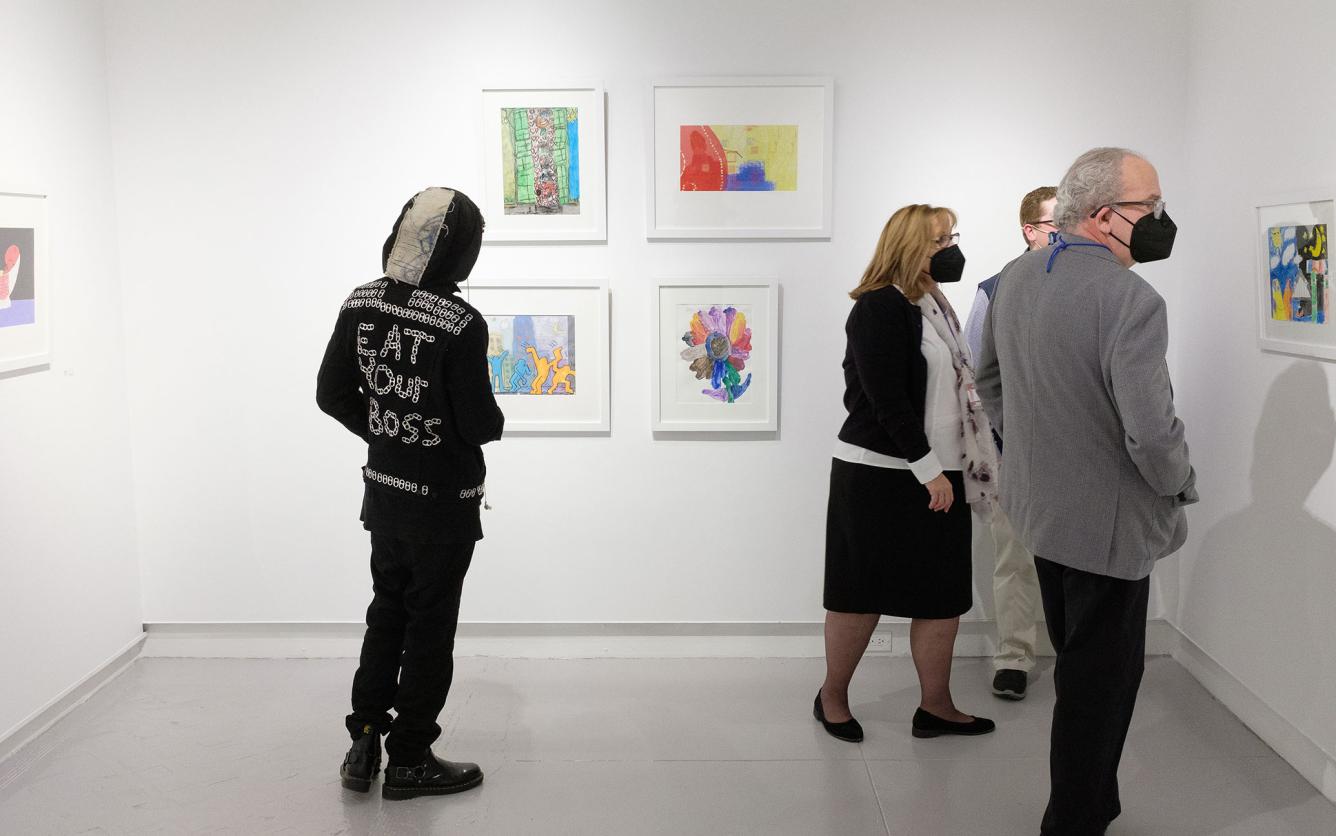 NEW YORK — A Manhattan gallery known for displaying works by world-famous names is hosting a rare exhibit by a unique group of relative unknowns: artists with autism and other special needs.
ArtABILITY: An Inclusive Exhibition Celebrating Artists with Special Needs, at the Agora Gallery on W. 25 St. in Chelsea, features 40 artists and students at RISE in Spirit, a nonprofit that partners with Spirit of Huntington Art Center to provide art education and art therapy for veterans and people with physical and cognitive impairments.
"Even though we have some Salvador Dalis in the front, the most special art in the gallery is from them," said Rairis Martins, exhibition coordinator at the Agora Gallery.
Advertisement - Continue Reading Below
"It's a true honor for me, it's a big deal," said Michael Baumann, 23, of Center Moriches, L.I., whose depiction of the Empire State Building is exhibited. "I'm very proud of myself for what I've accomplished."
"The art center has made me want to do a lot of art because there's no mistakes in art," said Baumann, who has been taking the classes for a year and counts Jackson Pollock among his favorite artists. "It makes me feel good that I'm welcome there."
"I think it's amazing," said Michael's mother, Michelle. "Just the fact that their artwork is being recognized, it validates them. He's very excited.
"We've seen with Michael that it's an outlet for him to express his emotions. Whether it be joy or frustration, he turns to art," she said.
The 250 works in the show range from drawings and watercolors to mixed media pieces and digital art. Many of them are in bright colors, some are exuberant abstracts and others are quieter figurative works.
Art history is also taught at the cultural center, which shows in the work. Some are done in the styles of Georgia O'Keeffe and Keith Haring, featuring large, ornate flowers and dancing figures.
"People with developmental disabilities, autism, they're just like you and I, they want to make decisions and express themselves," said Charles Evdos, executive director of RISE Life Services. "This gives them therapy, basically. Some of them, they've come out of their shell, they're talking to people, smiling."
Huntington, L.I., artist Danny Sgaraglio, 22, has been taking the classes at the art center since they began. His father, Artie Sgaraglio, says he sees a difference in his son now, a self-awareness.
"It just gets him in a flow, or in the know of something that is really happening," he said. "I am seeing him have self-sense in positive ways.
"If I didn't know any better I would say my boy is one of the stars here tonight. It's a big, proud night," said Sgaraglio. "I hope in my heart of hearts that it's registering for him, I hope that his heart is filling up with a sense of pride or fitting in."
As delighted as the artists and their families are, they aren't the only ones.
"Each of them has their story," said Martins. "They are, quite frankly, amazing. One of the kids even cried seeing his work in the gallery. It's such a special event.
"We're just so proud and happy to be able to have their art here."
© 2022 New York Daily News
Distributed by Tribune Content Agency, LLC
Read more stories like this one. Sign up for Disability Scoop's free email newsletter to get the latest developmental disability news sent straight to your inbox.