After Stroke, John Fetterman Poised To Be Powerful Voice For Those With Disabilities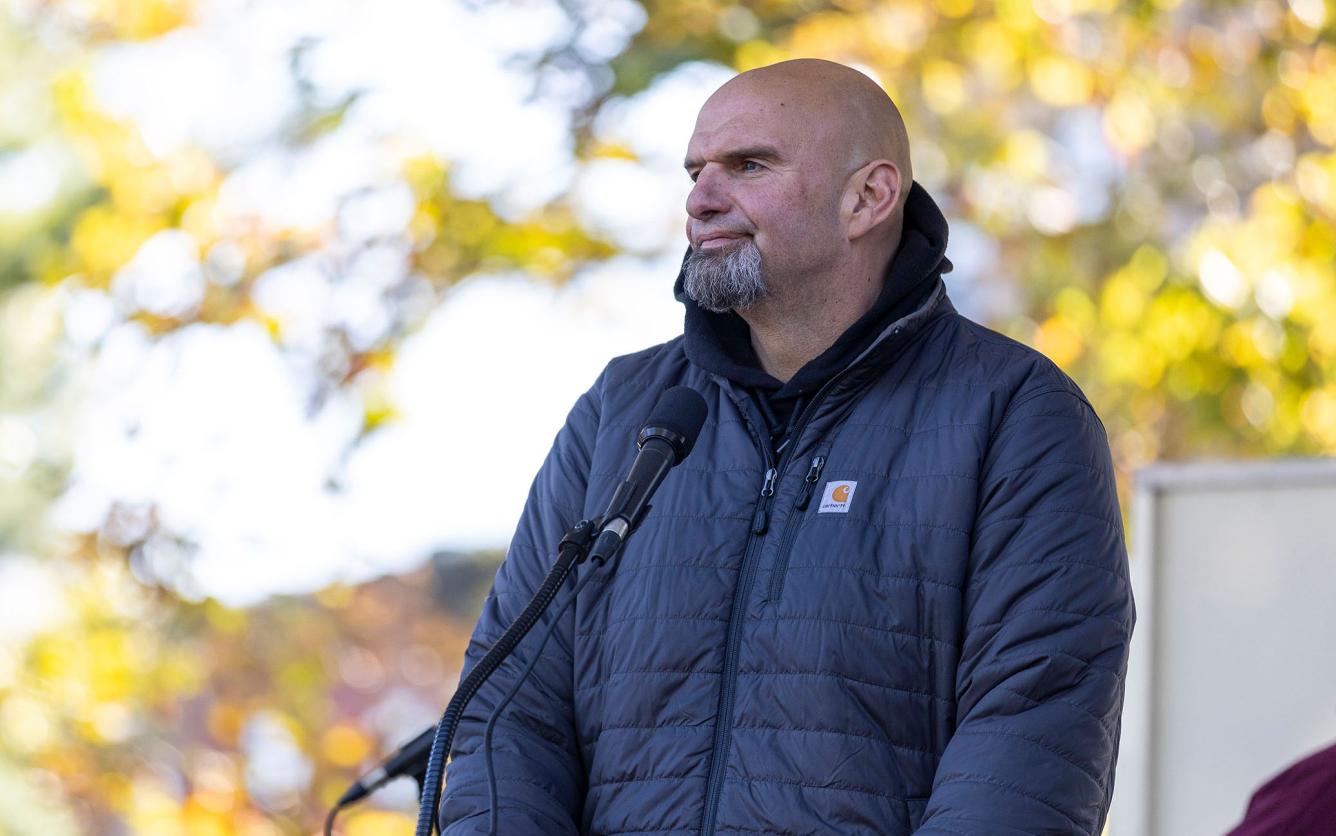 HARRISBURG, Pa. — In the waning days of the race for Pennsylvania's open U.S. Senate seat, Democrat John Fetterman surprised many when he agreed to a debate with his Republican challenger.
Fetterman, still recovering from a stroke he had five months prior, had avoided the debate circuit.
On debate night, Fetterman missed words, paused awkwardly and spoke haltingly.
Advertisement - Continue Reading Below
Immediately, pundits and social media commentators nationwide pounced, questioning Fetterman's ability to do the job required of him should he win. Fetterman released assurances from his physician that he faced no work restrictions and could fully carry out his duty in public office.
Yet Fetterman even drew scrutiny for his request to use a closed-caption system to assist him in processing questions and the responses from challenger Mehmet Oz.
But the post-debate dismay and criticism of his performance also drew attention to the challenges that stroke survivors — and those with other disabilities — face every day in the "abled" world.
"There is a stigma attached to people with disabilities," said Vincenza Portzline, president of the board of the Center for Independent Living, a Harrisburg-based advocacy group that promotes quality of life and equality for individuals with disabilities.
"There are assumptions that they are weaker, not as smart, not as able to articulate, therefore, they can't be as intelligent or capable of doing their job. It's a misconception and a false assumption. I think Fetterman will demonstrate, he will change minds about people with disabilities once he gets started in his job."
Fetterman continues his recovery and occasionally still faces limitations in his auditory processing ability, missing a word here and there.
Still, his performance during the debate, on the campaign trail, and even his election night victory speech have elevated him into a poster icon of sorts for individuals with disabilities. Many of them have lived years, if not their whole lives, bucking misconceptions about disabilities, and now, the incoming senator is poised to set them right.
"Some people just need a little accommodation to do great things," said Portzline, who in the 1990s suffered a spinal injury that left her a quadriplegic. "I compare it to Stephen Hawking. He was a genius but he couldn't have expressed it without his assistance technology devices. If we had ignored him and put him in the closet and not listened to him, where would science be?"
Advocates for individuals with disabilities note that Fetterman's case underscores the muscle of the Americans with Disabilities Act, the 1990 federal law designed to protect the one in four adults in the U.S. with a disability from discrimination in accommodation, services, employment, among other areas.
The law mandates that accessibility must be provided for people with disabilities — regardless of disability. In the workplace, an employee with a disability or candidate must be provided a reasonable accommodation to enable them to have an equal opportunity both to get a job and successfully perform their duties — even in the U.S. Capitol.
"If after he is sworn in he needs closed caption, that would fall under reasonable accommodation," Portzline said. "That will make him support employment for people with disabilities as well. Most people with disabilities are in poverty. If that would be any other group we would be hearing about that."
Modifications can range from entrance ramps, changes to bathrooms, to ensuring assistive technology devices such as computer software for the visually impaired, and videophones to facilitate communications for the hearing impaired. Providing sign language interpreters, materials in Braille or closed captioning fall under accessible communication.
Disability rights advocates say that members of the able-bodied community routinely use assistance technology devices — such as elevators and escalators. But while few people harbor any stigma to such technologies, the same outlook is not often bestowed on those with disabilities.
"Society has a hard time providing those accommodations or believing that with reasonable accommodation that a person can function just like he never had a disability at all," said Theo Braddy, who runs a private consulting firm that bears his name and specializes in working with people with disabilities. "Mainstream society has a problem understanding that with a simple accommodation you can function."
Braddy, who has a disability after a spinal cord injury playing football in high school, noted the general skepticism from many corners of society to the news that Fetterman had requested the use of a closed-caption teleprompter during the debate.
"Every day members of our community without disabilities use certain things to make life more efficient," said Braddy, head of Theo Braddy Consulting in Harrisburg. "You got glasses, laptops, smartphones. All of those things are used to make their life more efficient and help them function better. You just don't think that way because it's available to you readily. When it comes to people with disabilities using those same kinds of things to make life better all of the sudden it becomes punitive. All of a sudden it becomes a problem."
In the instant post-debate commentary, Fetterman's capacity to serve took center stage — with criticism largely based on his halting speech.
NewsNation host Leland Vittert, for instance, said "the biggest issue was John Fetterman's health and his ability to comprehend speech, and to then speak coherently on the issues of the day."
Appearing on CNN, Sen. Pat Toomey of Pennsylvania said: "It's sad to see John Fetterman struggling so much." Even supporters — some of whom had suggested Fetterman pull out of the race — questioned the campaign's decision to go on with the debate.
But therein lies a major concern from advocates for people with disabilities: a person's ability to speak should not be used as a gauge for their abilities. Fetterman's language skills have nothing to do with his ability to do his job, Portzline said.
"That is a function of his disability. Not a function of his capability," she said. "Even though he spoke slowly, he was still himself. He still has the same beliefs as before the stroke. He still wants to accomplish the same things. He just said it in a way that was different but it was not confusing. It was just slow going but he hasn't changed. He is still a man with the same beliefs and goals as he had before."
One of Pennsylvania's most ardent advocates for people with disabilities believes that Fetterman could emerge from this personal health episode a more powerful voice for the community of people with disabilities.
"I sit in a wheelchair and I can still do my job," said state Sen. Christine Tartaglione, a Philadelphia Democrat who has used a wheelchair since a boating accident in 2003. "I have done my best work as a senator since I've been in a wheelchair. I'm more focused on issues that our community has to deal with. I'm stronger and I'm sensitive to people around me more so than before my accident."
Tartaglione admits that for people living with physical and cognitive disabilities, every day is an uphill battle. The sobering fact, she said, is that anyone, at any moment, like Fetterman, can face a disability with a life-changing event.
"That could be anybody any day," she said. "My life changed in blink of an eye when I had my accident. That can happen in a blink of an eye."
Fetterman, in fact, is not the first member of Congress to serve while enduring a major health crisis. Former Sen. Tim Johnson, D-S.D., suffered a brain hemorrhage in 2006 and served until 2015. Former Sen. Mark Kirk, R-Ill., suffered a stroke in 2012 and served another four years.
"For (Fetterman) to deal with a stroke publicly … do you know how much courage that takes?" Tartaglione said. "Knowing you are going under the microscope but he still did it. He kept going. He didn't stop. He didn't let people push him down. … I know he will do good work and he will represent everyone because he has gone through his stroke. He will represent all people in Pennsylvania, not just able-bodied people."
© 2022 Advance Local Media LLC
Distributed by Tribune Content Agency, LLC
Read more stories like this one. Sign up for Disability Scoop's free email newsletter to get the latest developmental disability news sent straight to your inbox.