All-Terrain Wheelchairs Make Outdoors Accessible For All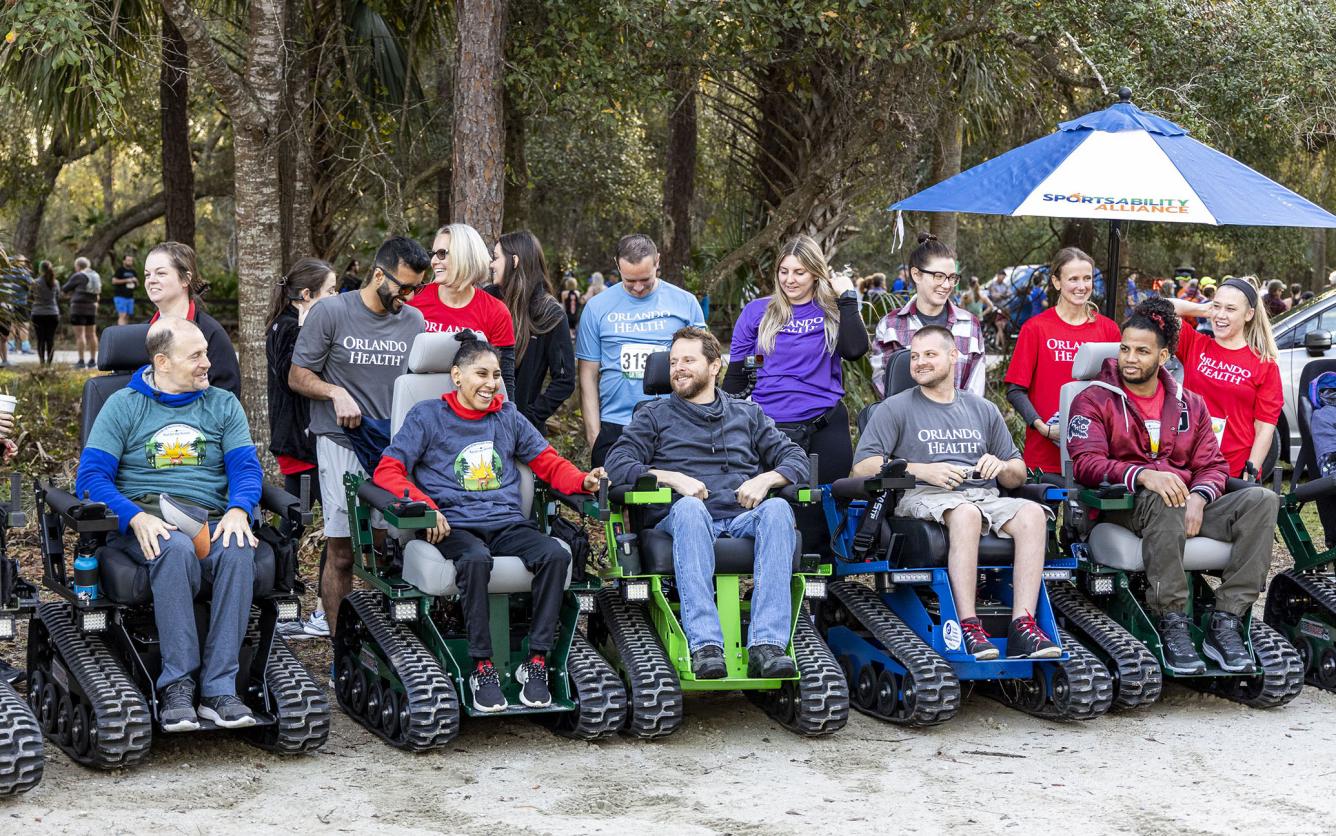 ORLANDO, Fla. — Rugged, remote trails that might typically be traversed exclusively on foot, bike or horseback are suddenly accessible to people with disabilities thanks to a new program at Seminole State Forest.
A motorized wheelchair with all-terrain tracks is available for reservation, free of charge, on the weekends for those with mobility impairments and their families to enjoy time in the woods. This long-held dream was first hatched by George Koutsakis, president of Friends of Seminole State Forest, during a trip to Colorado several years ago.
"I was way up in the mountains on a narrow trail. I saw someone using one of these chairs hiking with his two adult children and four grandchildren," Koutsakis said of the program at Staunton State Park in Colorado. "To have a person in a wheelchair listen to the birds and be at peace soaking in nature, you can't beat that."
Advertisement - Continue Reading Below
After years of petitioning and overcoming bureaucratic challenges, Friends of Seminole State Forest has an EcoRover track-powered wheelchair, the first of its kind in all of Florida's 38-state forest system. In the Sunshine State, an estimated 13.5% of adults have a disability that affects their mobility, not to mention out-of-state visitors who might benefit from the program.
"The word that I hear a lot is, 'thank you,'" Koutsakis said. "These people have felt forgotten."
Years after writing a letter in support of the tracked-chair program, Shannon Keim was able to bring her daughter, Skyler Keim-Jones, onto the trails she loves to run.
"I got tears in my eyes the program got accepted. We cheered and cried together; it's amazing," Keim said. "It's been a long time coming, but now it's here, and we can do it any weekend we want to do it.""
During Friends of Seminole State Forest's annual Run for the Woods fundraiser, Cordell Jeter, the president and founder of EcoRover Chairs, brought nearly a dozen of his machines for people with disabilities to use. His company, which started as a "mom-and-pop" shop in 2016, has produced nearly 100 chairs to date.
"Our goal is community access. I believe that this technology should be available at beaches, state parks and national monuments like you find scooters at grocery stores ready for use," said Jeter, who won bronze and gold medals at the 1992 Paralympics in Barcelona. "To see 11 or 12 tracked chairs, EcoRovers, in one place at the same time, you can't beat it. It's like a vision coming true."
These mobility machines can travel up to 15 miles on a single charge and feature amenities such as cupholders, USB charging ports, LED lights and a power tilt seat.
Kenny Menendez, who enjoys adventures including adaptive scuba diving, got to try out one of the chairs for the first time during Run for the Woods.
"I chose all the bumpy routes. This got through the trails and over the roots no problem, and I never worried about falling out," he said. "I'm not saying I forgot what the woods smelled like, but it is different than being on concrete all the time."
Part of what inspires Jeter to keep producing these chairs and advocating for others with disabilities is the positive impact of the outdoors.
"The body wants to be in nature. This is just a tool that provides access to that free benefit," he said. "When you have a physical disability, those natural resources have barriers or feel off-limits. It's not just about recreation; it's about wellness and mental well-being."
In the future, Friends of Seminole State Forest hopes to expand access to this program and continue advocating for accessibility in the nearly 30,000-acre outdoor space.
"Why shouldn't people with mobility impairments enjoy the same benefits of the forest that we do?" Koutsakis said. "I feel renewed and rejuvenated to finally see this day. It's nothing but smiles on these people's faces."
© 2023 Orlando Sentinel
Distributed by Tribune Content Agency, LLC
Read more stories like this one. Sign up for Disability Scoop's free email newsletter to get the latest developmental disability news sent straight to your inbox.