With More Neurodivergent Workers, Employers Add Support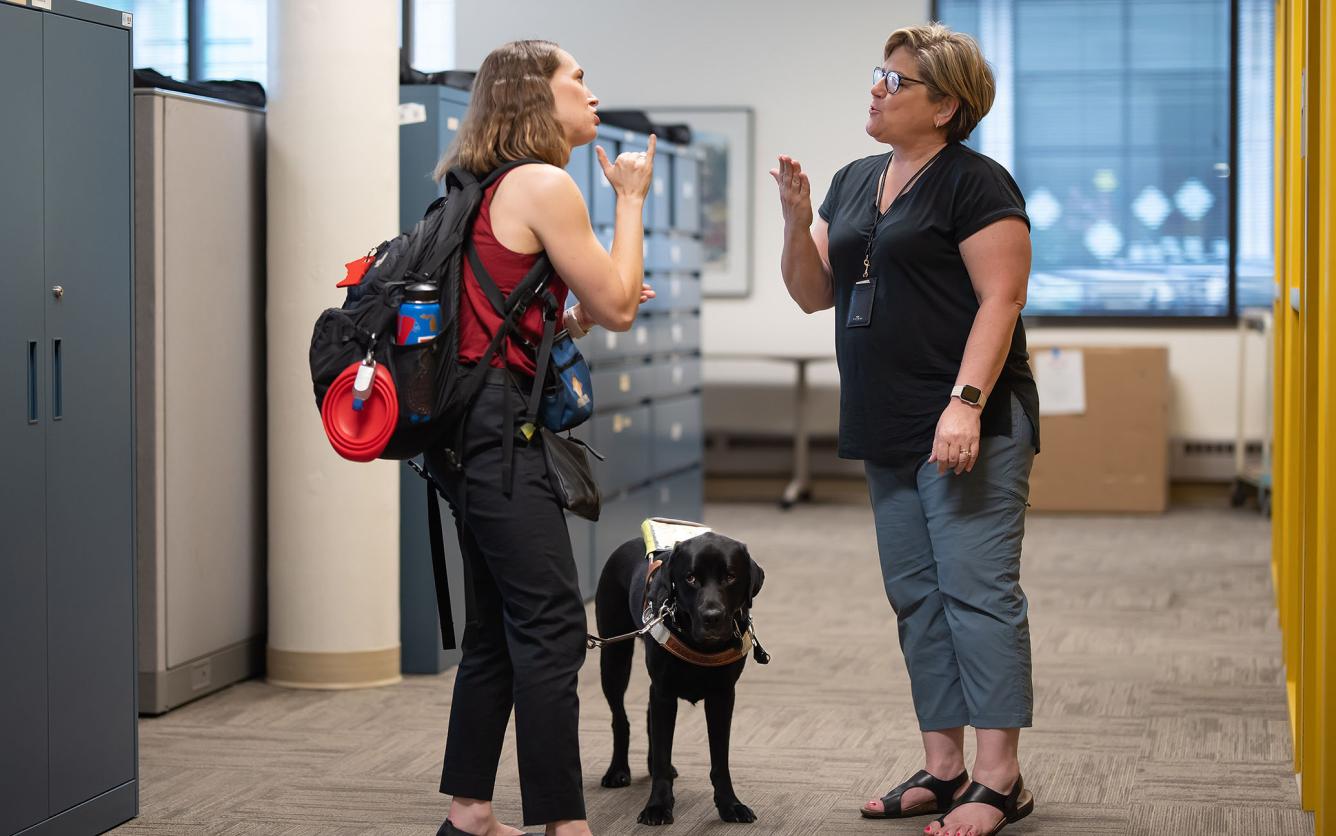 MINNEAPOLIS — Occupational therapist Elizabeth Duffy was diagnosed at 39 with autism and ADHD and soon found a huge void in support of neurodivergent people by providers and employers.
"Just a lot of adjustability in the environment can help," Duffy said. "Having flexibility built in as much as possible."
She also found a lack of education for those employers on what type of support is needed. Duffy founded the nonprofit Minnesota Neurodivergent Education, Advocacy and Therapy Services (MnNEAT) in 2021 to fill that need. For-profit companies like Twin Cities-based startup Joshin are also contracting with companies to help support employees.
Advertisement - Continue Reading Below
As more neurodivergent adults and people with disabilities are hired, especially in the post-pandemic scramble to fill jobs, more companies are realizing the need to learn about how to support their new employees and then provide those services.
"The companies we're partnering with really are focusing on ensuring that their employees have the right type of support," said Melissa Danielsen, co-founder and CEO of Joshin, which has contracts with Best Buy and Tyson Foods, among other companies.
In September 2022, more than 35% of Americans with disabilities had jobs, a record in the 15 years the federal government has kept track.
As Minnesota faced a situation last year into this spring of more open positions than available workers, the state Department of Employment and Economic Development (DEED) and Minnesota Chamber of Commerce launched an educational campaign encouraging employers to hire from nontraditional talent pools, including people with disabilities.
"It's such a broad spectrum," said Whitney Harvey, senior director of workforce diversity and inclusion for the chamber. "We've got all of these different demographics that are really untapped in our workforce."
Gov. Tim Walz already had signed an executive order in 2019 to increase state agency employment of people with disabilities. Data from the Minnesota Management and Budget (MMB) office shows that 11.7% of current state executive branch employees have disabilities, up from 7.1% in 2019.
Data from New York-based Coqual (formerly know as Center for Talent Innovation), a nonprofit think tank specializing in workplace diversity, found that 30% of employees have a disability or are neurodivergent. At the same time the Center for Talent Innovation determined that 62% of employees with disabilities have what's called a nonvisible disability. That can be an issue for employers trying to offer inclusive benefits.
That includes neurodivergent employees.
"Neurodivergent" is a nonmedical term that refers to people whose brains function differently. Being neurodivergent is most commonly associated with autism but includes many other conditions including attention deficit hyperactivity disorder (ADHD), dyslexia, Down syndrome, epilepsy and chronic mental health illnesses.
Duffy said that many neurodivergent people do not have a specific diagnosis.
"They know they're different. It can mean lots of different things," said Duffy, who is still president of MnNEAT.
As a result, Duffy said employers can adjust to accommodate different ways of learning and absorbing information. That could include scheduling flexibility and making sure meetings aren't the only way to deliver updates and announcements to staffers. It also could include adjustable lighting and seating. Duffy added that workers may have differing communication preferences. Some might prefer emails while others would rather talk on the phone or meet face to face.
Dacia VanAlstine, business services and employment program specialist for DEED's State Services for the Blind, said providing accommodations for employees is not as difficult as employers might think.
"It can be as simple as moving their computer away from the window. Most accommodations cost less than $500," said VanAlstine.
The Minnesota Reasonable Accommodation Program has $4 million in funding over the next two years to reimburse small- to midsize companies for expenses connected to providing reasonable accommodations for employees with disabilities.
The accommodations need to extend to the application process. Patrick Hogan, a spokesman for MMB, said the state has simplified its application process and added training for hiring managers, supervisors and recruiters.
That's how Maya Larson, who is deafblind, got her job at the Minnesota Commission for the Deaf, DeafBlind and Hard of Hearing. After receiving her degree, Larson was having trouble finding a job because of the driver's license requirement.
"It felt so discouraging to be a person with disabilities, who wanted to work with people with disabilities, who couldn't work with people with disabilities because of my disability," Larson said.
She learned of the state's Connect 700 program specifically designed to connect people with disabilities with state job opportunities that meet their qualifications. Now, in her job, her guide dog can stay with her and American Sign Language is used in the office.
"My favorite part of the job is using my communication and organizational skills to support the mission of advocating for communication access and equal opportunity for deaf, deafblind and hard-of-hearing Minnesotans," Larson said.
The Minnesota Chamber of Commerce offers resources including webinars for companies trying to build a more diverse workforce. Harvey said that it's important for business leaders to consider disability as part of their diversity, equity and inclusion strategies.
Companies may need to assess their policies, procedures, job descriptions and guidelines for providing accommodations to see if they are using best practices, said Harvey.
Danielsen and twin sister Melanie Fountaine in 2009 founded Josh's Place, named after their brother, Josh, who had epilepsy and developmental disabilities and died that same year at 29. The company offered direct services for adults with disabilities, a business that the sisters sold after deciding to develop technology to help people find the services they need for family members.
The new company, Joshin, has since expanded its digital platform to offer training, education and live, virtual one-on-one coaching sessions for employees. It has so far raised $6 million in venture financing.
"Employers are really looking at how to remove stigma in the workplace," Danielsen said.
That's true for Best Buy, said Charlie Montreuil, senior vice president of HR rewards for Best Buy.
"We're constantly looking for new ways to break ground in caring for the needs of our employees," he said.
© 2023 Star Tribune
Distributed by Tribune Content Agency, LLC
Read more stories like this one. Sign up for Disability Scoop's free email newsletter to get the latest developmental disability news sent straight to your inbox.