Disability Advocates Urge Supreme Court Not To Limit ADA Protections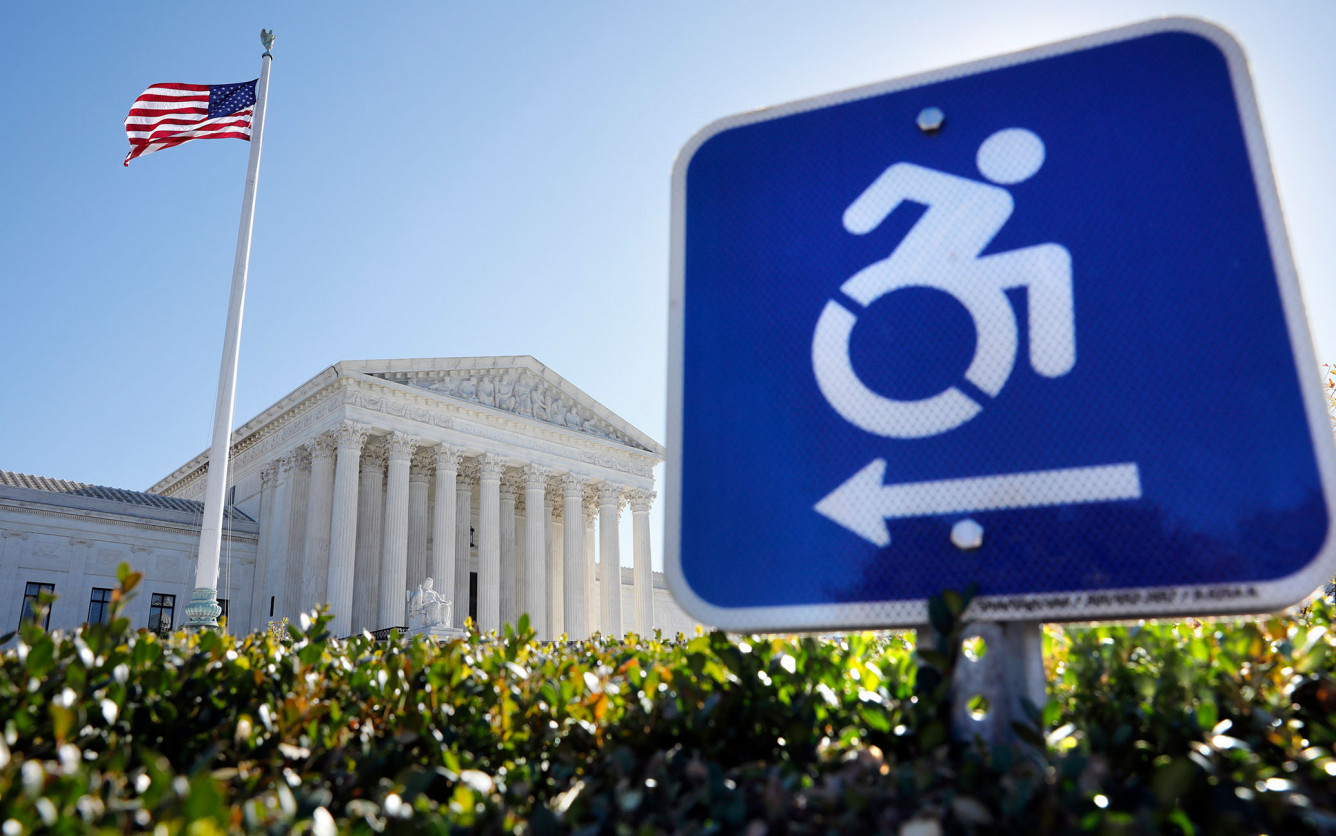 More than a dozen advocacy groups are asking the U.S. Supreme Court to uphold the rights of people with disabilities to sue under the Americans with Disabilities Act.
In a "friend-of-the-court" brief filed this month, 18 disability organizations argue that so-called testers — or individuals with disabilities who actively seek out ADA violations and pursue legal action — are critical to ensuring that the nation's primary disability rights law is followed.
"Private enforcement is both authorized by the text of the ADA and essential to its effective implementation," reads the filing from The Arc of the United States, the Disability Rights Education & Defense Fund, the National Disability Rights Network and several other organizations.
Advertisement - Continue Reading Below
The brief comes in a case known as Acheson Hotels, LLC v. Laufer that's scheduled to go before the high court this fall. Deborah Laufer, a Florida resident who has a vision impairment and uses a cane or wheelchair, sued Acheson Hotels alleging that the website of the Coast Village Inn and Cottages in Wells, Maine did not offer sufficient information about accommodations for people with disabilities as required under the ADA.
The suit was dismissed by a lower court, which found that Laufer was not injured because she had no plans to visit the hotel. The decision was then overturned on appeal with the U.S. Court of Appeals for the First Circuit finding that "Laufer's feelings of frustration, humiliation and second-class citizenry" were "'downstream consequences' and 'adverse effects' of the informational injury she experienced."
Now, the Supreme Court is set to consider whether people with disabilities have standing to sue under the ADA if they have no intention of visiting the business in question.
The issue has gained significant attention in recent years as serial testers like Laufer — who has filed more than 600 federal lawsuits since 2018 making similar allegations against hotel owners and operators — have become more prevalent earning the ire of business groups and lower courts have differed on whether such testers have standing to sue.
The Chamber of Commerce, the American Hotel & Lodging Association, the Retail Litigation Center and others have filed amicus briefs siding with Acheson Hotels, characterizing the legal action brought by testers as clogging the courts and targeting small businesses ill-equipped to defend themselves.
However, more than 30 years after passage of the ADA, disability advocates argue that individuals like Laufer are providing a necessary service. And, they note that civil rights testing has been used since the 1950s to ensure that public accommodations are integrated and to weed out housing discrimination.
"Despite the ADA's promise to create equal access, insufficient oversight and enforcement means that businesses frequently ignore the civil rights of disabled people, making their daily lives extremely difficult and undermining the rights guaranteed by the law," said Shira Wakschlag, senior director of legal advocacy and general counsel at The Arc. "ADA testers are essential to ensuring the rights of people with disabilities are enforced and protected and that the full promise of the ADA is realized."
Amy Robertson, an attorney at Fox & Robertson who worked on the disability advocates' amicus brief, noted that once a person with a disability seeks to patronize a business that is not ADA compliant, it's too late for a lawsuit to help them.
"Systemic investigation by those protected by the ADA can accelerate society's progress toward a time when they and others can go about their daily lives expecting — and attaining — access to a wide range of facilities and services," Robertson said.
The case took an unexpected turn in July when Laufer voluntarily opted to drop her claims against Acheson Hotels and asked the Supreme Court to dismiss the matter as moot after an attorney who represented Laufer in other cases was disciplined by a federal court in Maryland.
The Supreme Court declined to dismiss the case last week but indicated that it would consider doing so when oral arguments are presented on Oct. 4.
Read more stories like this one. Sign up for Disability Scoop's free email newsletter to get the latest developmental disability news sent straight to your inbox.