In Some Areas, Accessing Services For Autism Is 'A Full-Time Job'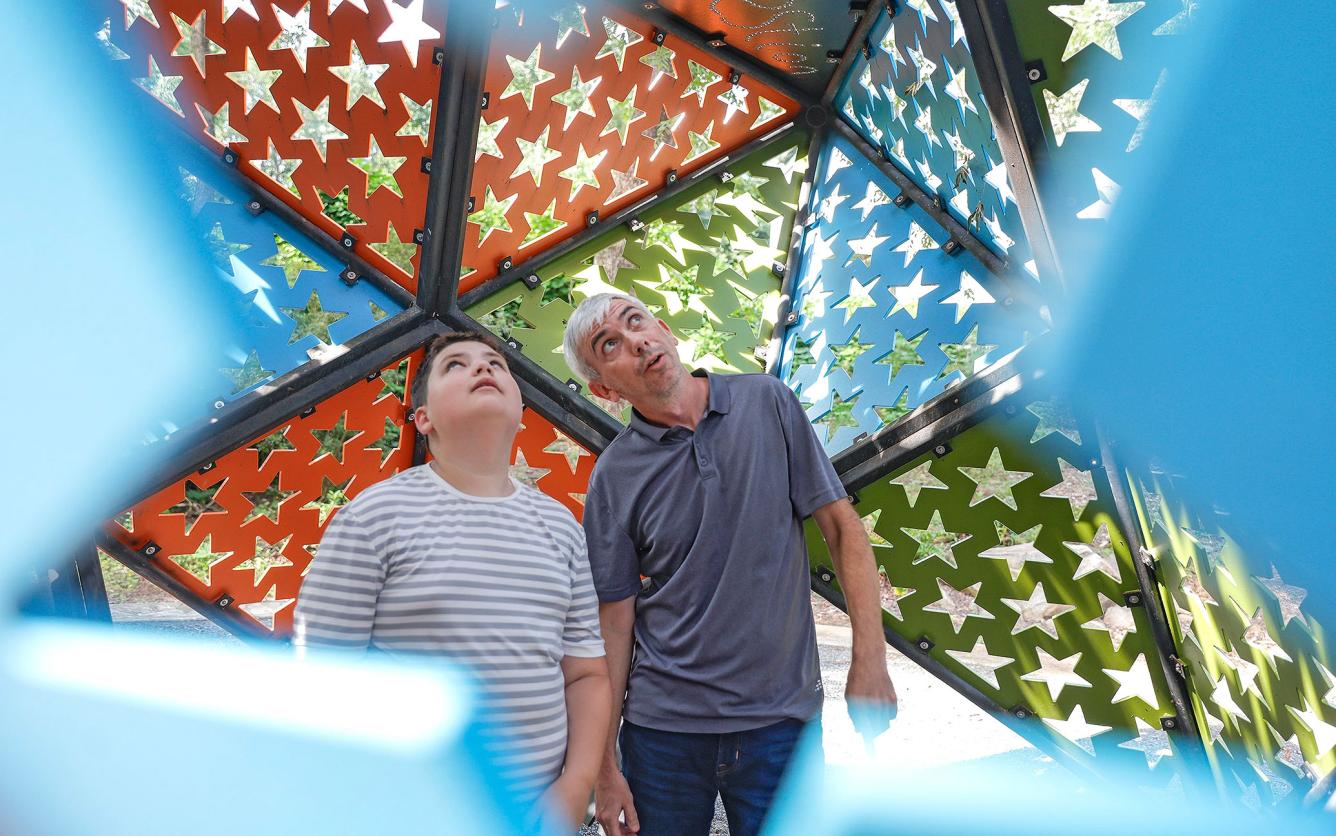 ATLANTA — At 9 a.m. on a recent Wednesday, Monique Humphries and her 7-year-old son, Jaxton, pulled up to the building they had been waiting to visit for more than a year: the Marcus Autism Center in north Atlanta.
The four-hour, 230-mile journey from Valdosta was not easy — they began Tuesday morning, with the drive broken up by diaper changes and an overnight stay at a hotel. Humphries said that she has to travel for any kind of specialized service, with the Marcus Autism Center being the apex of care.
"It would be an amazing resource if we lived closer to utilize everything they offer," Humphries said in an email after the visit.
Advertisement - Continue Reading Below
While wait and travel times are issues many parents caring for children with autism spectrum disorder (ASD) grapple with, families located in rural areas of Georgia face additional challenges accessing resources, which are largely concentrated in metro areas. Just 4% of counties in Georgia contain 49% of ASD service providers, and 111 counties do not have any, according to a 2021 Georgia Tech study. Health care disparities between urban and rural areas persist nationwide largely because of travel distance and a lack of resources, the Centers for Disease Control and Prevention found.
Experts say there's a need for more ASD resources in Georgia overall, and families report that long wait times for diagnosis compound the challenges of accessing ASD resources. They have also complained about difficulties navigating insurance and the lack of a centralized hub for information.
"I would say that (resources) are even sparse in metro Atlanta," behavioral therapist Darcy Crow said. "It's pretty desolate generally."
Amid the challenges, many parents have built networks to support each other.
"I found a group of moms that all had autistic kids," Kimberly Porter, a Warner Robins native, said. "It was really nice because you feel really alone."
Early intervention and wait times
When Humphries noticed that Jaxton wasn't babbling, she reached out to Babies Can't Wait, Georgia's early intervention program for infants and toddlers with special needs. A speech therapist recommended Jaxton get evaluated and his pediatrician wrote a referral for a diagnostic clinic. They then waited five months for a diagnosis.
Sarah Rotschafer is an assistant professor at Mercer University's School of Medicine who has received a grant from the National Institutes of Health to make a website compiling ASD resources in Georgia. She explained that information about ASD symptoms and diagnostic practices are often slower to reach rural areas. Thus, it's common for doctors to wait longer before referring a child to be evaluated for ASD.
"Doctors might be reluctant to engage with a diagnosis because there's just fewer resources out there for testing and treatment," Rotschafer said. "It's frustrating to have a suspicion about a kid, but nowhere to send them."
That's what happened to Porter, who first became concerned when her son started avoiding eye contact at 3 months old. After reflecting on her three nephews' ASD symptoms and watching online videos, Porter brought her concerns to the pediatrician, but said "the doctor pushed it off."
Porter said she insisted her son be evaluated for ASD when he was not walking by 18 months nor engaging in direct conversation. One clinic in the Warner Robins area told Porter it would take a year to get in the door.
"I was like, 'No. There's got to be somebody. I don't care if they specialize, I do not care,'" Porter said. "There's got to be somebody that can diagnose him."
Porter's now 7-year-old son was diagnosed at age 2.
Since a diagnosis is necessary to qualify for insurance for expensive therapies, delays in evaluation appointments impede parents' ability to begin treatment.
Applied behavior analysis therapy, a common treatment for ASD, is time-consuming and thus limits the number of patients a therapist can see, contributing to years-long wait lists at clinics, Crow and some parents say.
Jesup resident Crystal Young said she is still waiting for her three sons to get off an ABA waitlist that she joined in October 2020. It took Humphries a year to get Jaxton into his current ABA, though she is trying to switch his provider; he has been on the waiting list for another company for nearly two years. Laura Sugg, a special needs coordinator at her church in Macon, had her son, Dylan, on an ABA wait list for seven months before he could begin receiving care.
Often, families have to wait even longer for specialized services, including those at the renowned Marcus Autism Center in Atlanta. Porter, whose son relies on the nutrition drink PediaSure and has a very limited diet, said she had to wait months for a scheduling call for a feeding program that provides nutritional support, then several more months for the appointment. But she said they never made it to the multi-week therapy — the center, it turns out, didn't take her insurance.
Barriers to access
Even when resources are available locally, the quality of care is not always optimal, parents say. Porter's son used to attend speech and feeding therapy at a facility a few minutes from his home, but the rate of staff turnover disrupted his progress. Now, Porter drives to a facility that is 30 minutes away every Friday.
Telehealth has emerged as a potential solution. But Boyd Mark, program director of the Southeastern Telehealth Resource Center, said there is essentially no difference in wait times for virtual and in-person appointments, as providers are stretched regardless.
Additionally, some parents struggle to access online options due to spotty internet access. After moving, Young continued to use her Atlanta-based therapist through telehealth, but internet issues became an obstacle.
"I would literally hold the baby up to my phone, propped up in the window, because the internet was so poor," she said.
For students deemed eligible for special education, schools are often a resource for some services.
Yet some families find their zoned school is not the right fit. When schools do not provide the necessary support systems, parents have to look elsewhere. Schools have to provide resources deemed necessary for a student's education, which is why "there can be a difference between therapies that are provided in a medical model versus a school model," said Wina Low, the state's special education director, on the difference between external clinics and school services.
Seven-year-old Jaxton is now at his third school. Sugg homeschooled Dylan for three years before eventually re-enrolling him in an out-of-zone school. Young moved across the state to access in-person classrooms. And Porter's son thrives in a school program outside of his zoned district.
When accessing any resource outside of school, parents have to navigate a dense thicket of insurance-related questions.
In 2018, Medicaid of Georgia began covering autism services for individuals under 21, including ABA, provided they have a diagnosis from a licensed professional. Typically, Medicaid will cover up to $30,000 of ABA therapy per year.
One state waiver, known as Katie Beckett, allows Georgia to disregard Medicaid income-eligibility requirements for children's disability services.
Humphries, an overnight weekend nurse, only learned about the waiver when Jaxton was 4, a full two years after his autism diagnosis. Without it, she doesn't know how she would afford his weekly therapies. But she said the application process included familiar long waits.
Her private insurance pays for 20 speech therapy appointments per year, with an approximately $60 co-pay per visit. But Jaxton attends speech therapy twice a week, 52 weeks a year.
And that's just for speech therapy — the rates that ABA companies charge insurance are, Humphries said, "outrageous, because they can." When Jaxton was in ABA for 20 hours each week, Humphries said the clinic charged their insurance $4,000 a month.
With three children with autism, Young is consistently dealing with insurance issues, estimating that she spends at least 20 hours per week corresponding with insurance companies, pharmacies and therapists.
"Insurance I feel like could be a full-time job," she said. "The administrative load when you have children with disabilities is large."
Despite challenges, many families find strength in their local community.
"It takes a village," Sugg said.
Coordination of care
During the school year, Humphries estimated she spends 12 hours in the car every week.
Rotschafer noted that coordinating care for someone with a chronic condition is particularly challenging because of the travel.
"Just think about your workday — if you need to take time off for an hour one way, an hour for an appointment, and an hour back, that's a three-hour chunk out of your day," she said.
Young intentionally schedules back-to-back therapy sessions for each of her three boys with ASD. On therapy days, she said she spends "all afternoon" at the clinic.
Dylan just started 15 hours of ABA therapy per week. At least one parent is present at every session, though Sugg hopes he will soon attend ABA independently.
Young is retired and said she doesn't know how parents of children with ASD "would have a 9-to-5 job." Porter used to work as an HR director, a job she said she "absolutely loved." After realizing how much time coordinating care for her son would take, she quit.
Crow said that one of the largest hurdles for families is the "scheduling gymnastics" of coordinating care. Parents will often text her and say a family member or friend is picking their child up from a session.
Some parents have considered moving to a metro area but are concerned doing so would disrupt their carefully-planned routines.
"I just don't think I would leave even if I wanted to because I have the resources here for him," Porter said. "I wouldn't want to do anything that rocks the boat for him."
Many parents are connected to other families caring for children with ASD. These networks, which include Facebook groups and Georgia's Parent-to-Parent program, can help provide both logistical and emotional support.
Porter, who volunteers with her Parent-to-Parent chapter, hosted a birthday party for her son and invited all the kids from his class.
"The parents all were telling me that they had never been invited to a birthday party," Porter said. "This was the first birthday party their kid was invited to."
She noted that her experience caring for her son was profoundly lonely prior to finding a community of other moms, but that the group now "hang(s) out all the time."
Though Jaxton is only 7, Humphries is already considering moving to Atlanta; the question of how to best serve him is not a new one for her. She has been trying to figure out how to give Jaxton the most comfortable life possible since the moment she noticed he wasn't babbling.
"Immediately you're just like, 'Alright, we need to do all of the things,'" she said. "You want to do all of the things, but then you can't do any of them."
© 2023 The Atlanta Journal-Constitution
Distributed by Tribune Content Agency, LLC
Read more stories like this one. Sign up for Disability Scoop's free email newsletter to get the latest developmental disability news sent straight to your inbox.