With Job Coach In Tow, He Made His First Real Sale. Then He Called His Mom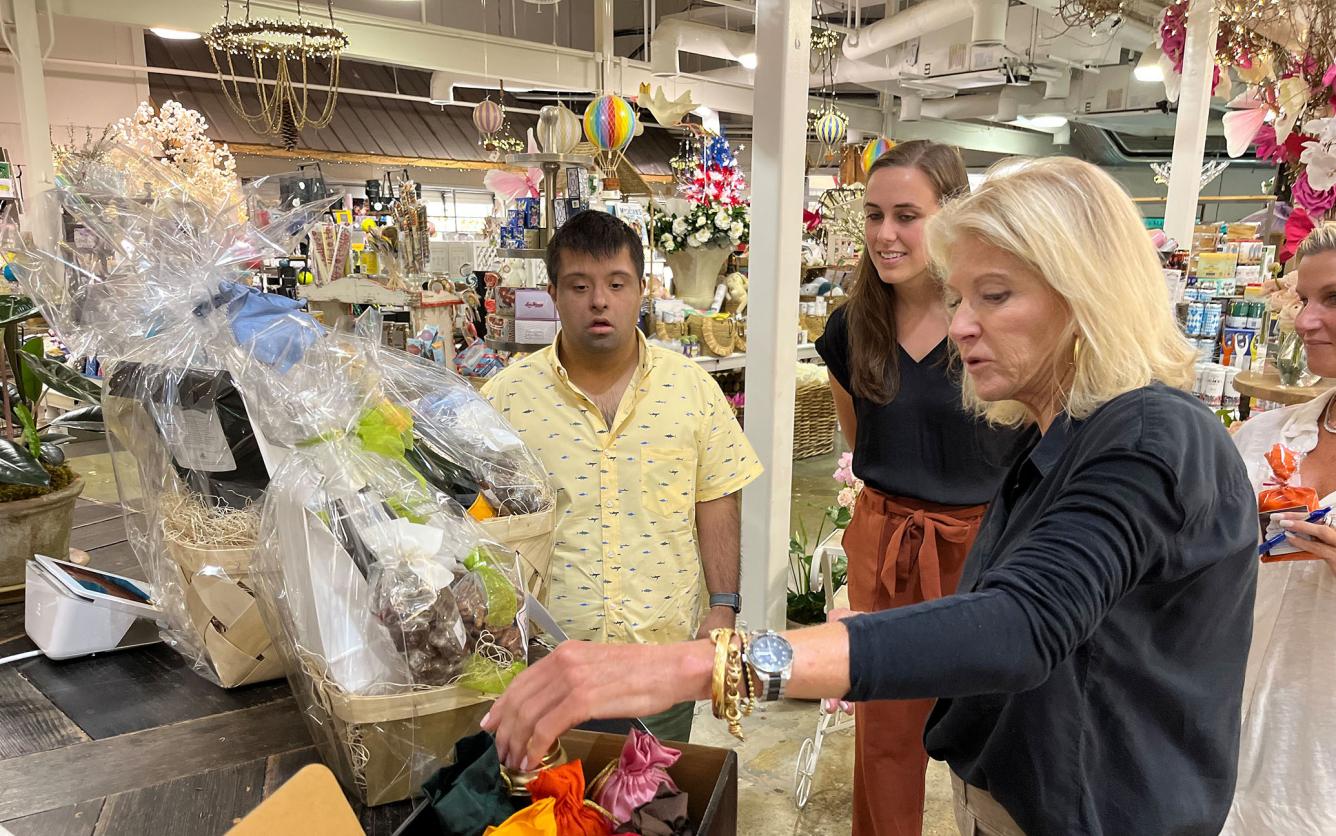 ATLANTA — The 23-year-old practiced his sales pitch on the car ride over. There were still rough patches. For example, he really needed to remember to say his name.
But the young man insisted he loved "everything" about his little slice of the American dream and owning a business. The chance to meet others. "Talking to people with open-ended questions." The urge to grow.
"I'm happy from inside," he said during the car ride.
Advertisement - Continue Reading Below
He insisted he wasn't nervous. But if he secretly was, that would be understandable. His business supplying imported Indian teas was new and really tiny. And he was headed to a sprawling gift shop in Buckhead to approach store managers he had never met before. If they'd even talk to him, would he get the words right? Would they be willing to stock his teas on their shelves?
Every day in communities around the U.S., entrepreneurs and salespeople take a leap of faith. They make cold calls to pitch their wares and services to business owners or consumers they don't know. Failure is common.
Angad Sahgal had sold some of his teas at tables in markets and conferences. But never on a cold call, despite several attempts. On this summer day, he would try again.
Sahgal faces an additional challenge. He has Down syndrome, which in his case means he has intellectual and developmental disabilities.
Millions of Americans have been classified as having cognitive disabilities. Many of them don't work, though plenty often want to, sometimes for a variety of reasons, including just to be a part of something. Some do have jobs. Often they come with limits. Pulling in carts at grocery stores. Bringing food to fast-food tables.
Sahgal's was cleaning bathrooms.
"He hated that," his mom, Aarti Sahgal, recalled. "He would come back and tell me it smells. I told him suck it up. Because that is an important part of a job. Everybody had to do this before they get elevated to serving at tables or doing something else."
When the pandemic struck, the fast-food restaurant he worked at closed its dining room. He was never put back on the schedule when it reopened, his mom said. "We had to think innovatively. What else can Angad do?"
"My entire family is into startups … I said fine. Let's find something you would enjoy."
With the help of his parents, Sahgal started Chai Ho Tea in the basement of their Sandy Springs home last fall. He and his dad also are working on a second startup — a customizable app providing people with cognitive disabilities step-by-step guides for performing work duties or other activities. Sahgal came up with a name for the app using the smushed-together plea for independence that he had uttered ever since he was a young child: LetMeDoIt.
All entrepreneurs, whether they have disabilities or not, rely on the help of others and have both skills and weaknesses, said Sahgal's mother, who founded a nonprofit, Synergies Work, to prep and boost entrepreneurs with all kinds of disabilities. One of the nonprofit's goals, she says on its site, is "to challenge the soft bigotry of low expectations that exclude people with disabilities from living their true potential."
She and her husband, Amit, were told Angad, the youngest of their two sons, would never be able to read and write. He can do both. They were told he might not be able to speak. He is fluent in English and Hindi.
"We just raised the bar. We just said we believe that you can do it," she said. She doesn't deny challenges. Still, she asks, "do you see potential or do you see only limitations?"
Angad helps package teas for sale. He goes on cold calls. He works on social media postings.
But, yeah, he definitely needs support to operate the business. One biggie: He doesn't really grasp the money part.
Dressed in a yellow shirt with little blue sharks on it, he prepared to leave the house for his cold call in Buckhead. But first there was the challenge of putting on his New Balance sneakers. Rather than untying the shoelaces first, Angad struggled to shove his socked feet into the shoes. Eventually, his father helped him.
Angad doesn't drive. A job coach, paid through the state of Georgia, took him on his cold call. His parents stayed home. During the drive, his coach, fellow 23-year-old Caroline Kramer, pressed him to practice his sales pitch.
"So how do you usually start out by introducing yourself?" she asked.
"Chai Ho Tea," he replied.
She prompted him: "'Hi, my name is Angad. …'"
"Why my name?"
"Because it is good to introduce yourself when you go in different places."
"Hi, my name is Angad. I want to display my tea," he said.
"You have to explain a little bit more," Kramer said. "What kind of tea?"
He rattled off the types.
"Sometimes it takes practice to be able to present well with different businesses," she coached.
He just needed a little warm-up.
"Hi, my name is Angad Sahgal. I want to display my tea. I have a variety of teas. Masala Chai. Chamomile. Basil. Hibiscus Winter Wine. Turmeric. Rose. I want to display my teas in Lucy's Market, and I source them from India."
"Nice job," Kramer said.
They practiced again.
When they reach Lucy's Market, Sahgal shows no inhibition. They walk in and he takes the lead as they head for a back counter.
"I'm Angad. Nice to meet you."
"Nice to meet you," says Amy Hunter, the food buyer for the shop. "What you got going on?"
"I want to display my tea at Lucy's Market."
"It smells so good," Hunter says.
"Oh, thank you," he replies.
Sahgal unwinds his pitch to Hunter and store owner Kim Wilson. His coach helps out, particularly when more detailed questions come up.
Can they get extras of the brass tea infusers that come with the set? Can they buy the teas individually? And most crucially, what's the price?
"So we have to work on pricing," says Wilson, the shop owner. But, "we are interested and definitely want to support you."
They imagine including the teas in store-made gift baskets. Can he do an in-store sampling later for customers? Yes, Sahgal says. He's already done some at farmers markets.
Hunter gives him her card. He slips it into his wallet. At Kramer's suggestion he offers his own business card. They say goodbye. K.C. and the Sunshine Band is playing on the shop's speakers. "Oh, that's the way, uh-huh, uh-huh, I like it, uh-huh, uh-huh." Sahgal walks only a short distance away, then stomps his foot in spontaneous joy. "I did it!" he tells Kramer.
"I spoke well."
Anne Jones, the shop's produce manager, comes over, asks if she can buy his box of samples for herself, and offers him a check.
Sahgal calls his mom to find out who the check should be made out to. "They are buying my box," he tells his mom over the phone. Then he does that joyful stomp again and again. "I did it mom! I love you."
Weeks later, a buyer for Lucy's Market put in an initial order for 25 containers of Chai Ho Teas.
Kramer has other clients. She helps them apply for jobs or learn their roles in existing positions. "We really aim to find things that are not things you would expect people with disabilities to be able to do. And we support them to succeed."
The goal: that eventually they won't need much support beyond quick weekly check-ins.
Of about 20 clients, Sahgal is the only one who has his own business.
She complimented him on his cold call. "Your presence and your joy is what sells it."
© 2023 The Atlanta Journal-Constitution
Distributed by Tribune Content Agency, LLC
Read more stories like this one. Sign up for Disability Scoop's free email newsletter to get the latest developmental disability news sent straight to your inbox.