Dwarf Community Pushes Back Against Midget Wrestling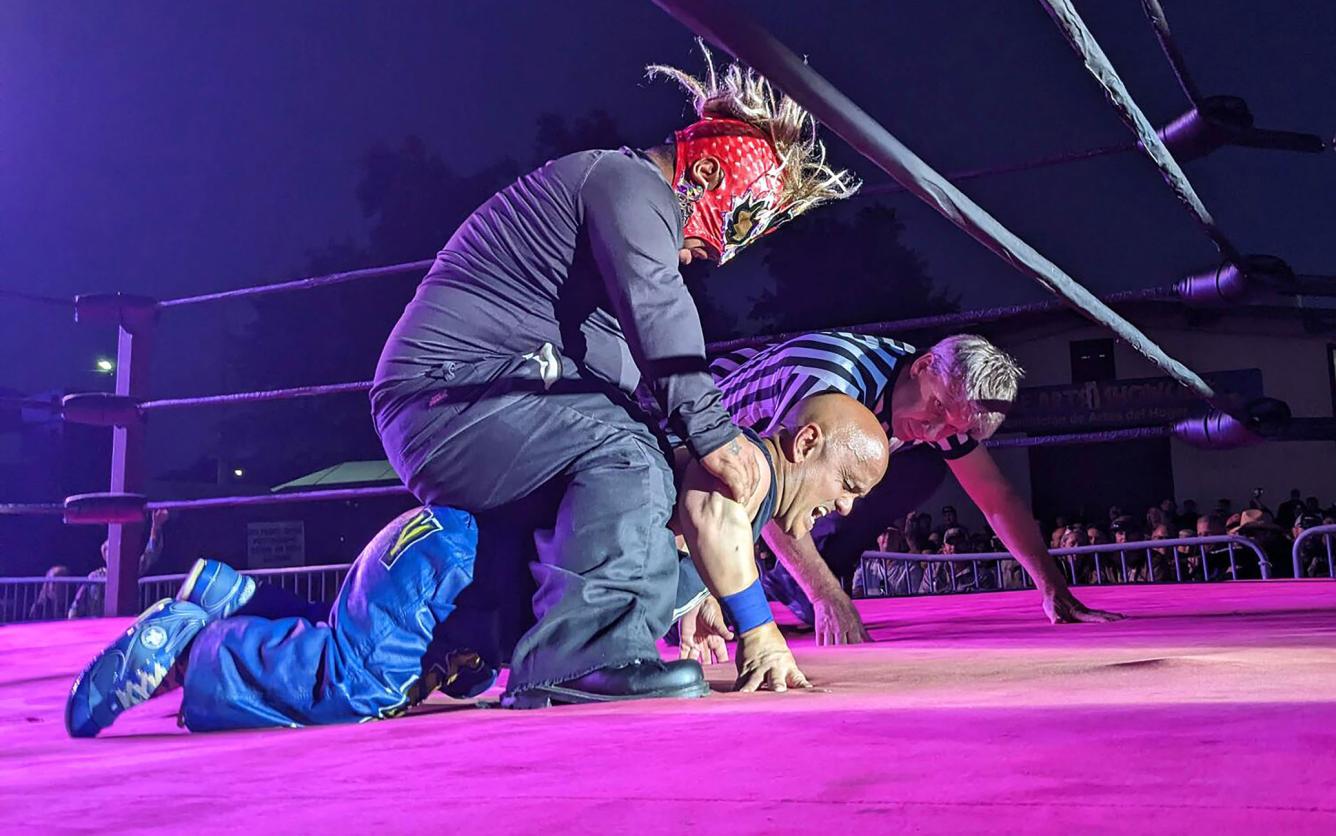 SANTA ROSA, Calif. — Eight-year-old Willow Lopez stood on tiptoe, her chin hooked over the 4-foot steel fence and her heart doing atomic drops as the aging wrestler climbed into the ring at the Sonoma County Fair.
"He kind of looks like a tiny version of the Rock," gushed the elementary schooler, referring to bald, buff actor Dwayne "The Rock" Johnson. Willow had dragged an entourage from El Sobrante, an east San Francisco Bay suburb 60 miles from the fairgrounds, to see the contentious bout.
"It's cool and fun seeing them get beat up."
Advertisement - Continue Reading Below
Willow and her retinue were among hundreds of spectators who turned out to cheer the Midget Wrestling Warriors, a troupe of short-statured performers whose opening-day showcase drew fiery condemnation from California's tight-knit dwarf community and disability rights groups.
Critics say midget wrestling is an exploitative and dangerous spectacle that fuels public harassment and glorifies a derogatory slur.
Promoter Daniel DiLucchio says he doesn't care. He is 4 feet 1 and pushing 50. But his "babyface" wrestling persona, Short Sleeve Sampson, is a pugnacious underdog whose fortunes have only brightened as his warriors' nom de guerre has grown taboo.
"What's going on, Sonoma County!" the wrestler yelled into the microphone, his gravely voice echoing over the Santa Rosa exhibition hall, where it mingled with shrieks of delight from fairgoers riding the Wave and the Scrambler.
He took a lap around the mat, hyping up the sold-out crowd — 200-some seats ringed by a crush of spectators three bodies deep.
Controversy has dogged DiLucchio across the country, from Indiana to Inyo County. But it has been fiendishly persistent here in Sonoma County, a region that is aesthetically rural and economically suburban, but politically more akin to liberal San Francisco.
Under mounting public pressure, the Sonoma County Fair Board had asked him to drop the word "midget" from the event billing, rebranding the match "Short Sleeve Sampson's Wrestling Warriors."
But as he paced the ring in the golden light of late afternoon, the promoter was defiant.
"You know, I gotta be honest with you, Scotty. I'm very honored, I'm very flattered. But it just doesn't seem right," DiLucchio said to his MC, Scotty Sweatervest.
"Something sounds a little off about that," Sweatervest agreed.
"I mean, wrestling warriors. Wrestling warriors … ." Suddenly, the showman peeled off his striped shirt, revealing a fresh white T with the troupe's name emblazoned in fluorescent yellow and blue.
"Let's be honest, Scotty. (It's) the Midget Wrestling Warriors!"
The crowd roared in approval. But DiLucchio wasn't done.
"I just want to say one thing to each and every one of you guys," DiLucchio continued, the massive speakers reverberating as he yelled to be heard over the crowd. "It's! Midget! Time!"
Sonoma County is home to California's richest vineyards, its oldest operating NASCAR racetrack, its premier LGBTQ+ campgrounds and the redwood-shaded party palaces of the Silicon Valley elite. Its politics are electric blue.
So many locals were stunned when the fair decided to showcase midget wrestling — a spectacle more familiar to Appalachian sports bars and Great Plains motorcycle rallies than a proper West Coast county fair — for the second year in a row.
"I was so shocked that this was happening in Sonoma County," said activst Olivia Glaubiger, 23, who touched off the campaign to cancel the match. "As someone who grew up here, it's hard to swallow."
But it's more than just politics that put the two at odds: The Bay Area is the birthplace of the disability rights movement and home to one of the largest dwarf populations in the country.
"It's incredibly scary to think the same fair where I'm riding the Twister or the Ferris wheel, there's a crowd yelling, 'More M-words, more M-words!'" said the advocate, who also has dwarfism. "Why would someone not think I'm part of that?"
Spectators were broadly aware of the controversy. But their takes on it varied, from contrarian delight to wide-eyed curiosity.
"My friends are like, 'It's so not PC,'" said Willow's mother, Luan Huynh, a policy consultant for the California Senate Office of Research.
"For some people, there is that Oompa-Loompa element," she said, referring to the little people who toiled in Willy Wonka's Chocolate Factory from the Roald Dahl children's classic. "But we personally don't know people who are smaller. It is a representation, as opposed to no representation at all.
Liz Corroll of Petaluma said she too hoped the match would broaden her children's horizons.
"It's a fun experience to introduce the kids to and also to get them exposed to (people) who don't look the same," the mother of three said. "It's teaching them."
Others were less sanguine.
"It's entertainment," said spectator Dave Phillips as he nursed a pre-show beer. "This is something they can do and make some money for their families. What else are they going to do? They can't just sit in a hole."
Still others said they were lured by the controversy itself.
"I came because of the news coverage," said San Francisco resident Cash, 26, who declined to give his last name, saying simply, "I don't want to get fired."
Like other pejoratives for people with disabilities, the word "midget" has been widely understood as offensive since before most working wrestlers were born.
Sources that define it, including Google and the Oxford English Dictionary, describe it first and foremost as a slur.
Yet, unlike other slurs for disability, "midget" has no basis in medicine or law. It's a term of art from the circus, used to market the public exhibition of little people.
"It was created specifically to describe little people in a sideshow," said Ted Jackson, senior management advisor at Marin Center for Independent Living.
"In a freak show," interjected Eileen Norman, president of the Little People of America.
It was Aug. 3, the day of the match, and the two were sitting with Marin Center Chief Executive Eli Gelardin in the center's conference room, which had in effect become the nonprofit's anti-wrestling war room.
Gelardin first learned about the event from Glaubiger, who works in the center's San Rafael office, about halfway between the Golden Gate Bridge and the Sonoma County fairgrounds.
Like Glaubiger and Norman, Gelardin has dwarfism. Like them, he grew up in the North Bay. And like them, he was gobsmacked by the response to their outcry and their demand that the match be canceled.
"Those are conversations that need to be had between individuals in that demographic," said the fair's CEO, Rebecca Bartling. "I don't think that should be something that a fair should decide."
In other words, not her problem.
"For the CEO of the fair to basically say, 'This is a career choice, and you should talk to the promoter,' is frankly gaslighting," Gelardin said.
People with disabilities only won equal access to employment in the U.S. when he was in middle school, the 45-year-old advocate explained. The legal discrimination he and DiLucchio were born into evolved in lockstep with the slur.
"P.T. Barnum turned midget into a word to describe a human," said Aubrey Smalls, an actor and filmmaker with dwarfism.
If Barnum is not precisely the father of the word, he undoubtedly delivered it into the popular lexicon.
His blockbuster freak shows dovetailed with the rise of urban "ugly laws," which barred people with visible disabilities from appearing in public, except as performers.
Excluded from other work, Americans with dwarfism flocked to entertainment. There, "midget" came to differentiate those with endocrine disorders, whose figures mirror average-height people, from those with skeletal dysplasias, who are far more common and physically distinct.
But the word was already falling out of favor when the first dwarf performers were admitted to the Screen Actors Guild in 1970. By the turn of the century, the campaign to eradicate it from polite speech was in full force.
"When I was young, I was in the (Little People of America), and I was told that term was derogatory," said 23-year-old wrestler Daniel J. Graves, aka "25 Cent," during an interview supervised by his promoter, Billy Blade. "I grew out of it. I keep telling people, it's just a word. It doesn't affect me."
Like others in the wrestling world, he said, he was taunted by the word as a child, but he believed adults who objected to it were being too sensitive.
"We were raised that that's who we are, and we can either be ashamed of it or we can be happy," said Bobbie Joe Tovey, 19, the scion of a famous midget wrestling family, who stars alongside Graves in the MicroMania Midget Wrestling tour. "It's my family legacy."
More to the point, it's good marketing.
"This is our job," said Jessie Salazar, who started his career with the Dallas-based Dwarfanators before joining Midget Wrestling Warriors. Midget "is what I get out there to get myself known."
As a job, wrestling is uniquely dangerous to people with dwarfism, whose spines and vertebrae are fragile.
Tovey's aunt just fractured several discs in her back doing the same Sunset Flip the young wrestler performs every night on the road. Others have been paralyzed.
But wrestlers say they love the sport, and even those who come to gawk at their bodies are ultimately won over by their athleticism.
"They come in thinking it's going to be … just for laughs," Graves said. "But when they leave, they're blown away."
DiLucchio takes this claim even further, arguing that the word is neither a slur nor specific to people with dwarfism. His biggest wrestlers are 5 feet 2 — four inches taller than actor Danny DeVito and three inches shorter than the average American woman.
Indeed, none of the women who performed with the Midget Wrestling Warriors in Sonoma have dwarfism.
"The term 'midget' in the dictionary is something below average, smaller than average," said Kikyo, the Fallen Flower, as she touched up her eye shadow in the trailer ahead of the match. "All of us are all smaller than the average woman."
Even for a term made for marketing, that proved to be a tough sell.
"Where's the real midgets?!"
The sun had dipped behind the towering eucalyptus, and Kikyo was battering Leslie la Muñeca in a tightly choreographed smack-down.
But the audience was restive.
"We want the midgets!" Cash and his buddies yelled. "These are normal-sized women!"
In the abstract, "midget" might well be a synonym for petite, or a sub-genre of athletic theater. In the flesh, it's meaning felt much more particular.
"You're not midgets!" the hecklers screamed, hurling obscenities, as fighters Demus and Mascara Divina of Mexico circled each other in the gloaming.
The pair are by far the most athletic of the crew.
But their feats of strength were met with threats and jeers.
A woman in the second row stood up and flipped them the bird.
Many dwarf performers quietly chafe at this obsession with their figures. But they tolerate it because it's lucrative.
"They pay to hold us for their pictures," Tovey said of her fans. "It's a little weird, but it's how we make our tips at the end of the night."
Yet the same thing regularly happens to schoolchildren, wage workers and stay-at-home moms, little people who don't get tips or the chance to refuse.
"There's been multiple times in my life that I've been picked up by random strangers," said Norman, of the Little People of America. "They feel my body is there for their amusement, and it's events like these that promote that idea."
On social media, it's worse.
Today, TikTok's infamously censorious algorithm uses "midget" to aggregate dwarf creators' content alongside bullying creep shots and hyper-sexualized thirst traps.
Then it serves those videos to kids such as Hai Okenfuss — a celebrated teen athlete and World Dwarf Games medalist from Sacramento — who can't ride his bike around the neighborhood without hearing the word.
"I was just scrolling — I would never look that up," he said of the Midget Wrestling Warriors clips that have landed on his TikTok For You page. "I'm shocked that's what people see of us."
And that's why advocates say they're fighting to knock out the word.
"It's horrible," Glaubiger said. "There's a generation behind me who doesn't deserve to see this stuff."
© 2023 Los Angeles Times
Distributed by Tribune Content Agency, LLC
Read more stories like this one. Sign up for Disability Scoop's free email newsletter to get the latest developmental disability news sent straight to your inbox.