Cuts To ABA Therapy Rates Worry Parents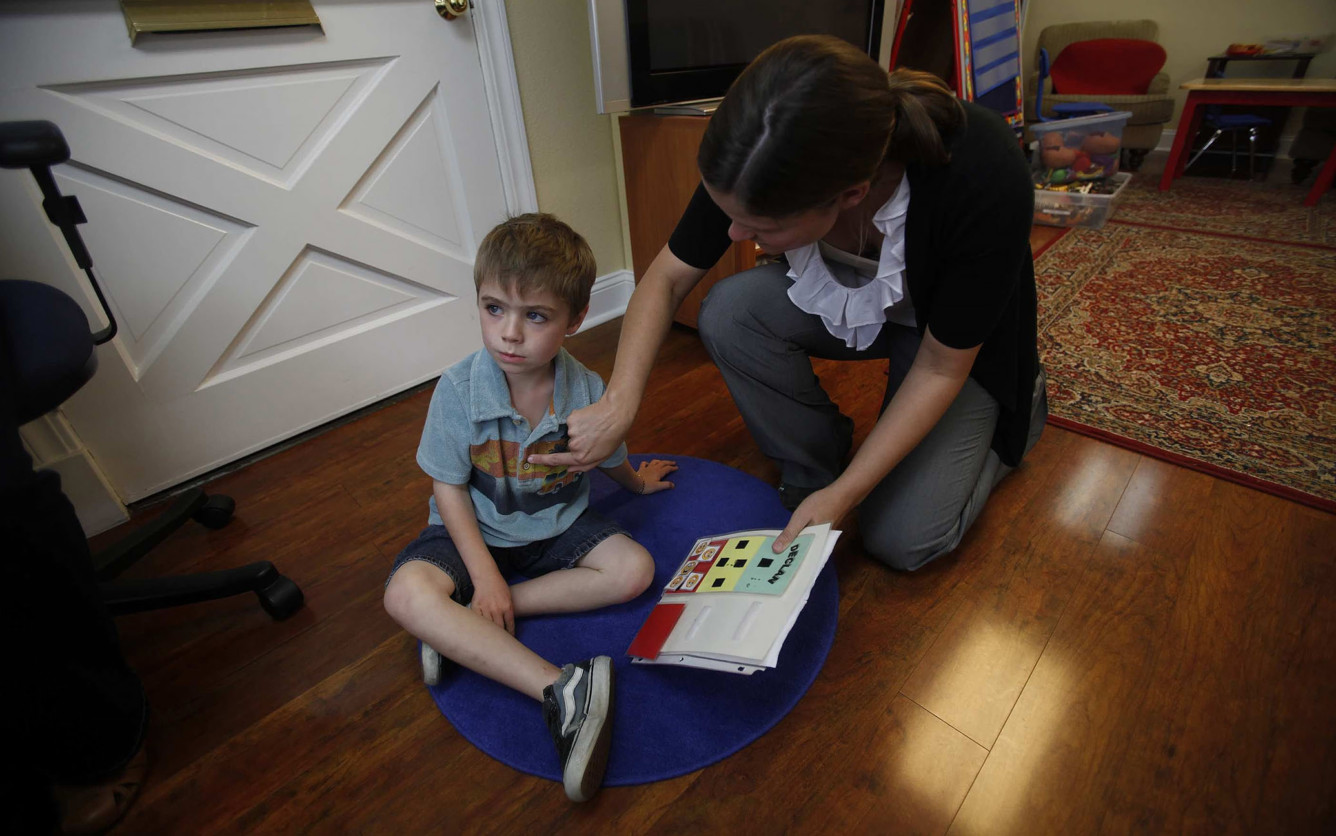 TERRE HAUTE, Ind. — Chelsie Young says her 5-year-old daughter Lilly is gentle, loves to snuggle and offers a nightly bedtime wish of "sweet dreams."
She also has autism and attends Harsha Behavioral Clinic, where she receives 40 hours of applied behavior analysis therapy weekly. ABA therapy helps children with autism learn life skills and live more independent lives.
"Before ABA, I couldn't open a door to get my mail without being scared that she would run out — she didn't understand any kind of safety thing," Young said in an interview.
Advertisement - Continue Reading Below
"She's not like me," she added. "I always say she's my little alien, she's from this different planet, and I want to respect her planet where she's from."
On Aug. 8, Indiana's Family and Social Services Administration — which provides Medicaid support for many families in the state — announced that it was slicing the amount it would pay ABA therapy providers from $91 to $55 an hour.
It funds services for 6,200 children with autism, and recently stated that spending for ABA therapy rose from $121 million in 2019 to $420 million in 2023.
Roopam Harshawat, president and CEO of Harsha Behavioral Clinic, one of several ABA therapy providers in the area, said that $55 "falls way short of (therapy providers') expenses per hour. Most centers would have to close down. It is very important that a rate is proposed so that the centers are able to provide services."
She added, "It is imperative (children) get services starting at an early age, because the quality of their life is drastically improved. These kids are not able to function in society, and ABA therapy teaches them how to cope with different situations."
Young said, "We need to respect (their) world, and taking away ABA is not respecting them."
State Sen. Jon Ford, R-Terre Haute, said, "It's an issue I've been working on for a little while. It's disappointing that they decided to do this. We'll continue to try to change this and hold FSSA accountable. This will be devastating for families."
He added, "They may be trying to reach a balance — the cost for Medicaid goes up faster than any other line item in the budget. … Changes may be ahead in the Medicaid office."
State Rep. Craig Haggard, R-Mooresville, has a stepson with autism and in an interview said that ABA treatment was "insanely successful. … It's a life-changing therapy, not just a number on a spreadsheet."
He criticized FSSA for "waiting until we're out of session to pull something as important as this. It took us by surprise. I don't know anybody (in the General Assembly) who was notified of this ahead of time."
Haggard added, "They're moving a little fast. I don't believe that something so important especially in the kids' interest should be handled this way. Come fall, we definitely will (tackle the issue) quickly. I know some different groups are already talking to clinics and providers."
On Aug. 17, more than 50 families and ABA therapists gathered outside Gov. Eric Holcomb's residence to ask him to prevent the proposed cuts. They carried signs reading "Save ABA Therapy" and "Without ABA My Child Would Suffer."
"If I would have known about it, I would've been there," Young said. "I have a few things that I'll go on a hill for, and this is one of those things."
Fox 59 in Indianapolis reported that on Aug. 18, Lt. Gov. Suzanne Crouch sent a letter to FSSA, asking it to reconsider the cuts and suggesting it bring legislators, providers and impacted families to the bargaining table.
"Parents should send their house representatives and state senators information on what they're going through," Ford said. Harshawat echoed that recommendation.
Young stands ready to do anything for Lilly, who was diagnosed with autism at age 2, though Young said she already knew when Lilly was in her infancy.
"I don't know what she's experiencing," she said. "It is such a scary feeling to not know if you're doing enough. You're left to the world to figure out what to do. ABA is a good source — we have a whole team and it's not just for Lilly. They're teaching me how to work with Lilly and how to be a parent to Lilly.
"What they're taking away from us is not just a place for her to go to school, they're taking away my ability to know how to parent," Young added.
"It breaks my heart; it's so scary," she said. "I don't know if she'd be as functioning today without these years of therapy."
Young concluded, "ABA has provided me with that trust that makes me feel I can breathe, just a tiny bit, and feel like they're giving her a voice.
"The world is mean, and these kids are special. They know no bad, they know no mean. (With ABA,) they're allowed to be their weird magical selves with each other."
© 2023 Tribune-Star
Distributed by Tribune Content Agency, LLC
Read more stories like this one. Sign up for Disability Scoop's free email newsletter to get the latest developmental disability news sent straight to your inbox.