Research Shows Hearing Test May Help Diagnose Autism In Newborns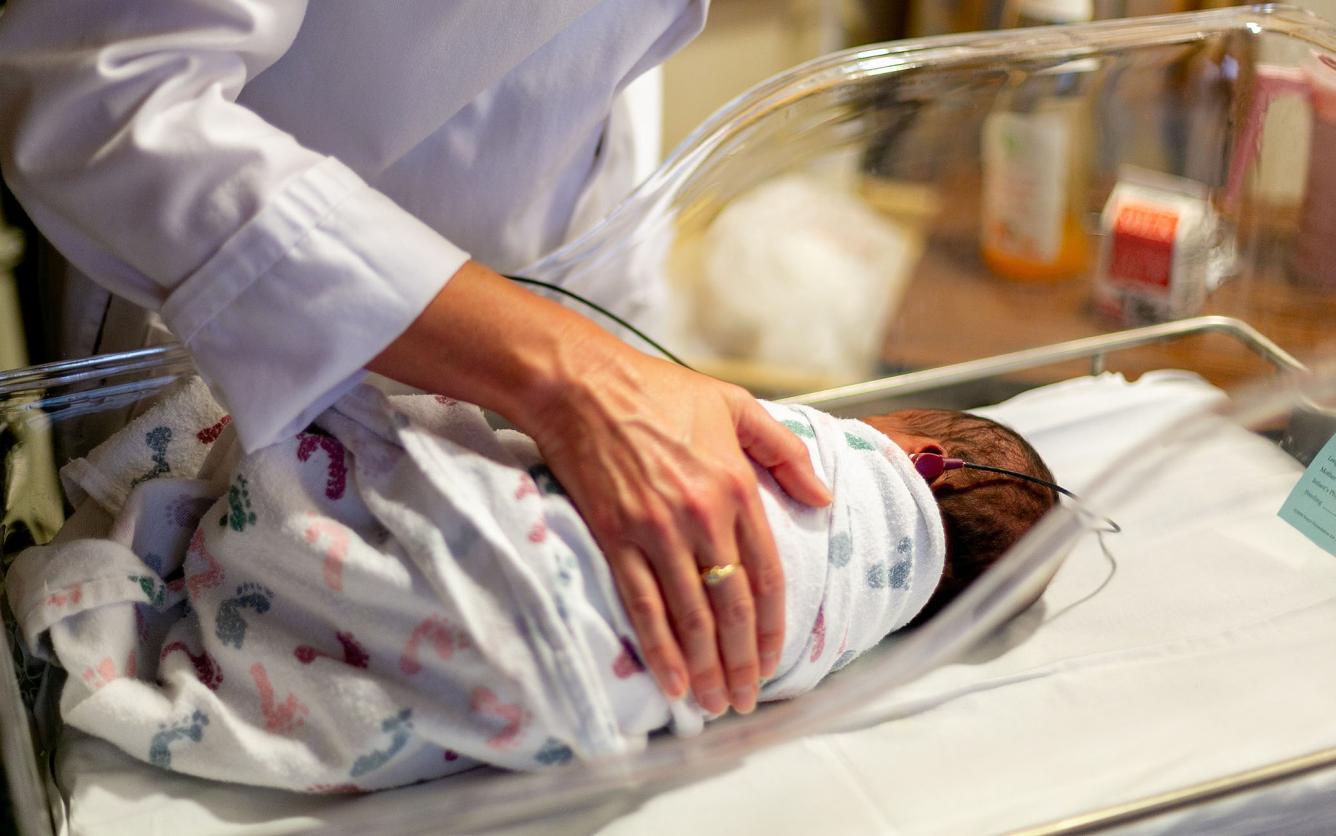 BUFFALO, N.Y. — New research suggests a hearing test may one day help diagnose newborns with autism, a condition so daunting to pinpoint that it typically takes years.
Researchers at two universities and the New York State Office for People With Developmental Disabilities pored through results of nearly 200,000 hearing tests on newborns and as they aged. They learned that babies later diagnosed with the condition had a split-second delay responding to sound compared with babies who did not.
That delay may help explain why newborns later diagnosed with autism and similar neurological conditions weather sensory storms that can include struggles with vision and movement, learning to talk and social communication, the scientists said.
Advertisement - Continue Reading Below
The new research shows that repetitive and ritualistic behaviors associated with autism "are an adaptation of a system that is operating on different hardware and nevertheless, attempting to communicate with us," said Dr. Elizabeth Torres, who led the study and directs the New Jersey Autism Center of Excellence at Rutgers University.
"Our results call us to rethink what autism really is," she said.
The researchers also said their findings could be used to create a screening tool to identify those at risk "as early as possible, when the nervous system is rapidly changing and adapting to its environment, and the brain-body circuitry is forming," Torres said in a Rutgers news release.
A University at Buffalo autism specialist cautioned that the study is observational and that it will take more research to learn if it's possible to help distinguish autism and other neurodevelopmental conditions this way.
"Overall, it's a very innovative and clinically relevant study," said Dr. Michelle Hartley-McAndrew, medical director of the Children's Guild Foundation Autism Spectrum Disorder Center at John R. Oishei Children's Hospital.
"It could potentially strengthen early screening for autism, yet it doesn't really help us know how relevant the findings are in terms of the ability to predict autism," said Hartley-McAndrew, a clinical associate professor of pediatrics in the UB Jacobs School of Medicine and Biomedical Sciences who was not involved in the study.
Both are important because when diagnosed early, specialists can start working with children and families on challenges that come with the condition.
"Early detection is really important because of neuroplasticity," Hartley-McAndrew said. "As our brains develop, they become somewhat less plastic over time. We can all learn a new language, but it's a little bit easier when we're younger. That's why we really try to focus on identifying and intervening at an early age."
Autism is fairly common
Those diagnosed with autism spectrum disorder can have symptoms that range from mild to severe. The symptoms may or may not include intellectual challenges and an inability to speak, though repetitive movements and at times anti-social behavior are among the disorders' hallmarks.
Many with autism struggle interacting with others. Children often develop a dramatic fascination with one or two subjects, sometimes taking toys, color coordinating and keeping playthings in specific order. They often do not like to be touched.
Challenging behavior is common.
"This is truly a brain-based neurodevelopmental disorder," Hartley-McAndrew said.
The federal Centers for Disease Control and Prevention reported this year that about 1 in 36 American children have autism.
It can be reliably diagnosed as early as age 2, though typically takes place after age 4, according to Autism Speaks, a nonprofit advocacy and research organization. The condition affects all ethnic and socioeconomic groups. Boys are more likely to be diagnosed than girls. Children in minority groups tend to be diagnosed later and less often.
"Early intervention affords the best opportunity to support healthy development and deliver benefits across the lifespan," Autism Speaks says on its website.
Study findings, limitations
The new research report — published earlier this year in the Proceedings of the National Academy of Sciences — says there is substantial evidence that brain-related developmental disorders start early in children. It maintains that "very early intervention" could lessen some symptoms.
Researchers examined two sets of data from 187,346 newborns and a third set of children ages 22 months to nearly 7 years old. They included babies born prematurely and at term.
They found newborns who later received an autism spectrum disorder diagnosis had pronounced delays in auditory brainstem responses to sounds.
On average, these newborns had a 1.76-millisecond lag — in a system that operates on a microsecond timescale — compared with newborns who developed typically.
The differences were measured on hearing tests that use clicking sounds played for sleeping babies whose brain response is recorded through soft electrodes. Researchers also found that infants later diagnosed with autism had reduced access to sound frequencies compared with typically developing newborns.
"We look forward to the creation of a tool that will help put this screening into practice," said Kerri E. Neifeld, commissioner of the New York State Office for People With Developmental Disabilities, whose agency coordinates services for New Yorkers with developmental disabilities that also include cerebral palsy, Down syndrome and other neurological impairments.
The researchers said further study may show that the brainwave differences found early in life may eventually disappear with growth of the nervous system in infancy and early childhood. Still, they concluded, "A neonatal screener of neurotypical development is now within our grasp."
That said, Hartley-McAndrew cautioned it will take time for researchers to learn how subtle differences in brainwave patterns can predict autism, how accurate such testing will be and what percentage of false positives — which can bring unnecessary stress to the early years of parenting — are acceptable.
"How we apply this testing will be important. I think we'd also like to compare them to other developmental conditions to know whether they also have delayed latencies or not," she said, referring to the delayed response. "There would have to be some additional controls. They're noticing a difference and the correlation, but how do you make it clinically relevant, and how do we use the information?"
A complex diagnosis
Up to 900 patients are evaluated each year at Oishei Children's Autism Spectrum Disorder Center, said Hartley-McAndrew, a developmental neurologist whose practice focuses on autism spectrum disorders and children with related developmental disabilities.
Families, teachers and health specialists are key to diagnosing autism.
"One sort of objective measure we do have are standardized assessments," Hartley-McAndrew said, "but it's not like we have a blood test or a brain scan. We have to interact with the child and get information from other people who have interacted with the child to be able to make an accurate diagnosis."
Standard assessments include a child's baseline behavior, physical growth, language, social and cognitive skills, measured over time.
Specialists want to learn how a child interacts with others. Is there social and emotional reciprocity? Is the child picking up on nonverbal cues used in social interactions — and developing, maintaining and understanding relationships?
"Their behavior is a little bit more self-directed, almost like they hear their own instructions louder than anyone else's," Hartley-McAndrew said. "And they might also have certain very strong preferences to how they want their day to go."
Measuring sensory differences that can lead to frustration and disruptive behavior is also key.
"Language delay is probably one of the biggest reasons that we get referrals," she said, starting at ages 2 and 3.
Support and a backlog
Assessments are thorough — and take time.
"We've been able to increase our number of teams doing autism evaluations, so we've been able to get our waiting list down significantly," Hartley-McAndrew said, "but we're still at about 10 to 12 months out to offer appointments.
"Having the diagnosis," she added, "is almost like a key that unlocks a lot of doors for services and supports for children in the community."
That usually involves speech therapy. It also can include fine motor and sensory integration and, as a child grows older, developing better social and organizational skills.
"About 30% of children on the spectrum have some cognitive disability, as well," Hartley-McAndrew said.
Related programs, services, educational classes and schools can support those and other children in need of more support, she said.
Autism on average is detected at 4.5 years of age, on the basis of differences in social interactions, researchers involved in the related study said. "By then, the brain circuitry has already matured to some degree, and neurodevelopment is off its normal course."
That's why the latest research spurs hope to get children diagnosed earlier.
© 2023 The Buffalo News
Distributed by Tribune Content Agency, LLC
Read more stories like this one. Sign up for Disability Scoop's free email newsletter to get the latest developmental disability news sent straight to your inbox.