New Apartment Project Designed Specifically For Adults With Autism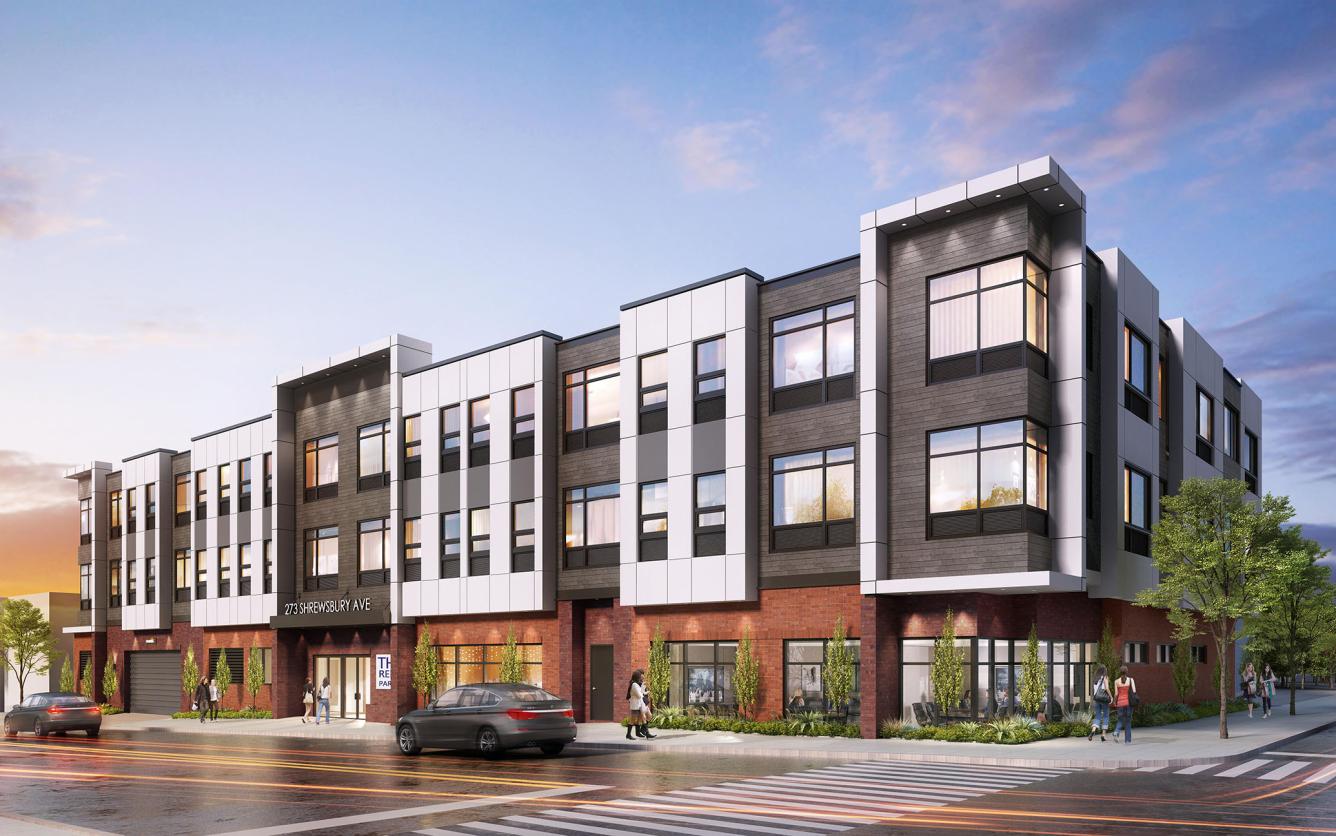 RED BANK, N.J. — Karen Fluharty exhaustively searched 40 places across the country where her son Ryan could go when he "fell off the services cliff," as a young adult with autism.
"None of them were a fit. They were either group home-like settings where individuals needed higher 1:1 support. Or located in neighborhoods that weren't walkable," said Fluharty.
So she decided to create neurodiverse housing project in Red Bank through a nonprofit she founded called Parents with a Plan. The group's mission is to unite families, legal and housing professionals with a goal of creating homes for adults with intellectual and developmental disabilities.
Advertisement - Continue Reading Below
The housing project, dubbed Thrive, was recently given site plan approval and variances from Red Bank for a property located at 273 Shrewsbury Ave. Construction is expected to begin next year and be completed in 2025.
The current retail and apartment building on the site will be demolished and a three-story, 35,891-square foot building with 32 one-bedroom units and one ground floor studio apartment will be built.
"Access to this type of housing will reduce costs," said Christopher Manente, founding executive director of the Rutgers Center for Adult Autism Services. "The idea here is to do things up front. It will also result in less of a need to be so reactive and waiting for people to fail, which is the current system. Only people who lapse into crisis get attention."
There are at least 200,000 people in New Jersey who have intellectual or developmental disabilities, according to a market analysis study commissioned by Parents with a Plan last year. About 73% live with family and 38,000 of them live with a caregiver who is over the age of 60.
Fluharty, who did eventually find a place for her son to go in Arizona, reached out to her former boss John Klein, with whom she worked in retail real estate for Simon Premium Outlets and his wife, Robin. Using Fluharty's background in marketing and communications and Klein's as a former chief executive officer for Simon's shopping center division, the two have partnered as developers.
"A few years ago Karen met with us and said she was looking at starting Parents with a Plan," Klein said. "She described how with so many parents who have autistic children, as they're aging and turning towards 21, the parents start to get worried. What would happen if something happens to them?"
They joined forces with the Rutgers Center for Adult Autism Services and Manente.
"This will be a first in New Jersey," he said of Thrive. "That's not to say there aren't other excellent examples of supportive housing. But none that have gone to this length. And there's never been a private-public partnership like this."
Fluharty's son Ryan has been living at First Place in Arizona for more than two years. The developers of Thrive have used it as inspiration for what they want Thrive to be.
"We're really taking the best in class in the sector and putting them all together," Fluharty said. "It creates more independent adults that need less support from the government."
A "navigator" will live in a studio apartment on the ground level of the building and be available to help guide residents.
For example, Fluharty said, if a resident were to get injured, the navigator could help them determine if the injury requires a bandage or a trip to the emergency room.
Similar support staff in Arizona have helped her son Ryan become more independent.
"Two years ago, I never would have imagined Ryan doing the things he's doing," Fluharty said. "He flies into Newark airport by himself now. Gets an Uber to the airport, checks his bag."
He also volunteers two days a week at the Phoenix Zoo. When he started there, he struggled with his locker. The amenities coordinator from First Place met him at the zoo and showed him how to problem solve, how to introduce himself and tell others that he needs help with his locker, Fluharty said.
"I'm doing this because as a single parent, I shouldn't have to make the decision of having my son in the best program and remaining at home," she said. "The choice between geography and the best program was a major catalyst for me creating Thrive."
Manente's center is providing training on how to support people with autism and will provide assistance to Thrive.
"Thrive's Red Bank project is a natural extension of that mission," he said.
A chief quality officer will oversee residents' general support and individual services that they get from the New Jersey Division of Developmental Disabilities. There will be a community concierge that helps with job opportunities, recreational activities, transportation and other issues. There's also a community room where things like yoga classes and movie nights can be held.
"This is not for people with significant and complex needs," Manente said. "It's limited to people who are independent and don't need someone to stay overnight. People who can do personal hygiene, dress themselves, and maintain a neat and tidy apartment."
The special needs of the residents are also being figured into the design.
"We came up with important design features — auto turn-off for faucets and stoves. The lighting should not be fluorescent. Sound attenuation throughout the building," Klein said.
Fluharty and Klein researched several cities including New Brunswick and Ridgewood before deciding on Red Bank as the best place for their first project.
It was chosen because of its walkability, transportation options, arts and culture, abundance of nonprofits, job opportunities and access to education.
Also important is that the city is welcoming to this population.
"I am thrilled that this project will be happening in Red Bank," said Red Bank Mayor Billy Portman. "We already offer so many services to underserved and in-need populations, so it makes perfect sense to have Thrive, the first-of-its-kind facility for neurodiverse residents in the state of New Jersey, opening in our borough. Makes me proud to be a resident of Red Bank."
Fluhartym, who has already had 70 calls and emails from parents who are interested in the concept, hopes that Thrive Red Bank is the first of many.
"We are creating a social impact fund where other investors can get involved," she said. "It's our goal to scale this throughout New Jersey."
Special needs housing, she said, is where senior housing was 65 years ago.
"The marketplace of options has expanded tremendously," Fluharty said. "Our goal is to pioneer housing in this category so that 15 to 20 years down the road, parents won't have to face the challenges I faced."
© 2023 Advance Local Media LLC
Distributed by Tribune Content Agency, LLC
Read more stories like this one. Sign up for Disability Scoop's free email newsletter to get the latest developmental disability news sent straight to your inbox.