School District Accused Of Failing Students With IEPs, Causing 'Mental Health Crisis'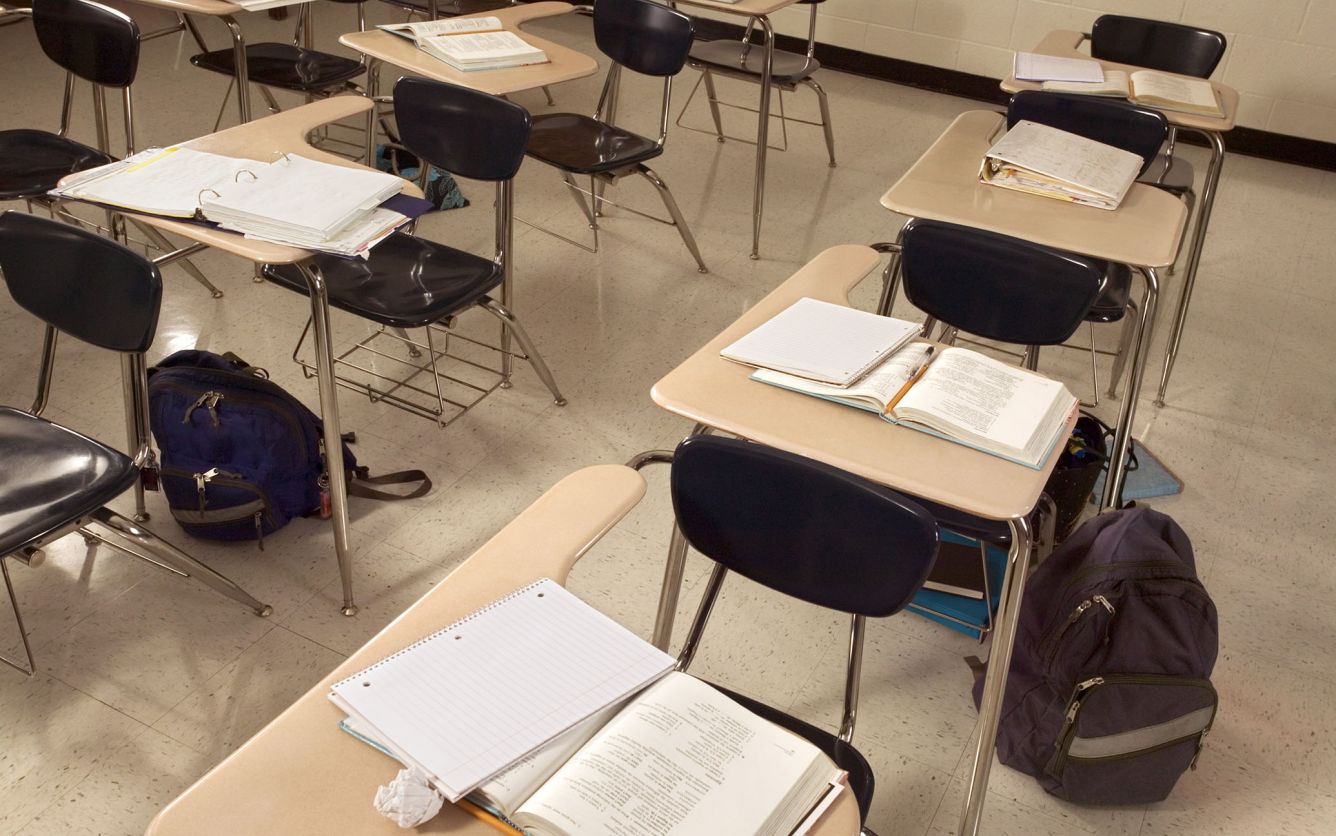 KANSAS CITY, Mo. — Ty VanBuskirk had never publicly talked about being on the autism spectrum before. Instead, he spent his time in the Olathe, Kan., school district masking it.
But that changed in July, when the recent Olathe South graduate stood in front of the school board to share how he felt the district had failed him. A lack of support and understanding of his disability, he said, led to ongoing trauma, bullying, isolation, even suicidal thoughts.
"My general education teachers didn't even know I had an IEP (individualized educational program) or autism," the 19-year-old told The Star. "When not even your case manager or paraprofessionals around you are aware, or able to communicate with your own teachers, that can cause a lot of issues."
Advertisement - Continue Reading Below
Along with VanBuskirk, several parents have shown up in force at school board meetings over recent months, sharing similar stories and advocating for better services for their children with autism. They're hard to miss, packing meetings wearing matching, purple "Got FAPE?" T-shirts, referencing students with disabilities' right to a free appropriate public education.
The Star spoke with a dozen Olathe parents who say systemic issues in the district are stopping children with autism from effectively accessing their education. They accuse the district of failing to offer their children needed supports, unfairly disciplining students with autism labeled as "behavior kids," and not communicating students' needs and accommodations.
"They're forcing our kids into a mental health crisis. And it's not OK," said parent Heidi Fenton, who has a 13-year-old daughter with autism. Many parents said their children have had suicidal thoughts and are now needing mental health services.
Some of their concerns were echoed in a recent study of the special education department commissioned by the district, aiming to inform staffing decisions for this school year as it faces enrollment declines and budget cuts. One issue raised is the labeling of special education students as "behavior kids," which the study says can lead to "unintended, negative student outcomes."
Students with disabilities are suspended more than twice as often as their peers without disabilities, the study says. Out of 105 district employees interviewed, only two "referenced punishment as a way to improve student conduct."
The study, released in January, also shows a heavy burden on special education staff, many of whom miss out on lunch or planning time. And it says that the substitute shortage is hitting the hardest in special ed, with those teaching vacancies the most likely to be unfilled.
Anjanette Tolman, the district's executive director of special services, said during a recent school board meeting that officials are taking the findings and implementing changes. They include addressing missed planning time, increasing staff, as well as implementing more training on the inclusion of students with special needs.
In an email to The Star, district spokeswoman Erin Schulte said, "We want every individual student to be successful both in school and in life. As a district, we will continue to work alongside our families to ensure that all students have what they need to be successful in the classroom.
"We want to be abundantly clear that our district administration, principals and teachers are always willing to meet with families to discuss their concerns. In fact, that is our expectation and the practice in place in Olathe Public Schools."
Olathe isn't the only district where parents are raising concerns. Similar issues were raised in a lawsuit against the Shawnee Mission school district. A federal judge ruled the district violated special education law and failed to provide needed services to a boy who has autism. The district must now provide several outside services for the boy, and pay $400,000 of the family's legal expenses, after spending $430,000 for its own attorney fees.
"We don't want to have a child who graduates high school and can't read or write. But that's what all these lawsuits are coming out about. And that is going to be my child," said Olathe parent Kristy Sloan.
Districts are dealing with ongoing staff shortages, mostly affecting special ed. Olathe had more than 260 openings for paraprofessionals — staff who provide instructional, behavioral and other support to special ed students — at the start of the school year.
And that added pressure comes amid a decade-long underfunding of special education in Kansas. Educators across the state have pleaded with lawmakers to increase funding, saying that many students likely aren't receiving all of the services that they need and are required by law.
The Olathe district has about 466 students being served under the federal eligibility of autism, and 45 students with an autism diagnosis listed on their 504 plan. That's out of nearly 5,000 special education students, and 29,000 students in the district, according to state data.
Some of the Olathe parents have quit their jobs to work full time on getting their children support. Many have moved their kids to new schools after their needs weren't being met. Most are spending thousands of dollars on outside services.
"My mom was basically my case manager throughout all my years of high school and made sure I got (services). I was very grateful to have an expert on my side. Most parents of special needs students aren't able to provide that," VanBuskirk said.
'It has been a war zone'
During his freshman year of high school, VanBuskirk said it took a full semester before his general education teachers knew he had accommodations under an IEP.
"Throughout high school, my IEP was never followed," he said. "It's not to say that my teachers weren't terrific educators, it's just kinda hard to do your job well when you're not being told what to do in the first place."
That lack of communication is a common theme among Olathe parents of students with autism.
Schulte said that "all members of a student's educational team have access to the IEP and meet regularly to discuss student progress." That includes administration, general and special education teachers, and support staff. Substitutes also should have access to an overview of supports, goals, accommodations and other services provided under students' IEPs.
While quiet students like Ty may rely on hiding their disability, others are being labeled as having behavior problems.
Some said their kids have been regularly disciplined, sometimes suspended, when they throw fits or act out due to being unregulated. The parents attribute it to a lack of understanding and communication about their children's disabilities.
The study of Olathe's special ed program says that 34% of suspensions during the 2021-2022 school year involved students with IEPs, while only 16% of students have them.
"They don't see (the behavior) as a manifestation of the autism," Carrie VanBuskirk, Ty's mother and a special education advocate, said.
"I'm really worried that general education teachers may not know that their students have the disability that they do, and that's how they get those labels of 'behavior kids' and that can also put them at risk for a mental health crisis," parent Kaylan Campain told the school board recently.
Parent Rachael Pratt said she has two children with autism, and both have been suspended over behavior issues.
"It has been a war zone to get (my son) the actual accommodations he needs," she said of her seventh grader, saying he has been listed as "behavior problem."
"I had an hourlong conversation with my son's reading teacher. … He has an F in the class. There is no aide in the class, no additional support in that class. And he's not able to complete assignments. He's coming home escalated," Pratt said. "I reached out to the teacher and said, 'What accommodations are you doing for him? Are you aware he's autistic?' And she said, 'No, I had no idea.'"
Students do not need to be listed under their medical diagnosis in order to receive needed services. But parents say a lack of communication about students' needs makes it more difficult on teachers and staff, several of whom reported safety concerns in the special ed program study.
'My kid is spiraling'
Last spring, Megan Martin saw problems escalate with her 9-year-old son.
"All of a sudden, he's been complaining about being bullied, dejected, and eating paper and hiding under desks and avoiding class. Hanging out in the hallways. Was tardy," Martin said. "I have about four or five incidents of kids on the school grounds fighting him. Him being punched in the head. People saying 'Nobody cares about you.'"
Martin said she's been fighting to get more accommodations for her son, along with a safety plan.
"Now we've got him in Johnson County Mental Health, at 9 years old with suicidal ideation," she said.
All of the parents who spoke with The Star said their children are struggling with mental health issues as they lack the services they need.
"My kid is spiraling because he can't fit in and connect with these kids. He's being bullied. He can't get an education," Martin said.
The parents have organized over the past year, learning that they each share similar struggles as they advocate for their children. And the group picked up steam after the study of the district's special education program was completed in January, pushing the district to use the findings to take action.
During a board meeting earlier this month, Tolman went over some of the study's findings and said the district is taking several steps as a result.
She said the district is working with schools on addressing the issue of a lack of lunch and planning time for special ed teachers, plus offering compensation for teachers who miss that time. She said the district also has increased its certified teaching positions, although there are still a "large number of openings in that area or positions that have not actually been filled."
Tolman said the district also is working on the concern of labeling students as "behavior kids" or other similar terms. She said conversations about language used for special education students, as well as best practices for inclusion, will be shared with staff during training days.
But the growing group of Olathe moms wants to see more change. They are pushing for the district to partner with them to share their experiences and talk about solutions.
Until then, they say the district can expect to keep seeing their purple T-shirts at board meetings.
"Please ensure all staff members undergo autism training in the near future," Ty VanBuskirk urged the school board this summer. "It's important that neurodiverse students are educated in an environment where they are seen, understood and valued. Unfortunately, I never had that experience. And honestly, I never felt safe."
© 2023 The Kansas City Star
Distributed by Tribune Content Agency, LLC
Read more stories like this one. Sign up for Disability Scoop's free email newsletter to get the latest developmental disability news sent straight to your inbox.