Museum Makes Major Acquisition Of Works By Artists With IDD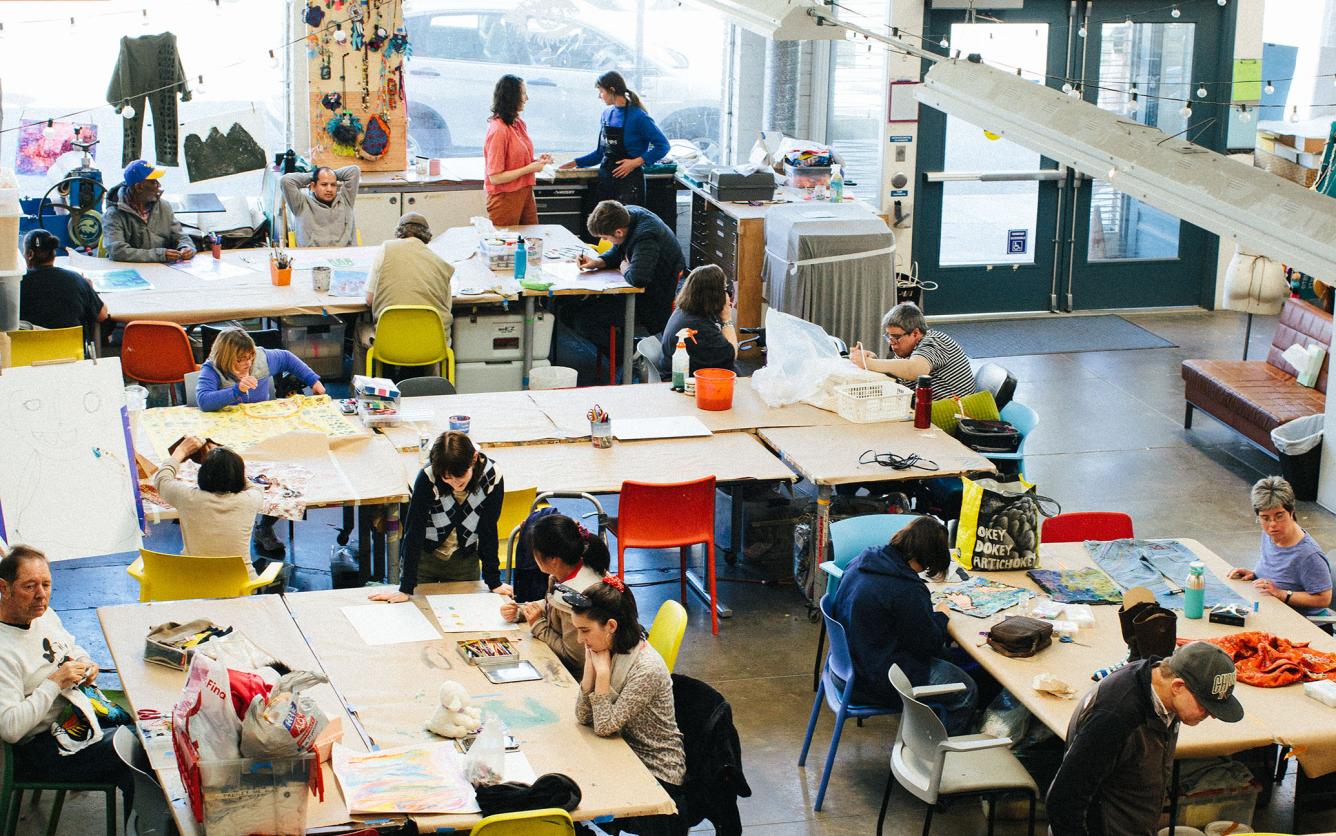 SAN FRANCISCO — The San Francisco Museum of Modern Art announced the acquisition of more than 150 works by 23 artists with developmental disabilities from three Bay Area art centers. It is the largest acquisition focusing on the disability community in the museum's history.
Oakland's Creative Growth represents 113 works in the acquisition while San Francisco's Creativity Explored makes up 31 and Richmond's NIAD Art Center includes 12. The three organizations were founded by Florence and Elias Katz and are dedicated to working with artists with developmental disabilities. The art includes works on paper, painting, sculpture, film and textile.
"We hope that this is a landmark acquisition that encourages and sets a benchmark for other institutions," said Katy Siegel, SFMOMA's research director, special program initiatives. "This is an important first step in a terrain where many people have been doing the work for decades, most of all, Creative Growth, NIAD and Creativity Explored. We're mindful that we're catching up and have an enormous amount of work to do."
Advertisement - Continue Reading Below
Siegel said conversations with the organizations were in process when she and SFMOMA director Christopher Bedford joined the staff in 2022 (they previously worked together at the Baltimore Museum of Art) and there was widespread support among the staff for the artists. The acquisition felt like an important step in the museum's commitment to present "a local and global art history that is expansive, multidimensional and diverse," Siegel said.
In his first interview with the Chronicle in 2022, Bedford said his desire to expand the museum's collection to tell a social story of art focusing on people rather than a stylistic history meant collecting and showing more work by artists with disabilities, among other groups underrepresented in the collection.
"The story we've been telling is incorrect because it's partial, and it's structured by bias," Bedford said in the earlier interview. "Through our acquisition and exhibition-making activities, we are engaging in a fully self-conscious act of reparation that is intended to narrate an art history as it actually happened."
For six decades, the Bay Area has been leading the conversation about including artists with developmental disabilities in the broader art world. The founding of Creative Growth in 1974 coincided with the region's role in the creation of the disability rights movement as well as its involvement in other intersectional causes, including LGBTQ rights, gender equality and Black power. The art centers have all built significant local and international followings and collaborated with companies including Target and fashion brands like Marc Jacobs, Levi's and Comme des Garcons. Work by artists from the organizations are featured at important international art fairs and are in the collections of major museums including the Museum of Modern Art in New York and the Smithsonian Museum of American Art in Washington, D.C.
Selections from the Creative Growth acquisition will be shown in an exhibition at SFMOMA in April. The artists represented include Dan Miller, Camille Holvoet, Judith Scott, Susan Janow, Dwight Mackintosh, John Martin, Donald Mitchell, William Scott and Ron Veasey. Scott has also been commissioned by the museum to create a site-specific mural for the exhibition.
"Our 50th anniversary is next year, so the timing is wonderful," said Creative Growth Executive Director Ginger Shulick Porcella. "It's taken us 50 years to get our artists to this point. These artists who have been historically marginalized and once called 'outsider artists' are now inside the world's most important institutions. For SFMOMA to acquire work at this scale gives a context — this is some of the best contemporary art you're going to see whether or not the artists have disabilities."
SFMOMA said the acquisition is the beginning of a three-year partnership with Creative Growth with plans to create programs, further evaluate accessibility needs at the museum (including the use of respite areas) and, eventually, incorporate art from all three organizations into permanent collection galleries. The museum hopes to acquire more works from all three organizations.
In addition to the exhibition, the museum plans to host Creative Growth's annual symposium and 50th anniversary "Beyond Trend" gala and fashion show featuring clothing created by Creative Growth artists in 2024. Both events are known for attracting fans and collectors, including celebrities like musician David Byrne, actor Mindy Cohn, writer Mickey Boardman, philanthropist Agnes Gund and Paper Magazine founder Kim Hastreiter.
This isn't SFMOMA's first outing with any of the organizations. In 2019, NIAD artist Marlon Mullen won the museum's prestigious Society for the Encouragement of Contemporary Art award, and in 2020 the museum gift shop collaborated with Creativity Explored on a line of cloth masks. The acquisitions join works by Judith Scott, William Scott, Mullen, Dan Michiels of Creativity Explored and Alice Wong of Creative Growth.
The news comes on the heels of significant years for all three art centers. Creativity Explored is celebrating its 40th anniversary while NIAD marked the milestone in 2022. All three organizations are the subject of the exhibition "Into the Brightness: Artists from Creativity Explored, Creative Growth & NIAD" at the Oakland Museum of California, on view through Jan. 21.
"Creativity Explored, NIAD and Creative Growth were dreamed into existence by our visionary founders, Florence Ludins Katz and Elias Katz," said Creativity Explored Executive Director Linda Johnson. "Their innate understanding of the value that disabled artists bring has meant better lives for people with disabilities worldwide, and a richer, realer art world for everyone."
NIAD Executive Director Amanda Eicher said collaboration and partnership are at the heart of the organization's work and that "many NIAD artists would echo the sentiment that inclusion in one of the most significant collections of modern art worldwide is incredibly meaningful to their work and its visibility. Artists practicing in our studios are passionate about their leadership roles in the art world, and this acquisition reflects yet another way in which NIAD artists are redefining contemporary art."
Siegel said that she hopes the acquisition and partnership push museums to think about expanding their collections to include more artists with disabilities.
"I think any time a museum of the scale and reputation that SFMOMA has commits a gesture of this size, it changes things," Siegel said. "Other museums feel a sense of permission, or at least a sense of curiosity, about what that might look like in their own institutions."
© 2023 San Francisco Chronicle
Distributed by Tribune Content Agency, LLC
Read more stories like this one. Sign up for Disability Scoop's free email newsletter to get the latest developmental disability news sent straight to your inbox.