Deaf Player A Game-Changer For US Soccer And Athletes With Disabilities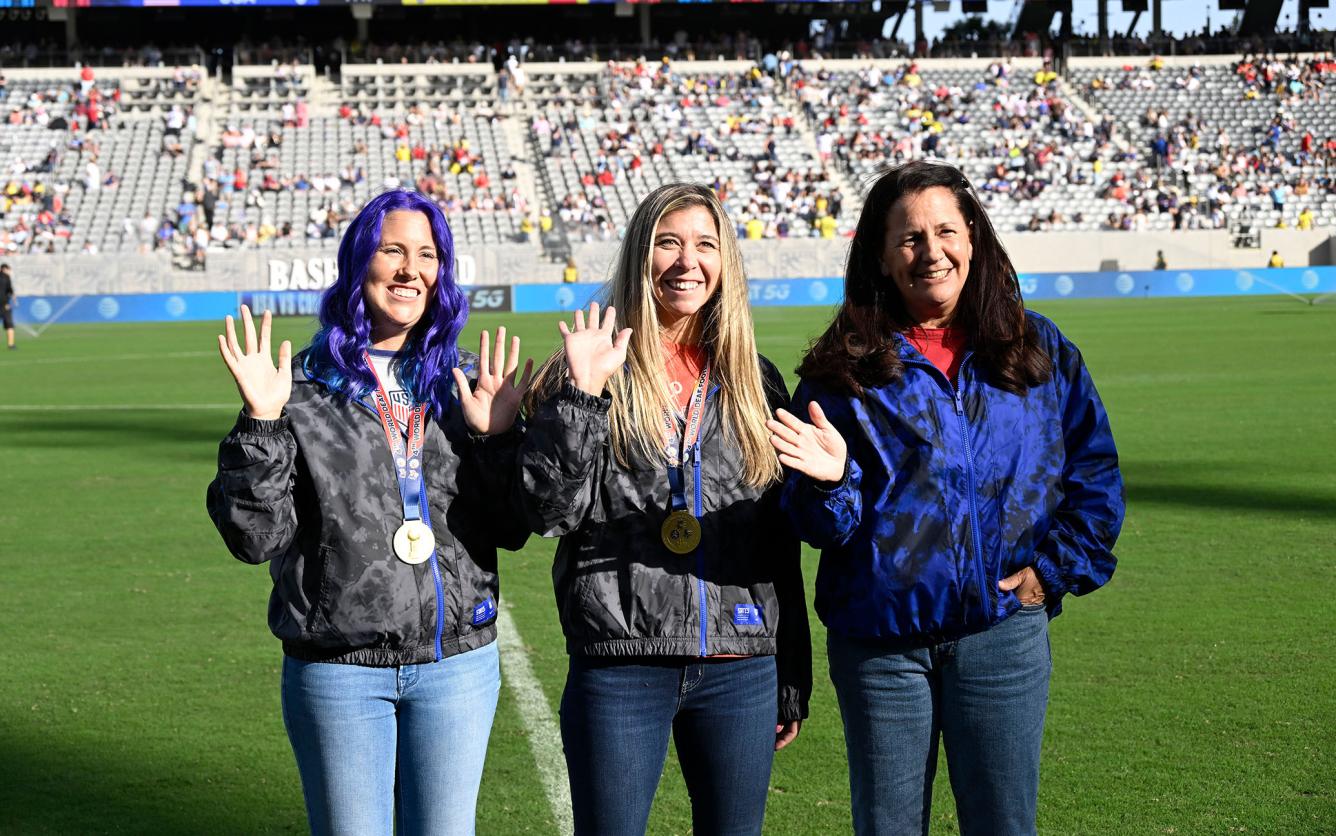 LOS ANGELES — Emily Spreeman was born deaf, though her family was unaware of that until she was nearly 9 months old.
"My grandma was sitting next to my crib and my parents are like 'I don't think she can hear because the baby's not waking to any loud noises,'" Spreeman remembered.
An audiologist quickly confirmed her parents' hunch. But if Spreeman couldn't hear, that's all her parents believed she couldn't do since her dad signed her up for a youth soccer team at age 4. Three years later she joined a club soccer program and proved good enough to be recruited by U.S. youth national teams and into the Olympic Development Program, where she played alongside Alex Morgan before going on to become a standout college player at Kansas.
Advertisement - Continue Reading Below
"I'm a very competitive person. I just want to prove that I belong on the field," said Spreeman, who was the Ventura County player of the year and all-CIF first-team selection at Buena High as a senior. "I've always been on a hearing team. That's credit to my family, just showing that I deserve to be on the field and I belong with everyone."
By high school she was already playing for the deaf national team, making her competitive debut at the 2005 Deaflympics in Australia. The women's deaf national team has gone 37-0-1 since then (it beat Poland on penalties after the lone draw), winning four Deaflympics titles and three World Deaf Football Championships, the latest coming last month in Malaysia where Spreeman scored 13 goals in six games to win the Golden Boot and Golden Ball for the second time.
So when members of the deaf national team gathered at San Diego's Snapdragon Stadium before a recent women's national team friendly, the most decorated player on the field wasn't Morgan, Sophia Smith or Lindsey Horan. It was Spreeman.
"We're the greatest team you've never heard of," she said, ignoring the double entendre. "We've never lost."
It wasn't until college that some of the women in the national and Olympic team player pool began to swim away from Spreeman.
"Communication, obviously, is a huge barrier," Spreeman, who lives in Newport Beach and works as a spa esthetician, said in a Zoom interview in which questions were repeated by Kristie Adkins, a former college player who majored in sign language and now serves as an interpreter for U.S. Soccer.
Still, Joy Fawcett, a two-time World Cup champion who went on to coach at UCLA and has helped coach the deaf national team for eight years, says many players on the team could hold their own with women on the senior national team, as Spreeman, 34, did during a training session last month.
"You can see the change happening as time goes on," said Fawcett, an assistant on the staff of Amy Griffin, her World Cup teammate in 1991. "We have more Division I players that are actually playing in college. They play, have more opportunity to start to play as youth and it's more accepted."
Spreeman, she said, is a smart, fast, confident forward who makes great runs, skills Fawcett attributes in part to her deafness.
"She's very aware of where the defenders are," she said. "Being deaf has helped that. You have to look more and see where things are and not just rely on your hearing."
For most of its existence, the women's deaf national team operated independently of U.S. Soccer, representing the country at international events and wearing the crest though it did not receive extensive funding or consistent support from the federation. That meant players had to pay for their own equipment and training and had to raise money to travel to international competitions. Many times, that lack of funding meant some of the best players had to stay home.
But last year the U.S. Soccer Federation expanded its umbrella to cover more extended national teams, including women's futsal and cerebral palsy teams, the men's and women's deaf teams and a co-ed power soccer wheelchair national team.
"This is the extension of opportunity for someone who maybe has played the 11-a-side game for all their career to find another way of experiencing the game," said Stuart Sharp, senior director of the nine-team ENT program, believed to be the largest and most diverse sponsored by any of FIFA's 211 member nations. "This is an extension of the opportunity for a referee, a coach, a spectator. All the aspects that fit within the soccer ecosystem, this is an expansion of opportunity for you to experience the sport beyond what has been traditional for 100 years."
Fawcett said the federation's support has been a game-changer, not only in freeing the team from having to pay for travel and in providing accommodations on par with what the World Cup teams receive, but in recruiting young players. The U.S. team in Malaysia, for example, had two teenagers.
"The players feel more valued. Just to be able to say 'OK, you're invited'," Fawcett said. "Having that backing and the social media and all the people and the staff, that will bring in more players so that the USA Deaf Soccer Association now can focus on creating the youth program to help feed this team. That's kind of the next step, to create the younger teams and continue to get the word out."
That's already happening. The team recently held a clinic that was attended by a dozen or so deaf players and during last month's visit to Snapdragon Stadium, a 9-year-old hearing-impaired girl approached Fawcett and Spreeman and said she wanted to try out for the deaf national team someday. That hadn't been an option for previous generations of players and creating those opportunities is the point of the extended national team program.
"If there's a kid out there who's 8 years old, has just learned to get into soccer and started to look around for relevant … role models, well if that kid has (cerebral palsy), they might eventually decide that Alex Morgan and Christian Pulisic are not relevant role models," Sharp said. "Maybe it's someone from the deaf team. What we're doing is we're creating relevant role models for different sections of society so they can aspire to be national team players."
Fawcett, who started in the 15th game in the history of the women's national team, helping build that nascent program into the most dominant in history, seems a lot of similarities between that experience and what she's experiencing now as a coach with the deaf national team.
"The girls advocate for themselves. They work really hard to get to this point. They just needed a little confidence and push to believe in themselves," she said. "It does remind me of the beginning that we all went through. I love to see them thrive.
"To get to this point, this is what we've been fighting for."
© 2023 Los Angeles Times
Distributed by Tribune Content Agency, LLC
Read more stories like this one. Sign up for Disability Scoop's free email newsletter to get the latest developmental disability news sent straight to your inbox.