'The Good Doctor' Gets Boost From Real MD With Disability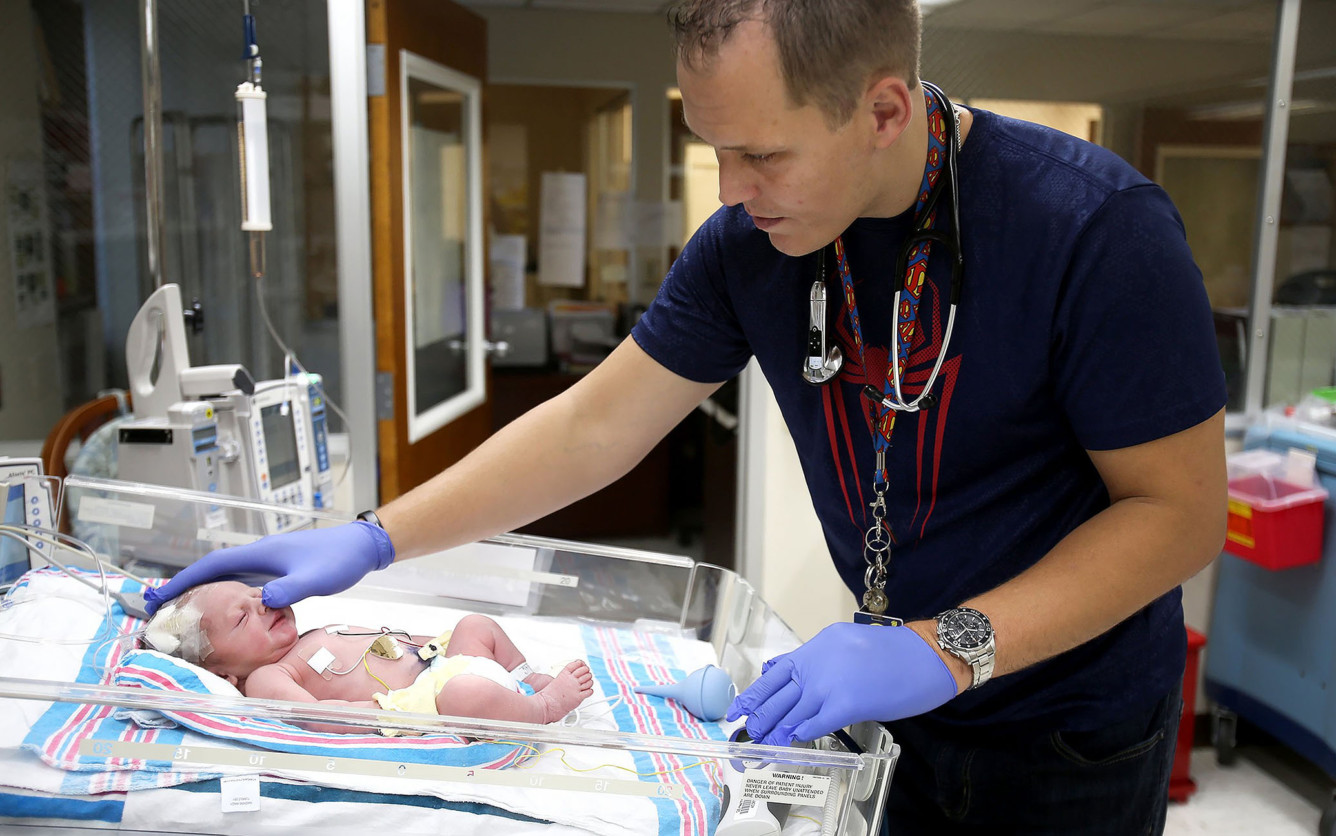 PASCAGOULA, Miss. — An ABC News "20/20" film crew arrived at Singing River Hospital recently to interview Dr. Tyler Sexton, a staff pediatrician who overcame the odds and became a doctor even with cerebral palsy.
The network is using his inspiring story to help promote a story of their own — a new television series, "The Good Doctor," that debuts Sept. 25 at 10 p.m. ET.
"The Good Doctor" is about a young surgeon with autism and his struggles to overcome that disability while excelling at his job.
Advertisement - Continue Reading Below
Sexton had real life struggles to get to where he is — a board certified and highly respected pediatrician, as well as a community advocate for children's issues. He is medical director of pediatrics at Singing River Hospital.
He's in his third year. He has a wife, who also is a doctor, and a 2-year-old daughter, something he never dreamed he'd have, he said.
He also has a service dog that helps keep him steady on his feet and navigate stairs while he makes his rounds.
ABC will use the short segment on Sexton, and profiles on other doctors who have overcome incredible odds, as companion pieces to the new show, Singing River spokeswoman Georgia Storey said.
"They have already had him in New York for an interview at the "20/20″ studios, with Elizabeth Vargas," Storey said.
When a film crew came to his hospital, Sexton wore a Spiderman T-shirt, because ABC is a Marvel franchise, he said. He was trying to cooperate; he likes the idea of the television show. Usually, however, he wears Batman.
Bringing superheroes into his office and exam rooms helps him connect with the children he treats. He's a rare pediatrician who specializes in wound and burn care on the Mississippi Coast.
"He's a brilliant physician," Storey said.
A superhero
Sexton is a superhero of his own, overcoming the prejudice of the institutions of medical education in the United States.
He has always been intellectually sharp; the prejudice came with his physical difficulties. He said it's amazing how his difficulty walking aroused prejudice even as an adult in medical residence in Mobile, Ala.
Doctor's with disabilities? There aren't that many of us, he said.
ABC found him because of his book, "God Bless These Little Legs."
He said even in college people treated him differently. If he got an adviser adviser who tried to discourage him from medicine, he'd find another.
When the bullying got bad, he'd put on sunglasses and fellow students would assume he was blind.
We all have handicaps
"I wanted to be a doctor to give hope to people," Sexton told the Sun Herald. "All my life, doctors told me 'You'll never do this. You'll never do that. All you'll be able to do is sharpen pencils.'"
He was rejected at several medical schools and thrown out of rotations with medical students, because he had a service dog. But the law was on his side, and he succeeded.
His motto: "Stay low and put people first."
His patients love him. He connects.
"We're all handicapped. We're all trying to change something about ourselves," he said. "You can't let your circumstances define you."
© 2017 The Sun Herald
Distributed by Tribune Content Agency, LLC
Read more stories like this one. Sign up for Disability Scoop's free email newsletter to get the latest developmental disability news sent straight to your inbox.