Stimulus Plan Falls Short For People With Disabilities, Advocates Say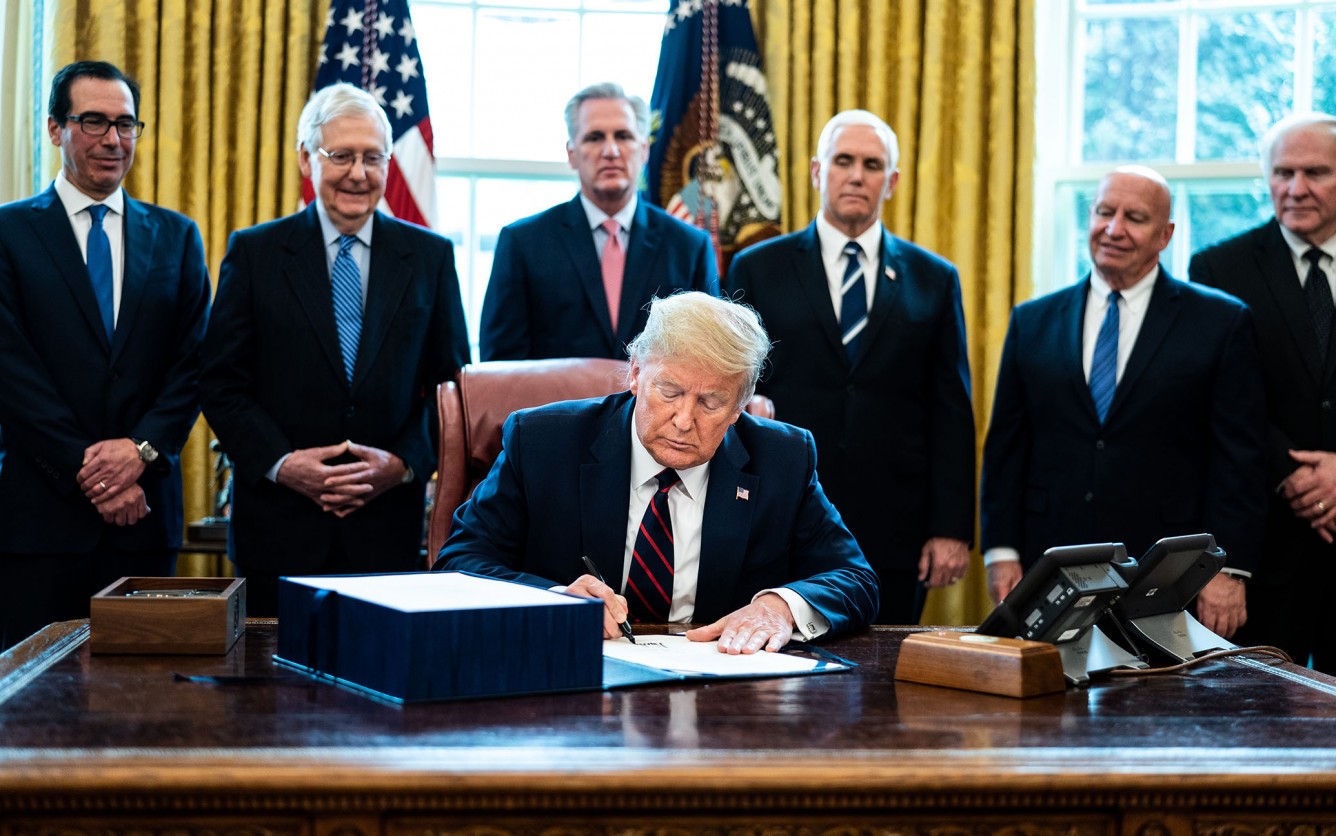 A $2 trillion coronavirus stimulus plan signed by President Donald Trump offers some benefits to people with disabilities, advocates say, but may also prompt unprecedented changes to the Individuals with Disabilities Education Act.
The bill signed late last week represents Congress' latest effort to address the economic fallout from the COVID-19 pandemic. It includes extra funding for housing for people with disabilities, money for independent living centers, assistance to schools as they transition to online learning and it allows Medicaid-funded disability service providers to apply for federal small business loans.
Many people with disabilities — including those receiving Supplemental Security Income benefits — will qualify for $1,200 in cash payments from the government as part of the relief package.
Advertisement - Continue Reading Below
In addition, the legislation incorporates a handful of items that disability advocates had long sought. The law will for the first time allow direct support professionals, or DSPs, to accompany and continue supporting people with disabilities if they are hospitalized. And, it will extend a federal program known as Money Follows the Person — which provides funding to states to cover employment supports, housing and other services so that individuals with disabilities can transition from institutional facilities to homes in the community — through November.
However, advocates say that lawmakers overlooked several areas in which people with disabilities will need support as coronavirus continues to spread.
"This is an unprecedented crisis for everyone, and everyone includes people with disabilities and their families. While this bill does provide some important support in this pandemic, there are huge risks facing people with disabilities, their families and the direct support professional workforce that were largely ignored in this response," said Peter Berns, CEO of The Arc.
Advocates had lobbied for extra money for home- and community-based services to ensure that more people don't end up in institutional settings where coronavirus can easily spread, as well as funding to support the demand for DSPs. In addition, they wanted lawmakers to address the need for masks and other personal protective equipment for DSPs who cannot maintain six feet of distance while doing their jobs helping people with disabilities with day-to-day tasks.
The legislation also does nothing to ensure paid time off for family members who must step away from work to care for people with disabilities, a growing concern as many providers have shut down day programs and other services, advocates said.
Meanwhile, the new law gives U.S. Secretary of Education Betsy DeVos 30 days to put together a report to Congress with recommendations on any waivers the secretary believes are necessary under IDEA to "provide limited flexibility" to states and school districts during the emergency.
DeVos does not have the authority to issue IDEA waivers — that would require further action from Congress — but it does open the door to freeing school districts from some of their special education obligations.
"It's just very disappointing that some insist on threatening students who need the most support in a bill that is intended to provide the American public relief and support," said Denise Stile Marshall, CEO of the Council of Parent Attorneys and Advocates, or COPAA, a nonprofit that represents special education attorneys.
Still, the law could have led to a more immediate impact on IDEA. Sen. Patty Murray, D-Wash., said that she successfully fought Republican efforts to include a provision in the latest measure that would have allowed DeVos to issue waivers herself without any involvement from lawmakers.
"I'm glad that we were able to remove language that would strip away rights for students with disabilities," Murray said. "But much more needs to be done to ensure that people with disabilities have access to crucial services — from health care to independent living support to transportation — during this public health emergency."
Read more stories like this one. Sign up for Disability Scoop's free email newsletter to get the latest developmental disability news sent straight to your inbox.