DeVos Could Recommend Waiving IDEA Protections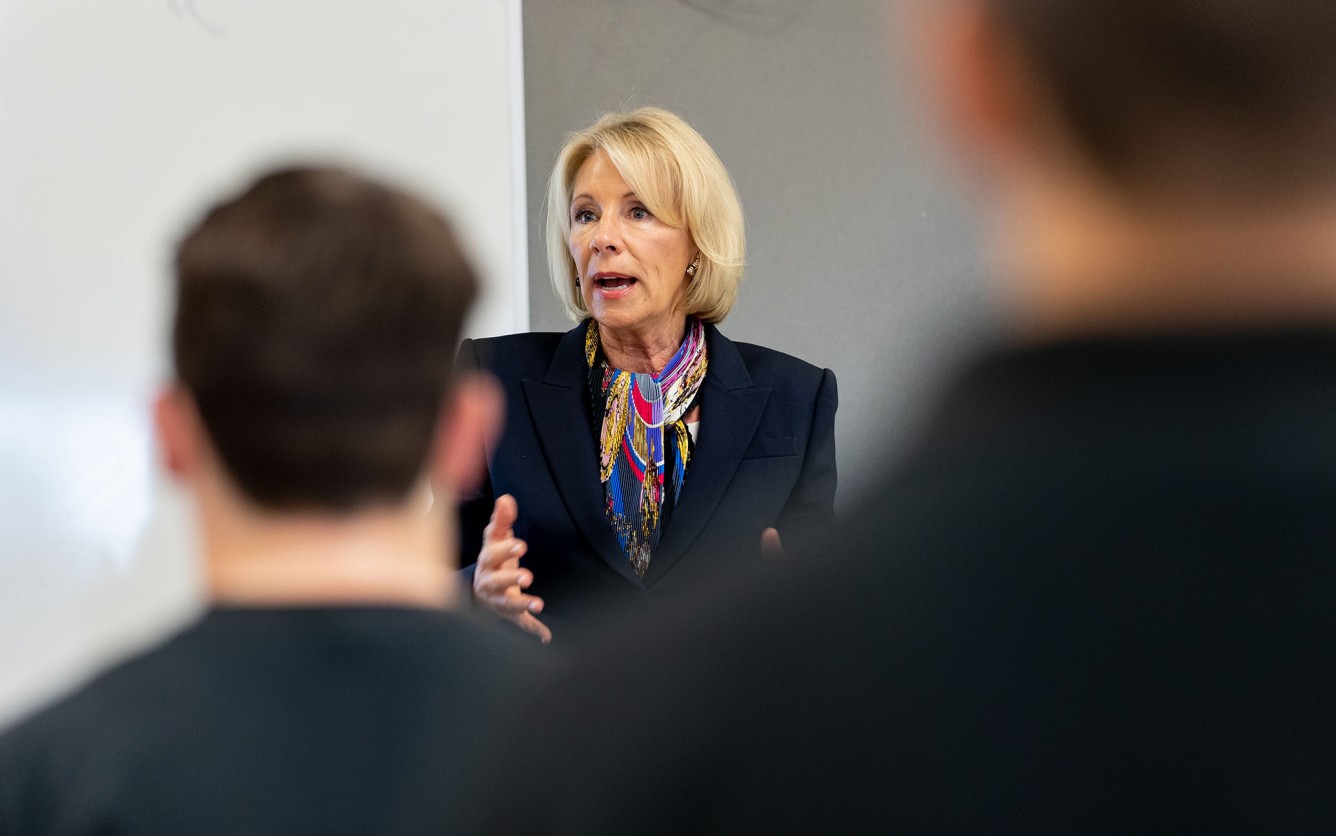 As schools remain closed due to COVID-19, U.S. Secretary of Education Betsy DeVos is weighing whether they should be temporarily freed of some of their special education obligations.
DeVos must decide in the coming weeks whether to recommend that Congress allow portions of special education law to be waived in response to the coronavirus pandemic.
As part of the stimulus bill passed in late March, DeVos was given 30 days to issue a report to Congress with recommendations for any waivers she believes are necessary under the Individuals with Disabilities Education Act to "provide limited flexibility" to states and school districts during the emergency.
Advertisement - Continue Reading Below
DeVos is not authorized under the law to issues waivers — that would require further action from federal lawmakers — but the report could be a first step toward that end.
Disability advocates are resoundingly opposed to opening up any waiver authority, which they say would be unprecedented.
"NO ADDITIONAL waivers are necessary under either the IDEA or the Rehabilitation Act," reads a letter signed by over 70 advocacy groups that was sent this month to DeVos and Acting Assistant Secretary of the Office of Special Education and Rehabilitative Services Mark Schultz.
"It is clear that during this rapidly evolving crisis, flexibility, patience and innovation will be needed," the groups wrote. "Given that IDEA offers flexibility by design and states, districts, communities and families are working together to find solutions to the problems they face in the next several months, we firmly believe that this is not the time to roll back civil rights protections for students with disabilities."
The Education Department has indicated that schools remain obligated to provide students with disabilities a free appropriate public education, or FAPE, though how that's achieved may look different than it did before the pandemic. The agency has said that it will offer schools flexibility where it can.
Given the extraordinary circumstances, however, Sasha Pudelski, advocacy director at AASA, The School Superintendents Association, says that's not enough. With many school staff stretched thin while caring for their own children and limited access to technology and materials, "meeting all the requirements in IDEA is impossible," she said.
"We support narrow, time-limited, practical flexibility for meeting a few of the over 600 federal requirements in IDEA," said Pudelski, who was clear that her group is not seeking any changes to FAPE. "Educators and administrators are doing everything possible to meet the needs of students with disabilities during this crisis, but the inability to complete evaluations that cannot be conducted virtually and to fulfill statutorily designated timelines in this crisis requires temporary flexibility for districts."
Angela Morabito, a spokeswoman for the Education Department, did not answer questions about what types of waiver authority DeVos may be pondering.
"Congress requested the department provide recommendations on any waivers it believes necessary to respond to the pandemic. We are reviewing that request and will respond as appropriate," Morabito said. "Secretary DeVos has been clear from the beginning that she is committed to ensuring all students, including students with disabilities, can continue their educations during this national emergency."
Read more stories like this one. Sign up for Disability Scoop's free email newsletter to get the latest developmental disability news sent straight to your inbox.